Our annual Non-Disclosure Campaign offers investors the opportunity to actively engage companies that have received the CDP disclosure request on behalf of investors but have not provided a response. The objective of the campaign is to drive further corporate transparency around climate change, deforestation and water security, by encouraging companies to respond to CDP's disclosure request.
2022 campaign
| | |
| --- | --- |
| Date | Description |
| February - March 2022 | Investor sign-up |
| April - July 2022 | Targeted engagement with non-responding companies |
Results of 2021 Non-Disclosure Campaign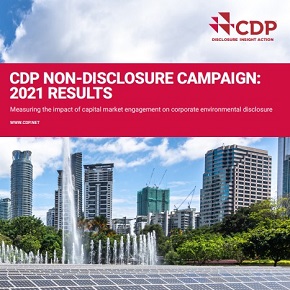 The full 2021 report
Read the full report on the results of the 2021 Non-Disclosure Campaign with analysis by sector and region
Companies Targeted in the Non-Disclosure Campaign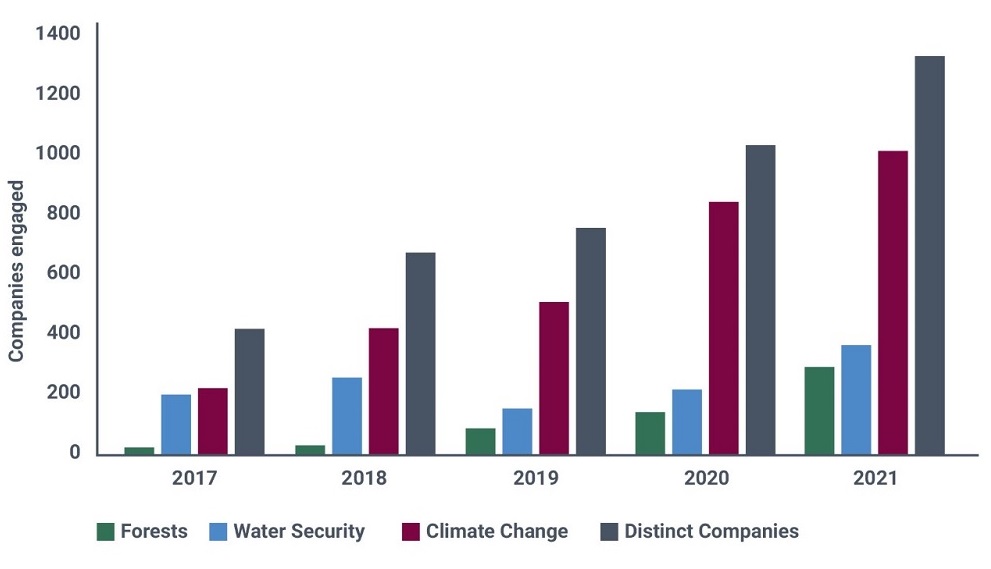 Figure 1: Campaign history of the number of companies engaged across all themes by participants in the NDC
---
Investors involved in the 2021 campaign
1919 Investment Counsel
ACTIAM
Aegon Asset Management
Aktia Bank Plc
ALECTA
Algebris Investments
AllianceBernstein
Allianz Global Investors
Amplegest
Amundi Asset Management
Anchor Capital
AP Pension
AQR Capital Management LLC
Arctic Asset Managment
Ardevora Asset Management
Ariel Investments
Avaron Asset Management
avesco Financial services AG
Aviva Investors
Aware Super
BankInvest
BDL Capital Management
Bethmann Bank / ABN AMRO
BLUEBAY ASSET MANAGEMENT
BMO Global Asset Management
Boston Common Asset Management
Boston Trust Walden
British Airways Pensions
Brown Advisory
Bundespensionskasse AG
Caisse des Dépôts
Caja Ingenieros Gestión SGIIC
CANDRIAM
Capricorn Investment Group
Carnegie Fonder
Castlefield
Cathay Financial Holdings
CCLA
Central Finance Board of the Methodist Church and Epworth Investment Management
ClearBridge Investments
COMGEST
Commonwealth Superannuation Corporation
COVEA FINANCE
CQS
Dana Investment Advisors
DNB Asset Management
DNCA Finance
Dorval Asset Management
DPAM
East Capital Asset Management AB
Eastspring Investments (Singapore) Limited
Ecofi
Ecofin
EdenTree Investment Management
EGAMO
Elo Mutual Pension Insurance
Environment Agency Pension Fund
Epoch Investment Partners
ESG Portfolio Management GmbH
Ethos Foundation
ETICA FUNDS Responsible Investments
Evli Bank
FASTEA CAPITAL
Fédéral Finance Gestion
FIM Asset Management Ltd
Findlay Park
First Affirmative Financial Network
Fisher Investments
Folketrygdfondet
Fondo pensione Pegaso
Foundation North
Genesis Investment Management, LLP
Globalance Bank Ltd.
Greater Manchester Pension Fund
Handelsbanken Fonder
Harmonie Mutuelle
Harvard Management Company
Holberg Fondsforvaltning
HSBC Global Asset Management
IMCO
Impact Cubed
Independent Franchise Partners
Inovar Previdência - Sociedade de Prev
Insight Investment Management
Irish Life Investment Managers

Jarislowsky Fraser Limited
JK Capital Management Limited
JSA Sustainable Wealth Management
Keva
KLP
La Financière de l'Echiquier
La Française Group
LGIM
LGT Capital Partners Ltd.
Liontrust Investment Partners LLP
Local Pensions Partnership Investments
LocalTapiola Asset Management Ltd
London Pensions Fund Authority
Los Angeles Capital Management
LYXOR Asset Management
M&G Investments
Macif
MainFirst Affiliated Fund Managers (Deutschland) GmbH
Matthews Asia
MEDIOBANCA SGR
Métropole Gestion
Miller/Howard Investments, Inc.
Mirabaud Asset Management
Mistra The Swedish Foundation for Strategic Environmental Research
Moneda Asset Management
Montaigne Capital
Montanaro Asset Management Ltd
New York City Office of the Comptroller
Nikko Asset Management
Ninety One
NN Group
Nordea Asset Management
Northern Ireland Local Government Officers' Superannuation Committee (NILGOSC)
Nuveen
NYS Common Retirement Fund
ODDO BHF Asset Management
Oekoworld
OFI AM
Operadora de Fondos Banorte
Osmosis Investment Management
Ostrum AM
Payden & Rygel
PCJ Investment Counsel
PIMCO
Premier Miton
PRIMA AFP
Quaero Capital
RAM Active Investments SA
Resona Asset Management Co., Ltd.
Riverwater Partners
Rize ETF
Robeco
Ruffer LLP
Schelcher Prince Gestion
Schroders
SEB Investment Management
Seventh Generation Interfaith Inc.
Sp-Fund Management Company Ltd
Strathclyde Pension Fund
SulAmérica Investimentos
SURA Investment Management
Sustainable Insight Capital Management
SYCOMORE AM
TD Asset Management
Telligent Capital Management Ltd
Tesco Pension Investment
TfL Pension Fund
The Local Authority Pension Fund Forum (LAPFF)
TOBAM
Trillium Asset Management
Trium Capital LLP
Troy Asset Management
Tundra Fonder AB
Union Investment
Union Mutualiste Retraite
United Bankers Oyj
University of Toronto Asset Management Corporation (UTAM)
Veritas Investment Partners (UK) Limited
Veritas Pension Insurance Company Ltd
Vert Asset Management
Vinva Investment Management Limited
Walter Scott & Partners
Washington State Investment Board

---
Companies targeted for the 2021 campaign
Search by company name, keyword or click on a column to sort
Note: Disclosure statuses listed in this table only refer to questionnaires targeted in this campaign. Companies may be requested or disclose on other questionnaires. Companies' complete request and disclosure status can be found by using our response search tool.

To join the Non-Disclosure Campaign or for more information or please get in touch