Climate Transition Plans
Climate Transition plans are a vital tool to demonstrate to investors and stakeholders that an organization is committed to achieving a 1.5-degree pathway, and that its business model will remain relevant (i.e., profitable) in a net-zero carbon economy.
CDP has produced a discussion paper for organizations to ensure their business model aligns with a net-zero economy. The high-level summary reviews and reflects the thinking drawn from other existing frameworks and related benchmarks, such as the Assessing the Low-Carbon Transition (ACT) framework, Science-Based Targets Initiative, Transition Pathways Initiative (TPI), CA100+ and the Climate Safe Lending Network.
Very few companies currently have a credible climate transition plan
Transition plans enable an organization to outline how it will deliver on its strategy to align with the latest and most ambitious climate science recommendations and keep themselves in line or ahead of relevant policy goals for the organization

A climate transition plan is a time-bound action plan that clearly outlines how an organization will pivot its existing assets, operations, and entire business model towards a trajectory that aligns with the latest and most ambitious climate science recommendations. i.e., halving greenhouse gas (GHG) emissions by 2030 and reaching net-zero by 2050 at the latest, thereby limiting global warming to 1.5°C.
Transition plans will be fundamental in catalyzing action needed to achieve a sustainable economy and are therefore at the heart of CDP's strategy. We want to do more to encourage and support companies to establish credible transition plans, underpinned by science-based targets - CDP is continually working to refine and develop guidance on transition plans, as well as measure performance against them.
CDP have created a technical note to provide guidance on how organizations disclosing through CDP can demonstrate that they have a credible climate transition plan in place.

'Are companies being transparent in their transition?'
2021 Climate Transition Plan disclosure
CDP's 2021 report shines a spotlight on how far along organizations are on their journey to developing climate transition plans and what key elements are being reported on. The report homes in on disclosure trends to targets and financial planning, and looks at industry and geographical trends across all climate transition plan elements.
Financial services, power, and, fossil fuels were the top-performing industries with the highest rates of climate transition plan disclosure.  5% of organizations in each of these sectors reported to all the key climate transition plan indicators. Whereas, the transportation services (0.3%) and apparel (0.2%) industries had the lowest disclosure rates, to these key indicators.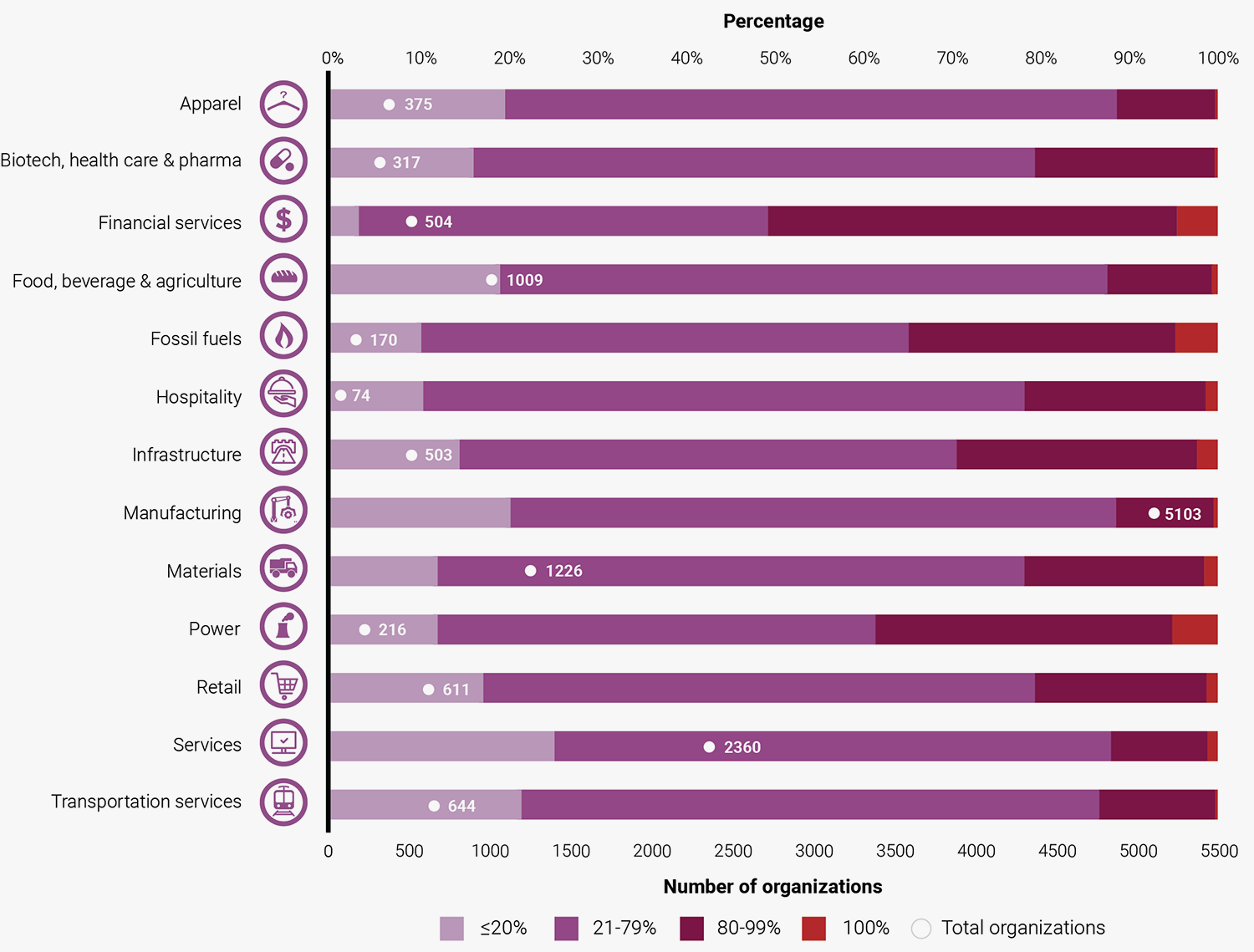 The report analyzes data from over 117 countries whose companies disclosed in 2021, Spain, France, and Japan had the highest proportion of organizations disclosing to all the key indicators, yet at only 4%, 3%, and 2% respectively. The country with the worst-performing organizations are Indonesia, Saudi Arabia, Argentina and China.
Spotlight on UK disclosure
This year the UK Government is planning to mandate listed companies and financial institutions to develop and disclose transition plans. This reflects the growing interest from investors, customers, and other stakeholders in how organizations plan on tackling the joining climate and nature crisis and transitioning their business model to one that aligns with a 1.5°C nature-positive world.
On the 25th of April 2022, the UK Government launched the Transition Plan Taskforce (TPT), which CDP is proudly a part of, the TPT's aim is to develop a gold standard for transition plans and transition plan disclosure. Being part of the task force helps ensure our disclosure platform remains in line with regulatory changes within the UK and will continue to provide UK companies with a platform to disclose all elements of their transition plans.
Organizations 2021 UK climate transition plan disclosure
How can CDP help organizations develop and disclose climate transition plans
CDP is here to help; our work with the UK Transition Plan taskforce alongside our discussion paper, technical notes on disclosing climate transition plans, other guiding documents, workshops, and Reporter Services are all available for companies globally and are all useful tools to be utilized when developing and disclosing credible climate transition plans.
CDP works with organizations to encourage them to engage with their value chains, in order to increase the development and disclosure of vital climate transition plans. Through CDP's Transition Plan Campaign, we hope to work with a growing number of organizations to increase the disclosure of climate transition plans across the entire economy.
Thursday, 31 March, 09:00 GMT, 16:00 GMT
Reporting on your climate transition plan
This webinar builds on the technical note that provides guidance on how organizations disclosing through CDP can demonstrate that they have a credible climate transition plan in place. CDP's technical experts will cover the concept of corporate climate transition plans, and outline questions in the 2022 CDP Climate change questionnaire that relate to credible climate transition plans.
Wednesday, 08 December, 14:00 - 15:00 GMT
Climate transition plans: Critical to keep companies accountable for net-zero
Watch this webinar to find out more information on how companies can create a credible climate transition plan.
Frequently asked questions