Financial institutions must scale investments and lending in support of the low-carbon transition, and work to align their portfolios with maximum of 1.5 °C of warming. To do this, they must identify companies that are willing and able to reduce their emissions.
Yet CDP data shows that only a fraction of the world's companies have ambitious emissions reduction targets covering all relevant emissions in their value chain.
As a tool for portfolio decarbonization and corporate engagement, CDP's temperature ratings dataset gives profound insights into the quality and coverage of corporate emissions reduction targets. Covering thousands of companies, users can easily identify companies with high ambition levels - and assess their current performance.
CDP temperature ratings give investors a clear, science-based and uniform standard for taking and measuring action towards a sustainable economy.
Mobilization and concrete action can only be achieved through a common understanding of the target impacts set by companies, and a recognition of the remaining required efforts. CDP's new temperature ratings support this collective journey as the economic and financial ecosystem develops new methodologies and data. By being better equipped, investors can future-proof their investment universe from the impact of climate change and improve corporate dialogue.

Jean-Jacques Barbéris, Member of the Executive Committee & Head of Institutional Clients Coverage and ESG, Amundi
How can investors use CDP temperature ratings
Temperature ratings are ideally suited for financial institutions' forward-looking corporate climate risk analyses and portfolio temperature assessments. The dataset contains detailed analyses of targets, including science-based targets, for various emission scopes and time periods, as well as current performance indicators.
An extended dataset also includes all corporate GHG emissions data and a portfolio temperature calculator.

Company analysis
Select best-in-class stocks with the lowest implied temperature pathways, calculate future carbon footprints, use temperature ratings for forward-looking risk analysis, and add to your analysis of companies' climate governance, risk, or investment data.

Reporting and disclosure
Disclose the temperature of your portfolio to your key stakeholders.
Portfolio assessment and target setting
Measure the temperature rating of your portfolio, set science-based targets and monitor progress against those targets.

Corporate engagement
Easily identify industry laggards and better engage with companies to set meaningful and ambitious emissions targets.
Benefits of CDP temperature ratings
Transparent - Uses a public, expert-reviewed and open-source target assessment methodology being developed by CDP and WWF and used by the Science Based Targets Initiative (SBTi).

Forward-looking - Based on forward-looking corporate ambition defined by targets and emission trend projections.

Science-based - Temperature pathways derived from the IPCC 1.5C and the Integrated Assessment Modelling Consortium (IAMC) compiled database of climate scenarios.

Includes Scope 3 - Systematically assesses corporate targets along the entire value chain, including a company's scope 3 emissions when relevant.

High level of detail - Shows separate temperature ratings per scope and for three distinct timeframes.

Powered by CDP data - Uses CDP's unique GHG emissions and granular targets data disclosed by companies and cleaned by CDP's dedicated Data Analytics division.

Standard-setting - Can be used by financial institutions for portfolio analysis and target setting, in addition to corporate supply chain analysis.

How do CDP temperature ratings work?
CDP temperature ratings draw on CDP's disclosure system and expert Data Analytics team for its ratings. CDP holds the world's largest and most detailed corporate environmental dataset, which contains uniquely detailed information on company targets and GHG data.
It uses a public, expert-reviewed and open-source protocol developed by CDP and WWF for interpreting corporate emission targets under key climate scenarios. This protocol translates individual targets of varied formats into consistent and comparable temperature ratings.
The temperature pathways used in CDP temperature ratings are derived from the UN Intergovernmental Panel on Climate Change (IPCC) 1.5°C report and the Integrated Assessment Modelling Consortium (IAMC) database of climate scenarios.
CDP temperature ratings systematically assess companies' entire emissions, producing separate °C temperatures for operational (scope 1 and 2) and complete value chain (scope 1, 2 and 3) emissions, including across short, medium, and long-term timeframes.
The data is supplemented with current temperature scores from the Science Based Targets initiative as well as from GHG emissions trend analysis, resulting in almost 4,000 unique company ratings. Companies without relevant public targets or a valid history of emissions data are assigned a default temperature rating.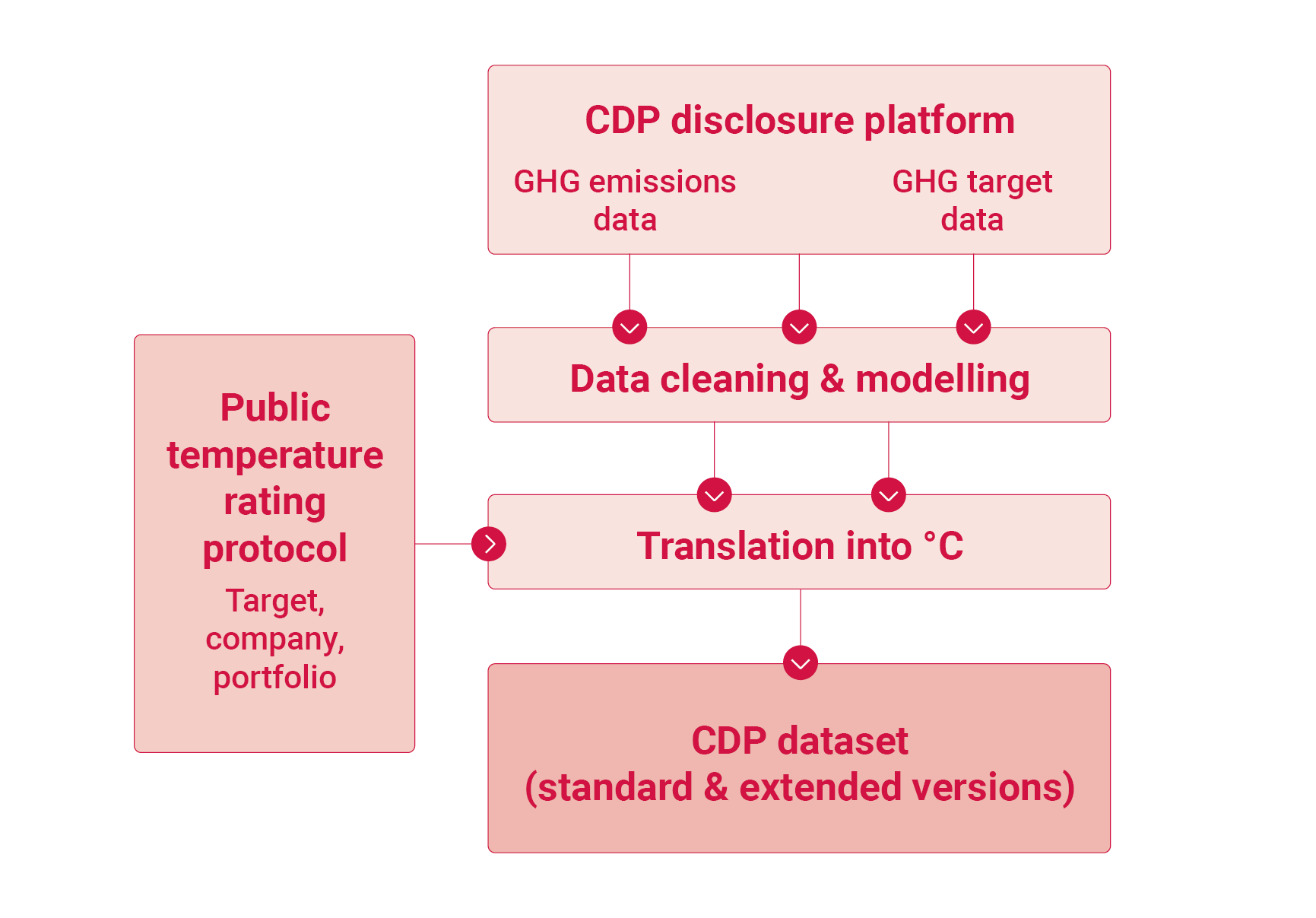 Download the CDP-WWF temperature ratings methodology (beta)