Welcome to CDP's global website
Please select the site for your country / region to view the most suitable information
High and Dry: How Water Issues Are Stranding Assets
Water insecurity is already impacting companies through the stranding of assets. Our groundbreaking report with Planet Tracker presents new research which highlights the deep implications for the global financial sector.

Water risk is already stranding assets across major sectors of the global economy

Global companies in key industries are already losing billions as a result of the global water crisis. The research shows how US$15.5 billion has been stranded, or is at risk.
The report focuses on four case studies taken from key sectors with high levels of water usage: oil & gas, electric utilities, coal, and metals & mining.

The case studies include the Keystone oil pipeline in Canada, the epicenter of recent environmental protests and legal battles; the Pascua-Lama gold mine straddling the border of Chile and Argentina; the controversial Carmichael coal mine, run by the Adani Group in Australia; and the Oyster Creek nuclear facility in the US.

Changes in water regulations, high levels of pollution, and community opposition are all driving stranded assets.

The projects represent the tip of the iceberg as high-quality water supplies are growing scarce.
Financial institutions must move quickly to avoid the worst impacts of the water crisis

Financial institutions are exposed to these risks through shareholding and lending activities.

The new analysis shows the top 20 financial firms have provided US$2.5 trillion in bond, loan, and equity financing to some of the world's most water-impactful companies over the past decade.

But many institutions are still unaware of the problem, with one-third reporting not to be assessing the exposure of their activities to water issues.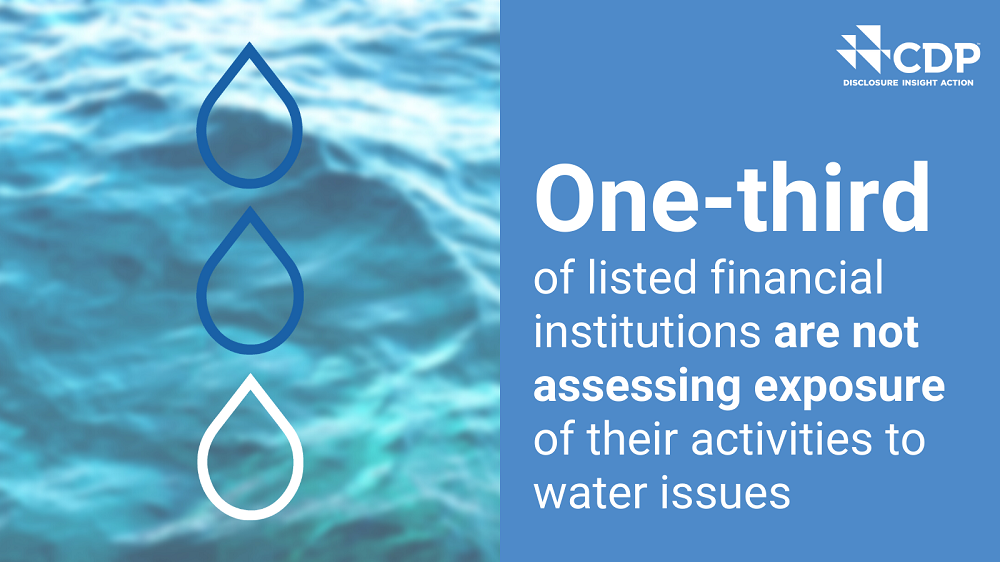 Three key actions for financial institutions
1. Assess risks and impacts. Take advantage of new tools to identify risks at different levels: industrial, company, stock, and geographical factors all play a role.

2. Disclose data. Increasing the level of transparency is critical to understanding water risks. Many regulators are already creating mandatory disclosure requirements to address environmental crises. Get ahead of these rulings and disclose their own portfolio water risks and impacts.

3. Manage risks and impacts. Create an engagement strategy which communicates the need for companies to address the water crisis.Put pressure on portfolio companies to support enhanced water disclosures and measure the impact of this engagement.

Where is water leading to stranded assets? Read the four case studies in the report.
We use cookies to improve your experience on our site. By continuing to use our site you accept our use of cookies. Please see our
Cookie Policy
and
Privacy Policy
for details.