Home
>
Global Supply Chain Report 2017

Global Supply Chain Report 2017
Explore how purchasers and suppliers are working together to improve sustainability across global supply chains and taking advantage of low-carbon opportunities
Harnessing the power of purchasing for a sustainable future
Supply chains must be a focus for global organizations seeking to avoid the risks and capitalize on the opportunities that come from building a sustainable future.

$2.7tri
worth of purchasing power
combined from 89 organizations request information from their suppliers.
4,366
suppliers
disclosed environmental data through CDP in 2016.
$12.4bi
worth of savings
from emissions reductions activities were reported by companies disclosing this year.
The 89 members of CDP's supply chain program, including names like BMW, Johnson & Johnson, Microsoft and Walmart, have a combined spend of US$2.7 trillion. They are using this power to engage suppliers, asking them to disclose environmental data to CDP. This data shows that disclosing companies have reduced their CO2 emissions by 434 million tonnes this year, which is more than France's annual global greenhouse gas (GHG) emissions.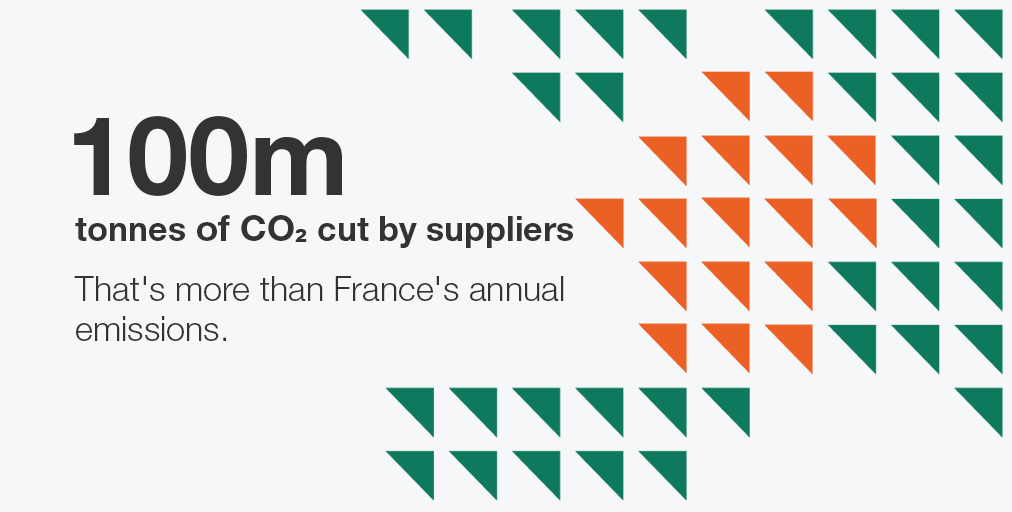 The power of procurement
Understanding and quantifying climate impacts, risks, and opportunities is fundamental to developing a sustainable supply chain program. It helps organizations prioritize, plan and lead on engaging with suppliers.
The 20% increase in CDP supply members in 2016 indicate that organizations are increasingly concerned with measuring and managing the emissions housed in their supply chain. CDP supply chain members and their suppliers saw the benefit of taking action when cost savings of US$12.4 billion were disclosed this year.
However, these actions are not taken up across the whole supply chain. Only 22% of responding companies are engaging with their own suppliers on carbon emissions and just 16% of companies are engaging on water use.
Better disclosure enables us to identify risks and opportunities in our supply chain. Our data tell us that the more extensively we invite our suppliers to respond, the better the quality of their response and their strategy for action becomes.

Paul van den Kerkhoff, Head of Supplier Quality, Sustainability and Development, Philips Lighting
There are a small group of leading companies that are taking action to tackle climate change, water scarcity and deforestation in their supply chains.
Supplier Engagement Rating
29 companies have made the top spot in CDP's first ever Supplier Engagement Rating. Selected from over 3,300 companies that were assessed, they are recognized as leaders for their work with suppliers to reduce emissions and lower climate-related risks in the supply chain. They are:


3M Company
AkzoNobel
Bank of America
Bic
BNY Mellon
Braskem S/A
Bridgestone Corporation
BT Group
Coca-Cola European Partners
Creative Group of Industries
Deutsche Telekom AG
EMC Corporation
Fiat Chrysler Automobiles NV
General Mills Inc.
General Motors Company
Hewlett-Packard
Kawasaki Kisen Kaisha, Ltd.
Komatsu Ltd.
KPMG UK
Mitsubishi Electric Corporation
Nestlé
Panasonic Corporation
Royal Philips
Sky plc
Sony Corporation
Stora Enso Oyj
thyssenkrupp AG
Toshiba Corporation
Yokohama Rubber Company, Limited
CDP supply chain data is testament to the resourcefulness of global suppliers to reduce their greenhouse gas emissions and water footprint while benefitting the business, customers and communities... I congratulate the companies highlighted by CDP as leaders on climate action in the first-ever Supply Chain Engagement Rating... By shining a light on leading company practices, this report provides insight into the evidence for action.

Patricia Espinosa, Executive Secretary, United Nations Framework Convention on Climate Change
Opportunities that come from engaging with supply chains
US$12.4 billion of cost savings from emissions reductions projects were disclosed to CDP in 2016, nearly double the savings reported in 2015. However, only 47% of companies that disclosed are actually setting targets to reduce their emissions.
59% of suppliers reported an increase in emissions or were unable to respond to their customer's request this year. This represents a significant opportunity for buyers higher up the value chain to engage on capacity building, training, resources, and increase the cost savings.


Start measuring the impact of deforestation in your supply chains
CDP is working to help these leading buyers manage the risks, set targets and capitalize on the ever-growing opportunities. Following a grant from the Norwegian Agency for Development Cooperation (NORAD) CDP now helps buyers collect standardized data on deforestation, as well as climate change and water security. This makes us the first organization in the world to help buyers manage the risk and opportunities across these three areas.
Find out more about how your company can start addressing the environmental risks and opportunities in your supply chain