Home
>
Global Cities Report 2016

Global Cities Report 2016
Action by cities is essential; Collaboration works; and Collaboration on climate action is an economic opportunity.


Action by cities is essential for achieving the Paris Agreement goals, but cities cannot do it alone.
Our annual global report analyzes data from 533 cities and shows the emerging case for collaborative climate action between cities, regions, businesses and investors. The vast majority of these cities identified over 1,000 economic opportunities linked to climate change, including 299 cities who are looking to develop new business industries, such as clean tech.
This year's disclosures also reveal that many cities are already actively looking to partner with the private sector on climate change: cities highlighted a total 720 climate change-related projects, worth a combined US$26 billion, that they want to work with business on.
The findings feature in It takes a city: The case for collaborative climate action, a new report published by CDP and AECOM, and sponsored by Bloomberg Philanthropies.
70%
increase in cities disclosing since the Paris Agreement was adopted
1,000+
economic opportunities identified by 397 cities
56%
of cities identified opportunities to develop new businesses or industries linked to climate change
The investment needed by cities into transport, energy, water, waste and telecommunications infrastructure, is estimated at US$57 trillion between now and 2030. Investment of this magnitude can only be delivered through collaboration with businesses and investors.
Action by cities will be essential to achieving the ambitious goals of the Paris Agreement. Encouragingly, more than 7,000 cities have made commitments through the Global Covenant of Mayors for Climate & Energy, the largest global coalition of cities on climate. Research by the C40 Climate Leadership Group highlights that in 75% of the cases where cities are prevented from taking climate action, collaboration with partners, such as the private sector, is needed. This, coupled with the reality that building low carbon cities will require trillions of dollars' worth of investments, means that collaboration with the private sector is essential.
Regional breakdowns of climate-related projects seeking private investment.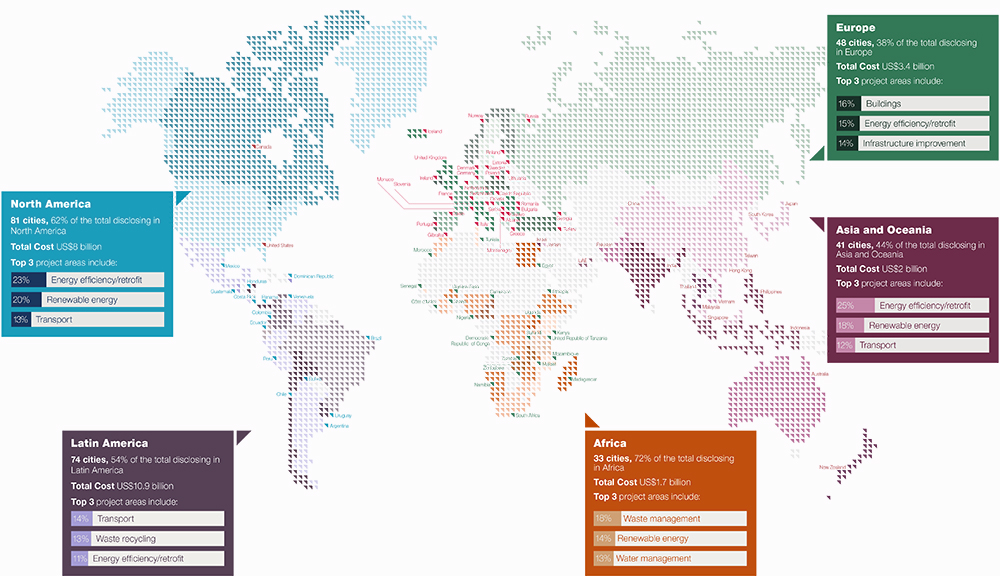 533 cities are now disclosing climate change-related data. Find out more about the climate action being taken in cities in our summary report, a report summarizing our key statistics in each region. In 2011, 1 in 10 cities reported undertaking a city-wide emissions inventory, now 4 in 10 cities report doing so. 190 cities have set city-scale emissions reduction targets with over 3,000 actions to reduce emissions. 89% of cities view climate change as a risk to their city, with nearly 1,500 actions to adapt to climate change being disclosed.
533 cities are now disclosing climate change-related data. Find out more about the climate action being taken in cities.
Collaboration between different sectors of the economy has potential to drive climate action. See how cities, businesses and investors view collaboration to meet their goals.