CDP Europe Awards 2022
Held online on March 9 2022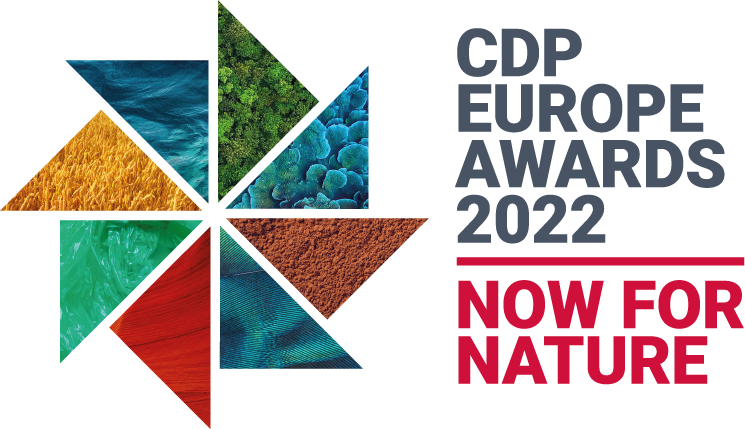 Our crises in climate and nature are two sides of the same coin. Earth's systems are critically threatened, planetary boundaries are breaking, irreversible tipping points near. Climate catastrophes will permanently worsen unless we stop warming at 1.5°C, drive emissions to genuine net-zero, and achieve a full recovery of nature and biodiversity.

The science is clear: this is humanity's 'code red', and our window to deliver is narrowing. Without immediate attention on all environmental challenges – from oceans to food – Earth's natural systems will collapse. It's #NowForNature: A radical transformation of our economy, society and financial system is our only choice.
The CDP Europe Awards 2022, produced in partnership with Euronews TV, interviewed EU politicians, corporate CEOs, finance leaders and mayors on how their environmental ambitions are paired with concrete, science-based plans for action.
The event included the launch and presentation of the annual CDP Europe Report, written in partnership with Oliver Wyman.

How global finance can meet net-zero, with Philippe Heim, CEO of La Banque Postale, and Sir Ronald Cohen.
Learn how world business leaders at Danone, Enel and Firmenich stay focused while targeting emissions.
Three experts debate how science and economics must go together to transform our world.
Learn from two UN executive secretaries how international efforts are leading the net-zero transformation.
Register to join next year's event
Want to join the next event? Register your interest here and we'll ensure you're invited and kept up to date with the next event.
If you experience an issue submitting the form, it may be affected by some VPN use. Please temporarily disable your VPN and re-submit the form. The CDP Europe Awards team may be contacted here.
By submitting, you agree to CDP's privacy policy.
The CDP Europe Awards is run by CDP Europe (Worldwide) gGmbH, a charitable limited liability company registered under number HRB119156 B at local court of Charlottenburg in Germany, and registered on the EU Transparency Register since 2012.