Auto sector facing double hit of disruption from electric vehicles (EVs) and autonomous and shared driving, with profits likely to shift to tech giants including Uber and Google;
Zero emission and plug-in hybrid market worth a potential USD$1 trillion by 2030;
Traditional auto companies have responded with innovation and invested more than USD$11 billion in autonomous and shared vehicle companies, including Lyft, in the last two years;
Automotive companies could be hit by up to EUR€940 million in penalties due to missed emissions reduction targets and environmental regulation;
BMW, Daimler and Toyota are the best performing companies on climate-related metrics, with Subaru, FCA and Suzuki ranking lowest.
January 18, 2018: A new report 'Driving disruption' analysing 16 of the world's largest publicly-listed automotive companies with a total market capitalization of US$790 billion reveals that the industry must adapt rapidly to address technological disruption and environmental regulation or risk falling behind. The companies analysed in the report from CDP – voted no. 1 climate change research provider by institutional investors – represent more than three-quarters of the global passenger vehicle market with road transport accounting for 17% of global CO2 emissions.
The auto sector is facing a complete overhaul with technological disruption already well underway. The research shows that EVs could become as affordable as traditional petrol and diesel cars as soon as 2022, making it easier for carmakers to profit from the low carbon transition. Indeed, a third of new cars sales are expected to be zero emissions and plug-in hybrid by 2030, representing a potential USD$1 trillion market. At the same time, over a fifth1 of automotive company profits are expected to shift to tech suppliers and ride-sharing services such as Uber and Google by 2030.
Traditional carmakers are responding well to the shift in global consumer trends. These companies have invested more than US$11 billion in autonomous and shared vehicle companies, such as Lyft, since 2015, and have set a huge number of aggressive electric and autonomous vehicle targets in the last year2. General Motors, for example, is working towards an "all-electric future" and is aiming to roll-out a fully self-driving ridesharing service by 2019.

However, the research finds that half of these carmakers still risk penalties by missing their emissions targets, and costs could be high, with up to EUR€940 million at risk. In the EU alone, emissions must be reduced by up to a fifth over the next 5 years, meaning that some companies will need to increase their share of sales from EVs to 20% in order to meet the EU's 2021 targets.

The report also highlights other potential risks and opportunities for the sector:
China key to auto sector disruption: the largest vehicle market in the world has aggressive targets for new energy vehicles such as EVs. This is significant as China accounts for 29% of global passenger vehicle sales.
All eyes on governance: Governance and remuneration structures lack alignment with the low carbon transition but European companies lead with a greater focus on climate linked remuneration and board level expertise.
Increasing compliance costs: Carmakers face increasing costs for complying with emissions regulations for traditional car engines, which are expected to increase threefold by 2025 and reach over $2,200 per vehicle. Companies may struggle to pass these costs onto consumers.
Knock on effect to other sectors: All of the changes in the auto industry will have a material impact on other sectors such as oil & gas and the power sector, with increased demand for electricity.
Paul Simpson, CEO of CDP commented: "The auto sector is the poster child for the future of industry as we know it. Tech and software disrupters have forced this high-emitting industry to innovate at a pace faster than it perhaps feels comfortable with. It is promising to see traditional carmakers step up to the mark to meet global shifts in demand for EVs. Only time will tell if new market entrants such as Uber and Google will alter consumer demands in the long-term. Regardless, auto manufacturers should quickly adopt new business models to ensure their survival in the low-carbon transition."
The CDP report assesses companies across three key areas aligned with the recommendations from Mark Carney's Task Force on Climate-related Financial Disclosures (TCFD). As the TCFD recommendations become mainstream, investors will increasingly expect auto companies to disclose how they are adjusting their business models to manage transition risks, while taking advantage of the opportunity to generate revenue from the global transition to a low-carbon economy.
CDP's summary League Table for automotive companies is below: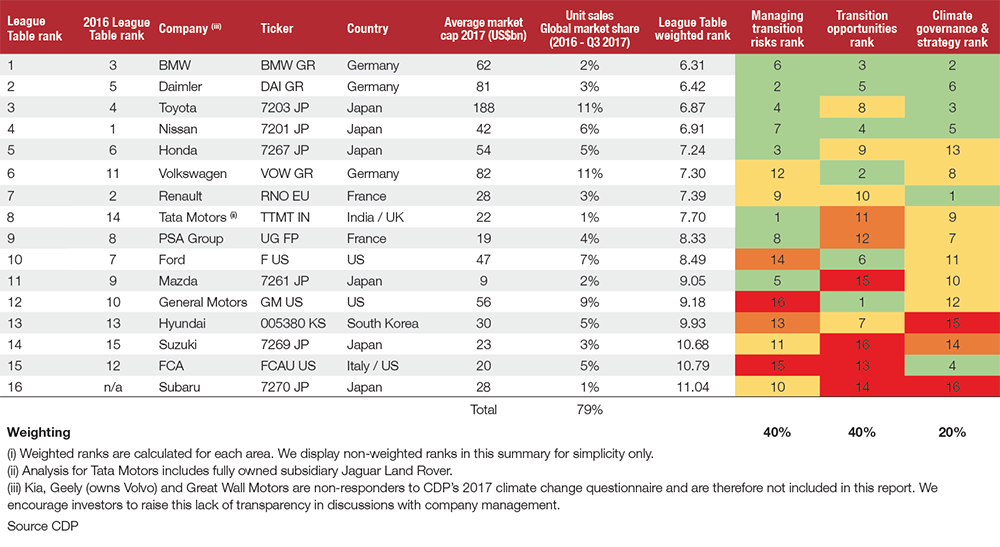 Luke Fletcher, senior analyst at CDP commented: "The auto sector is facing two waves of technological disruption – the first from EVs and the second from autonomous, shared driving. A whole new ecosystem is emerging, integrating energy generation, storage and transport while the rise of autonomous vehicles and mobility as a service will fundamentally change the form and function of the sector. Tightening emissions regulations and China's new-energy vehicle quotas that begin in 2019 are forcing companies to increase penetration rates of advanced vehicles. Traditional carmakers may see these challenges as threats to existing business models. However, to be successful they must embrace the new opportunities and markets that will become available over the coming years."
Kia, Great Wall and Geely (Volvo) did not respond to CDP's 2017 climate change questionnaire and are therefore not included in this report. We encourage investors to raise this lack of transparency in discussions with company management.
You can view the executive summary of the report here.
- ENDS -
Notes to editor
For more information or for exclusive interviews with the CDP team, please contact:
Scope and methodology: Full details of the scope of the report and methodology used are included in the full version of the report which can be accessed by CDP signatories. For the full report please contact [email protected]
About CDP and this report
About CDP
CDP is an international non-profit that drives companies and governments to reduce their greenhouse gas emissions, safeguard water resources and protect forests. Voted number one climate research provider by investors and working with institutional investors with assets of US$100 trillion, we leverage investor and buyer power to motivate companies to disclose and manage their environmental impacts. Over 6,300 companies with some 55% of global market capitalization disclosed environmental data through CDP in 2017. This is in addition to the over 500 cities and 100 states and regions who disclosed, making CDP's platform one of the richest sources of information globally on how companies and governments are driving environmental change. CDP, formerly Carbon Disclosure Project, is a founding member of the We Mean Business Coalition. Follow us @CDP to find out more.
The report
This research is part of a series of award winning in-depth sector analysis by CDP to provide investors with the most comprehensive environmental data analysis. It aims to identify the most material metrics for each specific sector and how they link to financial performance. Our methodology is unique as the weighting assigned to each metric is transparent and can be applied individually according to investor preferences. These rankings are not intended to identify definitive winners and losers for investment purposes, but rather to indicate strategic advantage in an industry where there is a significant regulatory impact on all major markets.
Reports on the oil & gas, steel, cement, automotive, electric utilities, chemicals and mining industries were released in 2015, 2016, and 2017.
1Strategy& (PwC)
2When taken in aggregate, cumulative company targets are in line with the IEA 2DS scenario out to 2025