Scoping out: Tracking nature across the supply chain
Global Supply Chain Report 2022
With wide-ranging rules likely to be enforced this decade following agreements, including at COP15, companies need to engage their suppliers now on nature and climate to avoid falling behind.
Companies must recognize that their impact on the environment extends beyond their direct operations
Scope 3 targets only make up 15% of all new or in-progress targets, despite accounting for 11.4 times of the direct emissions per company, further underlining the lack of attention to upstream impacts.
Identifying and calculating emissions in all relevant Scope 3 categories is crucial to understand a company's real carbon footprint.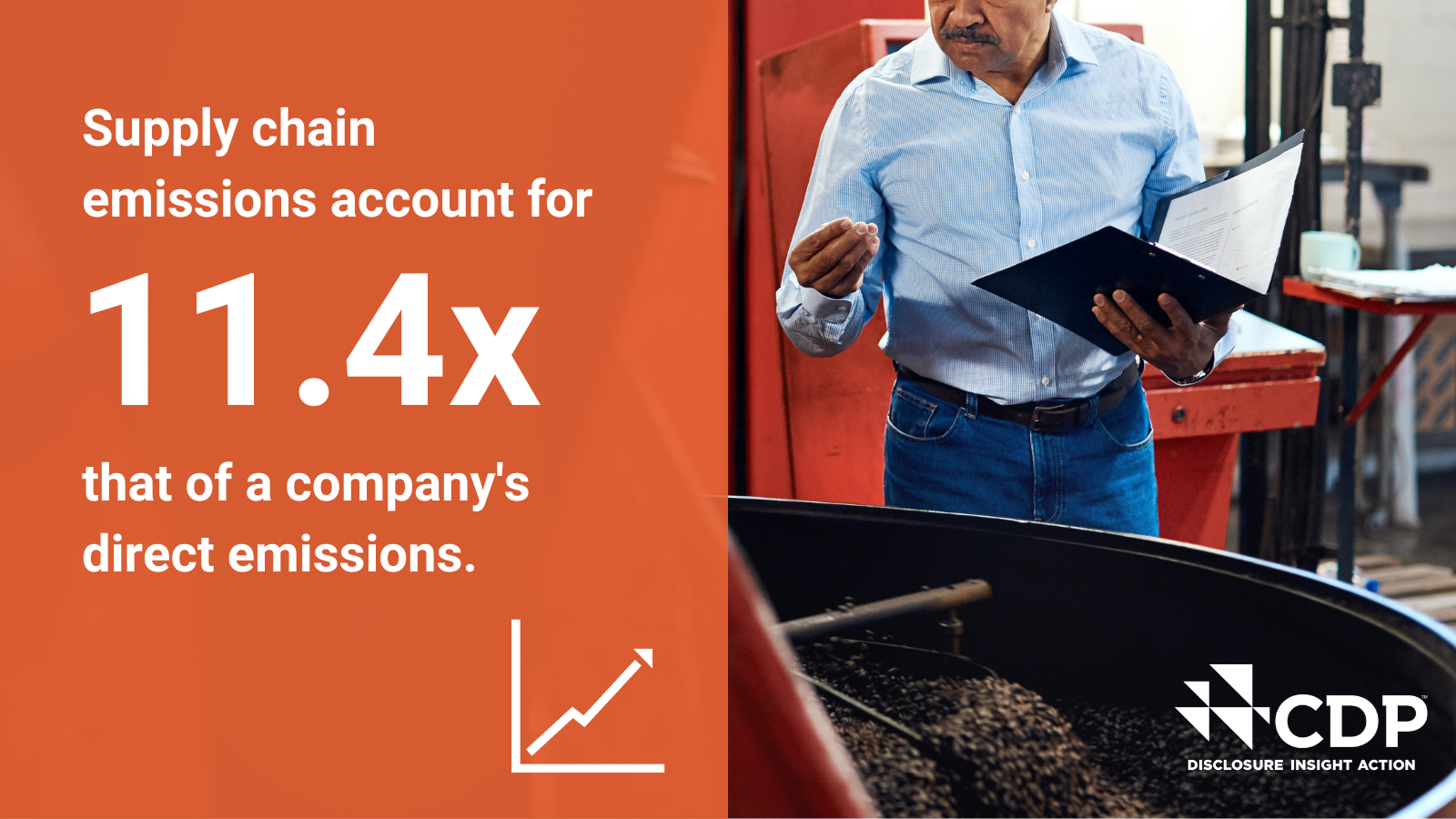 Climate change and nature are not being tackled together despite growing awareness of the benefits of addressing them holistically.
Of the 18500+ companies disclosing through CDP in 2022, more than 7000 companies reported that they engaged their suppliers on climate change compared to 915 on water and just over 500 on forests.
Although low in numbers, supply chain engagement is proportionately higher for the 500 companies disclosing on deforestation. 69% of companies are engaging with suppliers on the issue, compared to the 39% who disclosed on climate change and just the 23% on water.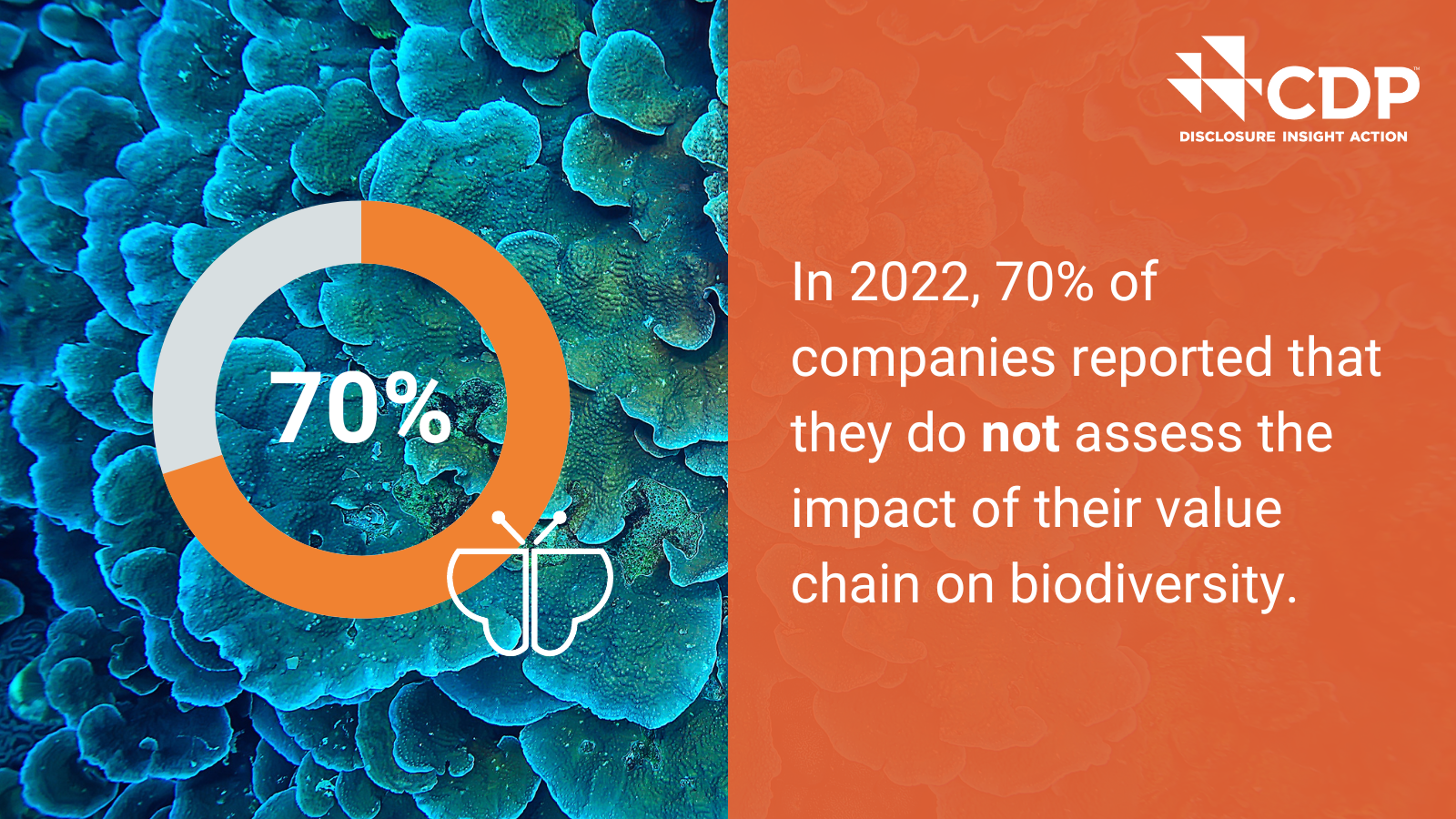 Reducing Scope 3 emissions is an important part of our net zero strategy. That's why we're working with suppliers and CDP Supply Chain to collaborate on creating a net zero future.

Gabrielle Ginér, Head of Environmental Sustainability, BT Group
Transformation cannot happen without internal organizational leadership. Climate and action on nature must be built into purchasing business as usual.
Currently companies are telling us their leadership isn't incentivized on water security and deforestation, let alone cascading to the buyers
70% of companies' C-suites will not be incentivized to take action on deforestation before 2025. Only 3% of companies have water-related incentivization in place for their Chief Procurement Officer.
Just one in every 10 companies includes climate-related requirements in supplier contracts.
Understanding that the majority of our corporate footprint is in our supply chain, we leverage our CDP Supply Chain program membership to raise our suppliers' awareness of best practices and drive them to improve environmental management.

James Riddle, Supply Chain Environmental Strategy Lead, HP Inc.
There is a small, but growing group of trailblazing companies paving the way to truly meaningful environmental action.
CDP is currently working with over 280 sustainability leaders via its Supply Chain program representing $6.4 trillion in procurement spend.
This year, 16,462 suppliers reported to CDP at the request of their customers.
Their suppliers reported saving 70mt CO2, equivalent to the energy use of 9.8 million homes in a year, due specifically to CDP supply chain member engagement showing that engagement does drive action globally.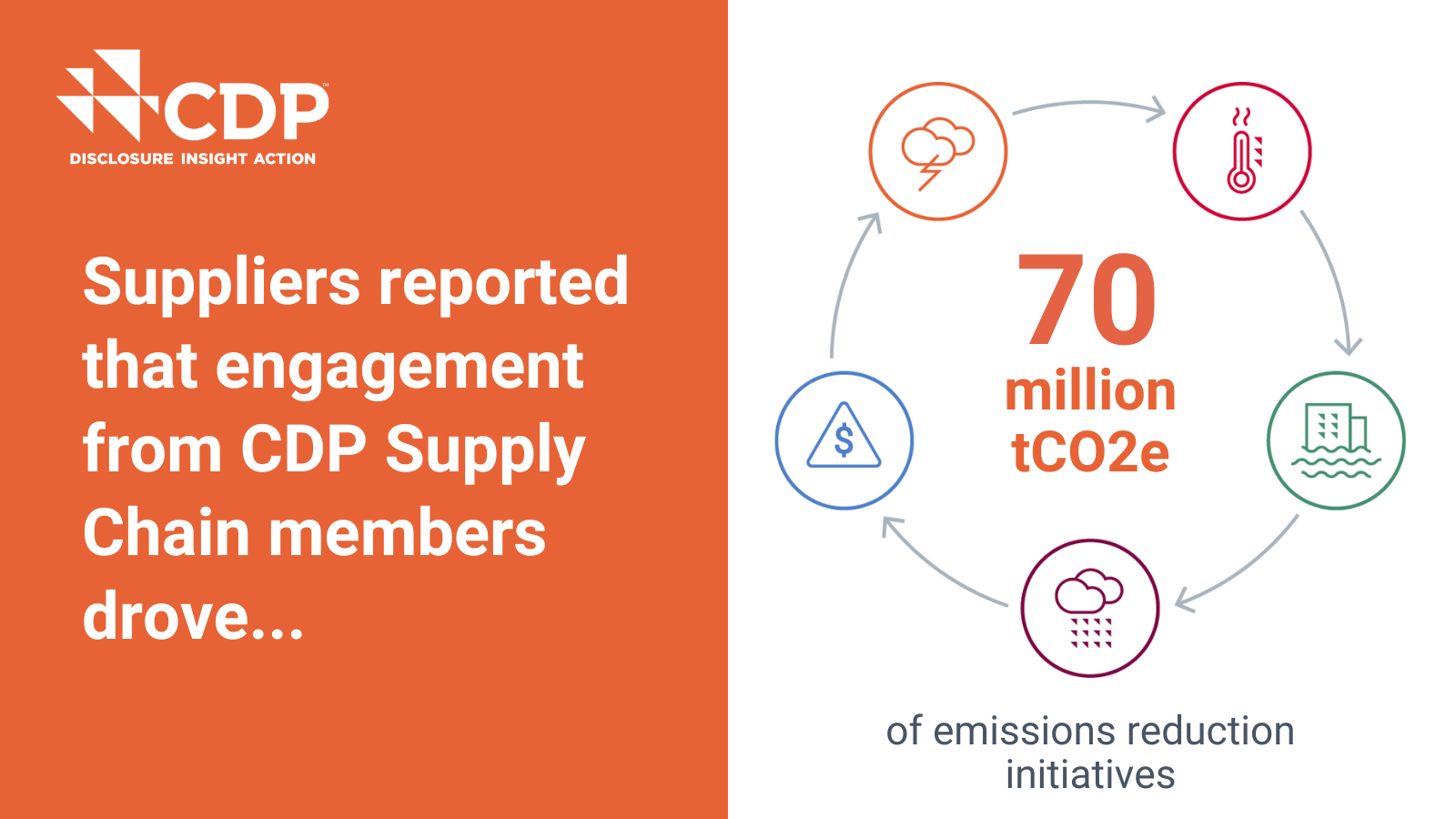 We need common approaches to reporting to simplify processes and accelerate sustainability. CDP Supply Chain membership allows us to gain consistent insight into our Scope 3 emissions and deliver on our sustainability priorities. In 2022, we stepped up our action and have now invited over 700 suppliers to report through CDP – nearly three times the number invited in 2021.

Robert Williams, Director of Sustainable Procurement, AstraZeneca
Disclosing through CDP helps companies to accelerate the rate of action needed to align to 1.5.C science.
26% of first-time respondents report setting climate targets, while 57% of repeat respondents do so, highlighting how annual disclosure drives target setting.
Supplier Engagement Rating Leaderboard
CDP's annual Supplier Engagement Rating (SER) evaluates corporate supply chain engagement on climate issues.
The highest-rated companies are celebrated in the Supplier Engagement Rating Leaderboard below. By engaging their suppliers on climate change they are playing a crucial role in the transition towards the net-zero sustainable economy– for more information, see the SER introduction.
Search by company name, keyword or click on a column to sort