From Risk to Revenue
The investment opportunity in addressing corporate deforestation
Tackling deforestation is key to addressing climate change: 15% of all greenhouse gas emissions are directly caused by deforestation and up to 33% of climate mitigation efforts depend on preserving forests. CDP's 2017 Global Forests Report makes a clear business case for investor action, highlighting the material risks that come from deforestation, and the opportunities emerging for those acting against it.
A lack of engagement and accountability on deforestation puts companies and investors at risk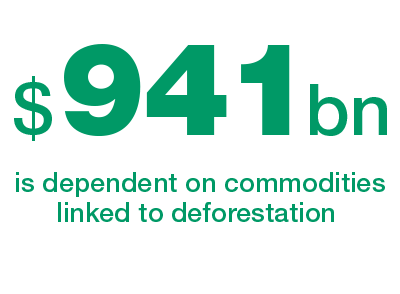 Up to US$941 billion of turnover in publicly listed companies is dependent on commodities linked to deforestation, including soy, palm oil, cattle and timber. Some 87% of companies reporting to CDP identify risks from deforestation and nearly one third (32%) are already experiencing impacts on their business from those risks.
With risks looming, investors are increasingly concerned about deforestation, but a lack of information is leaving them in the dark. In 2017, less than a quarter (23%) of the 838 companies approached by CDP on behalf of investors responded to the request for information.

​Deforestation poses a number of material concerns to investors, including restricted market access, competitive disadvantage and reputational damage. To counter this risk, investors must demand rigorous disclosure from companies.​

Leslie Samuelrich, President, Green Century Capital
There is a growing market for deforestation-free commodities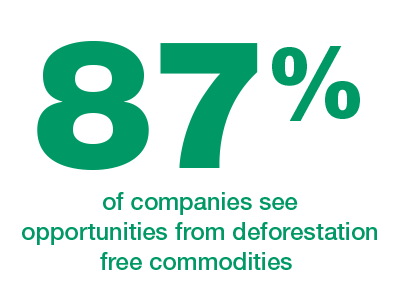 87% of companies report opportunities associated with addressing deforestation, and as 73% of companies report a commitment to reduce or remove deforestation from their supply chains, there is a large and growing market for deforestation-free commodities.
The Tropical Forest Alliance 2020 suggests the investment opportunity will roughly total US$200 billion annually for deforestation-free investment and financing by 2020.
A small group of pioneering companies are forging ahead – and reaping the benefits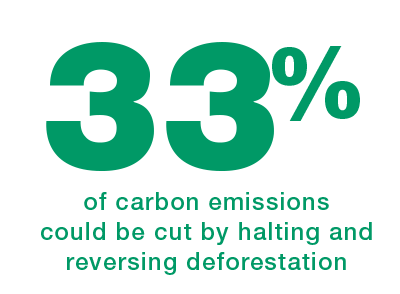 This year, Brambles, L'Oreal, SCA, Tetra Pak, Unilever, and UPM-Kymmene achieved the top score and have been named as pioneers in tackling deforestation as part of the CDP A List 2017. These companies taking early action - like Unilever, the only company to score As across all four forest-risk commodities - are showing that best-practice on deforestation can go hand-in-hand with long-term profitability.
We are at a Tipping Point for the world's forests, removing deforestation from supply chains is possible, and those acting early will reaps the benefits.

201
companies who disclosed data to CDP have been analysed in this report
73%
companies committed to reduce or remove deforestation from their supply chains
650+
institutional investor signatories, with a combined US$87 trillion in assets, are behind the disclosure request
Being a sustainable business goes hand-in-hand with being a successful business, as we drive profitable growth for our brands, save costs, reduce risk, and fuel innovation.​

Graeme Pitkethly, CFO of Unilever
Our vision is for a thriving economy that works for both people and planet. Together, we can tip the balance and achieve this vision.
Financial Institution Guidance: Soft Commodity Company Strategy
Following on from the CDP Global Forests Report, this document - co-written by CDP and Global Canopy Programme - gives financial institutions practical guidance on engaging with investee companies around deforestation-related risks and impacts. The recommendations are relevant for all companies involved in soft commodity supply chains, including palm oil, timber products, cattle products, and soy.