Home
>
Global Forests Report 2016

Global Forests Report 2016
Explore companies' deforestation risk management activities and company engagement across supply chains to meet their future business needs and protect long-term value.

Addressing deforestation is critical to business success
CDP data shows that up to US$906 billion in revenue is at risk because of deforestation. This means there is a lot at stake. Companies' deforestation risk management activities and engagement across their supply chains is essential to meet their future business needs and protect long-term value.
Here we will set out the risk of deforestation to companies, explore the opportunities available and see how engaging with supply chains can ensure future growth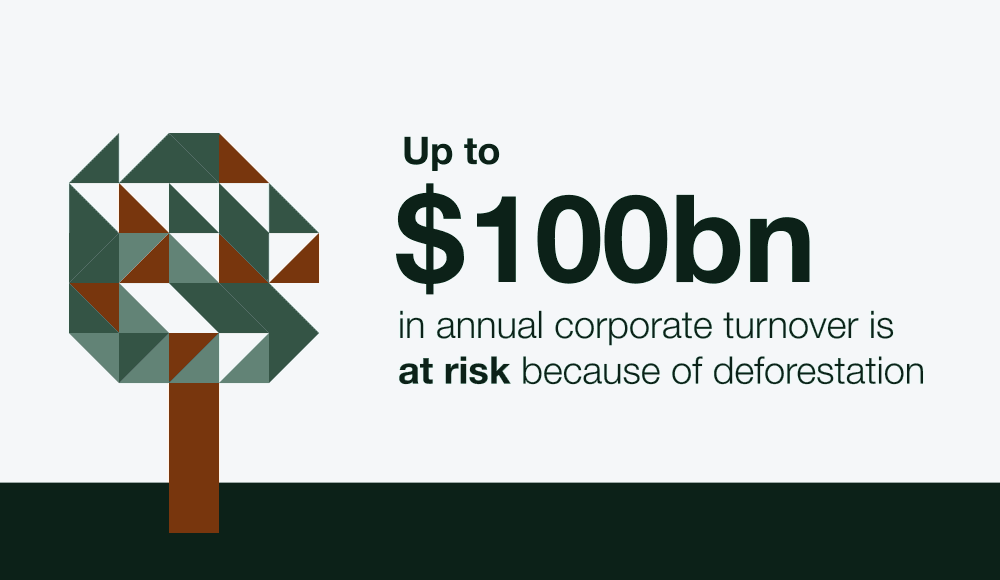 Supply chains are like rows of dominoes: if unsustainable commodities enter the top of a supply chain, the effects will cascade throughout. Failing to address deforestation will have knock-on reputational impacts, manifesting themselves as consumer boycotts, community opposition, and increased regulatory scrutiny. Business growth is at risk.

Katie McCoy - Head of forests, CDP
Companies producing and sourcing commodities responsible for deforestation could be putting revenues at risk. Companies identified damage to their reputations as a common risk, resulting in a reduced demand for goods and services.
The impacts of climate change - which itself is being fuelled by deforestation - is leading to higher operating costs for companies. This, in turn, increases the challenges associated with sourcing or producing commodities.

24%
Companies report that, on average a quarter of their revenues depend on commodities linked to deforestation: cattle, palm oil, soy and timber.
1 in 5
Despite this, only one in five companies assess risks associated with deforestation beyond a six-year horizon across commodities.
365
investors representing US$22 trillion in assets requested corporate deforestation data through CDP this year, a 20% increase in the number of investors requesting information since last year.

Building opportunities through deforestation-free supply chains
77% of reporting companies recognize at least one supply chain risk with the potential to generate a substantive change in business operations, revenue or expenditure.
However, only 42% of companies have evaluated the availability or quality of forest-risk commodities over the medium-term. With such a large proportion of company revenues attached to these commodities; companies need to ensure they are planning for the long-term to ensure the sustainable supply of these commodities in future.

JBS can be a 'gamechanger' in several issues across the beef value chain … We can influence the entire supply chain over time to prevent deforestation, one of the most important sources of greenhouse emissions in Brazil.

Márcio Nappo, Director of Sustainability at JBS

Engage suppliers with CDP's supply chain program
94% of manufacturers and retailers that work with their suppliers have identified business opportunities, versus 35% of those that do not.
Supplier disclosure provides the building blocks for organizations to manage and reduce deforestation risk at scale. Now, for the first time, CDP is offering companies the opportunity to gather supplier information in a standardized and comparable format across four major commodities.
CDP will lead both purchasing organizations and suppliers on a journey towards deforestation-free supply chains.

CDP has established the most comprehensive platform for purchasing organizations to easily engage with suppliers on reducing the risks associated with deforestation.