Cities on the route to 2030
Building a zero emissions, resilient planet for all
We stand at a major crossroads for city climate action. As we mark a decade of cities disclosing climate data through CDP, there are less than ten years left to halve global emissions. Our new report reveals the huge progress in disclosure and action over the last decade – and where cities must now urgently ramp up their ambition and efforts to secure a resilient, green recovery from COVID-19, and a climate-safe future.
Ten years of city disclosure - a decade of action ahead
The latest climate science is clear. We must halve global emissions by 2030 and reach net zero by 2050 if we are to build a zero emissions and safe, resilient planet for all.
Cities, representing up to 70% of global emissions, and with 50% of the world's population living within their walls, have a key role to play.
Data is central to effective action. In the past ten years, CDP has seen a 17-fold increase in the number of cities disclosing through CDP-ICLEI Track, from 48 in 2011 to 812 in 2020.
At the frontlines of both the COVID-19 pandemic and the climate crisis, and despite increased pressure and reduced resources, cities know that measuring and managing their environmental impacts and risks is vital for future resilience.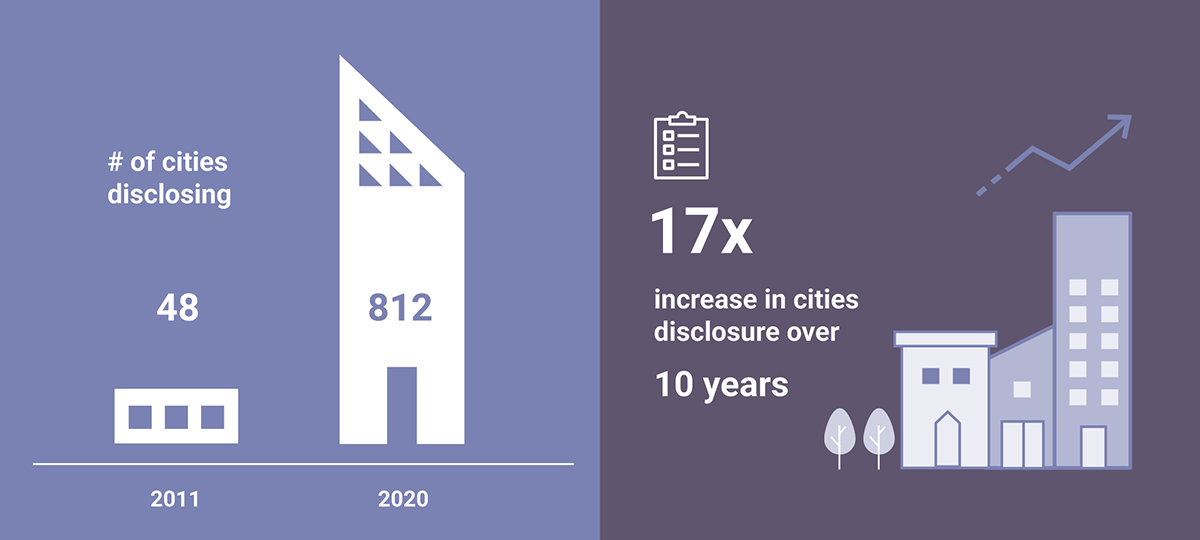 Cities are building resilience and decarbonizing
Our decade of data reveals progress in city action and ambition. More and more cities are measuring their emissions and setting city-wide targets.
Cities are building resilience against climate threats, taking a total of 3,417 actions, ranging from tree planting and greening (20% of cities) to developing hazard resistant infrastructure (10% of cities).
And cities disclosing through CDP are already outperforming on urgently needed decarbonization compared to the global average: 42% of their energy mix comes from renewable sources compared to a 26% global average.
Progress made in 10 years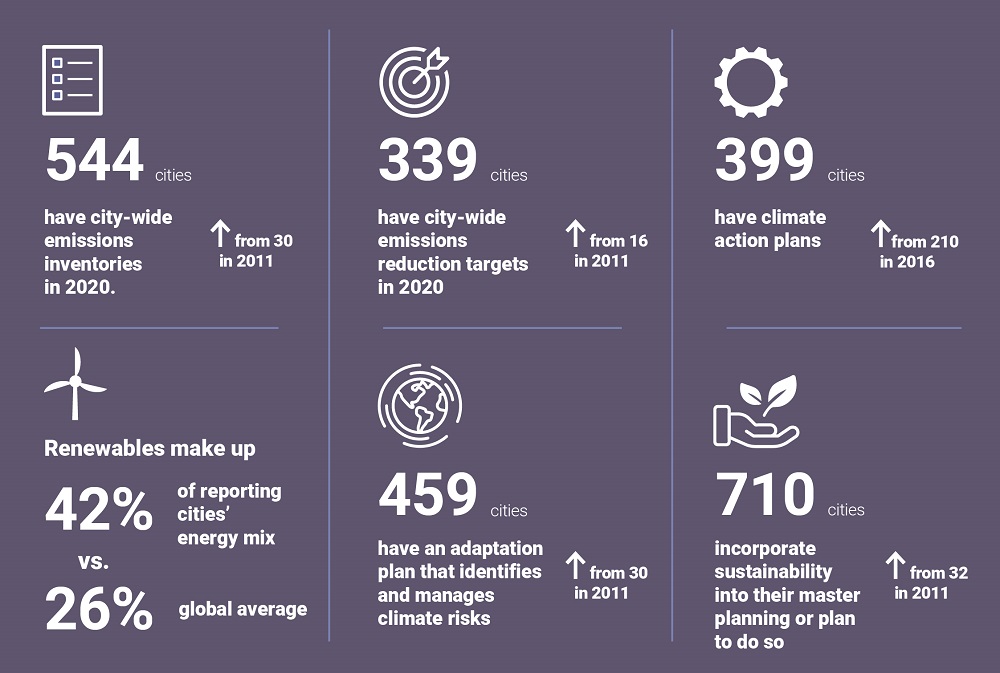 Despite progress, budgets are barriers to action – and there are critical gaps in planning and preparedness
To survive and thrive, cities must be resilient, healthy, and equitable places to live and work. Preparing and adapting for climate change, alongside setting science-based targets and rapidly decarbonizing, is key.
Although 93% of reporting cities are facing significant climate hazards that put their people and infrastructure at risk, currently 43% of cities do not yet have an adaptation plan to tackle these hazards and keep populations safe. One in four face budgetary barriers to action.
Cities are accelerating their decarbonization, and seeking funding for projects from transport to renewable energy, to water management.
Yet, 41% of cities have not carried out a climate risk and vulnerability assessment (CRVA) – a key step in climate preparedness where the city identifies people, infrastructure, and resources at risk from the growing physical hazards of a changing climate.
Our data shows that cities with climate action plans identify twice as many opportunities from addressing climate change as those without – including business innovation and additional funding.
The route to 2030: Accelerating disclosure and seizing opportunities for action
The last ten years have laid the foundations for cities to step up in this critical decade of action.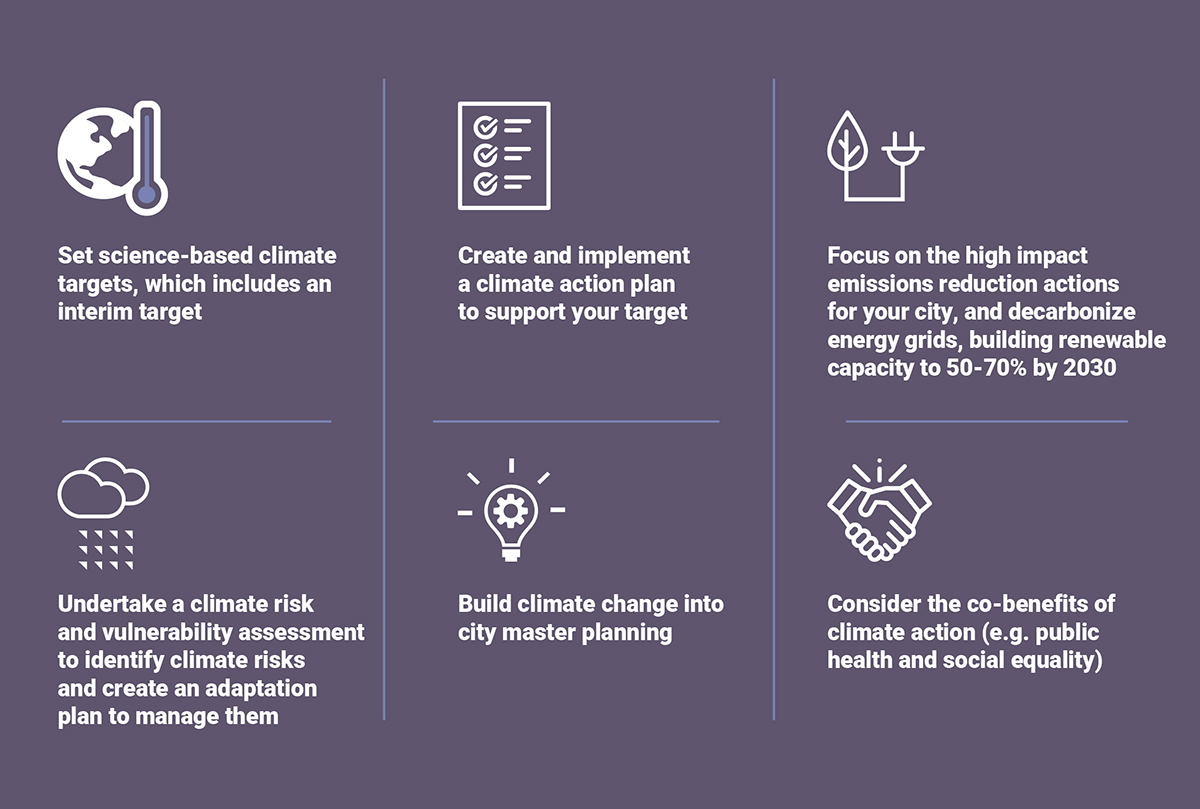 But they cannot do it alone. Despite the powers they have, the bulk of a city's emissions typically come from sources over which it exercises no control. Cities are stepping up to this challenge by choosing to collaborate with other stakeholders. 76% of cities are already working with the private sector on sustainability projects or are planning to do so in the next two years.
Robust, accurate, and timely disclosure of environmental data is essential to set robust targets, take effective action, and credibly demonstrate progress toward limiting global warming to 1.5°C.