Doubling down: Europe's low-carbon investment opportunity
CDP Europe Report
For the EU to meet its net-zero target by 2050, the economy must rapidly decarbonize. Investment decisions taken by European companies will make or break this commitment. Our 2019 Europe report, Doubling down, reveals that while European companies are taking bold action, current levels of low-carbon capital investment must double. To close the investment gap, action is required on all fronts – and the business case is clear.
Low-carbon investment is vital for tackling climate change – and European companies are acting at scale
Achieving the EU's goal of climate-neutrality by 2050 means decarbonizing the economy at the rate of nearly 8% per year.
Companies reporting through CDP will play a critical role in making or breaking this target. Many are already making significant investments in low carbon assets, infrastructure and research and development.
In 2019, 882 companies responsible for over 2.3 GtCO2e of emissions reported €124 billion of new low-carbon investments through CDP, with the bulk coming from highly emitting companies in the transport, energy and materials sectors. These companies represent approximately 76% of Europe's market capitalization.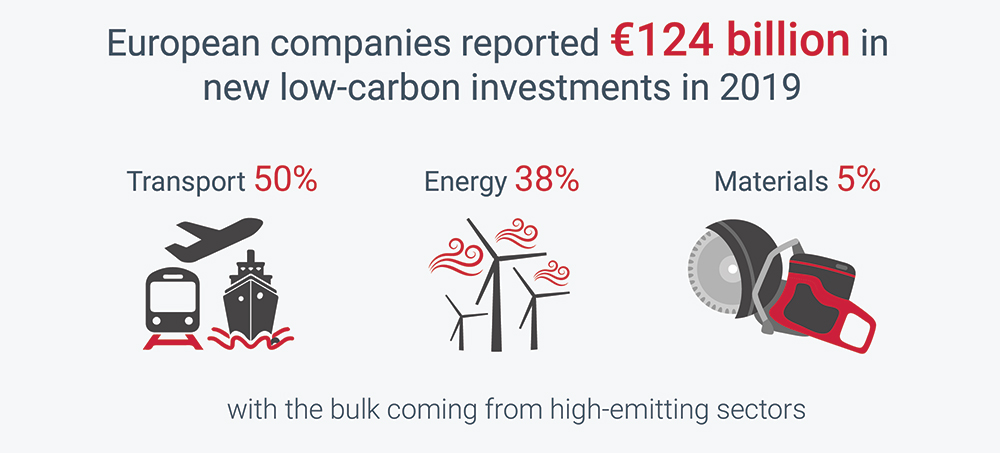 Companies must ramp up their investment ambition, to avoid the worst impacts of warming
The current level of low-carbon investment represents bold ambition from some companies. But there is still a long way to go.
More investment is needed in transformational breakthrough technologies – particularly in the materials sector, which accounts for only 5% of new low-carbon investment despite being the source of 35% of reported scope 1 and 2 emissions.
Furthermore, the reported low-carbon capital investment is only half of what is needed to put the European corporate sector on track for net-zero by 2050. Overall capital expenditure needs to increase from 12 to 25%. While significant, this remains a modest share of overall capital expenditure – and the costs of inaction are far greater.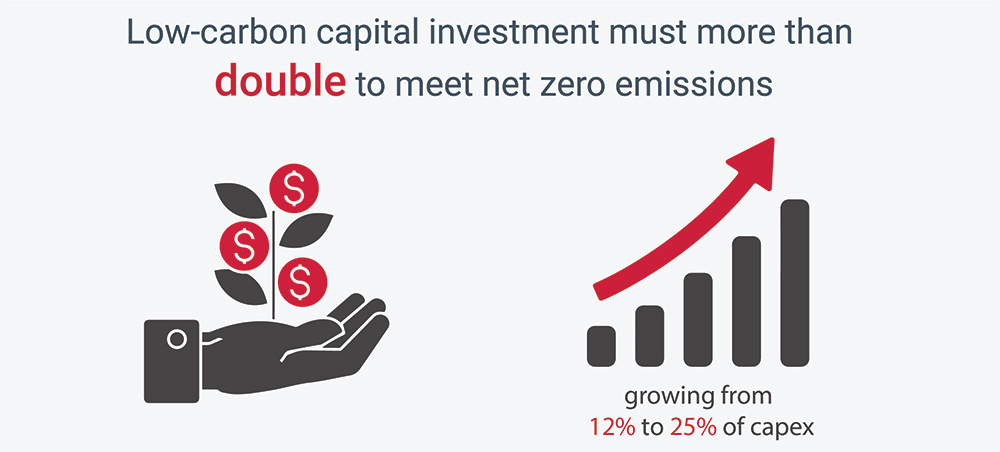 The business case for closing the investment gap is clear
For companies undertaking emissions reduction initiatives, the economic benefits are clear. Current company investments are expected to add €40 billion to bottom lines.
From new green infrastructure projects to electric vehicle fleets and renewable power, companies are identifying new business opportunities in developing low carbon products and services that amount to over €1.2 trillion. Not only that, but the cost to realize these opportunities is six times less.
Companies are leading the way to net-zero by using the tools available for sound corporate disclosure practices through CDP, which inform smart strategies, for companies, policy and governments.
But closing the investment gap requires action on multiple fronts. Ambitious, wide-reaching and effective policy and regulation must go hand-in-hand with smart corporate disclosure and action.
Please note: an earlier version of this report, published on February 25, included an incorrect figure for the emissions of Total in Exhibit 3. This error now been fixed and the correct emissions figure is published.