European Majors set the bar by investing the most in low carbon; however, sector lagging as a whole and investing only 1.3% of total 2018 capital expenditure;
Oil & gas industry makes up over half of global greenhouse gas emissions associated with energy consumption;
Geographic divide strengthens as European Majors pivot towards gas and renewables over oil;
Investors putting increasing pressure on oil & gas companies, as votes for climate shareholder resolutions more than double from 2014 to 2018;
Equinor, Total, Shell and Eni ranked top for leading low carbon transition while CNOOC, Rosneft and Marathon Oil lag behind.
November 12, 2018, London: European oil & gas majors including BP, Eni, Equinor, Total and Shell are investing the most in low carbon but the industry's spend as a whole remains relatively low at only 1.3% of total capital expenditure (CAPEX) in 2018. The figure is revealed in a new report 'Beyond the cycle', from environmental non-profit and investment research provider CDP today. The report ranks 24 of the largest and highest-impact publicly listed oil & gas companies on business readiness for a low carbon transition.
Production and use of oil & gas accounts for over half of global greenhouse gas emissions associated with energy consumption, representing more than 17 billion tonnes of carbon dioxide equivalent per year1. The analysis reveals a regional split in the industry's approach. Across the 24 companies, European Majors account for 70% of current renewable capacity and nearly all capacity under development. However, with less domestic pressure to diversify, US-based companies have not embraced renewables in the same way.
In Russia, state-owned oil companies Gazprom and Rosneft have less capital flexibility, which means they may be less agile and slower to mobilize in response to future disruption such as climate regulation. This is also a trend across Chinese national oil companies including Petrochina, while a lack of disclosure on emissions data remains a key issue for Chinese companies in our analysis.
The oil & gas sector is under increasing investor pressure, with votes for climate shareholder resolutions more than doubling from 2014 to 2018 at company AGMs. Following the findings of the recent report from the UN's Intergovernmental Panel on Climate Change (IPCC), the urgency of the company response to climate change is more important now than ever before.
Despite the small total spend on low carbon assets by CAPEX, the last few years have seen a wave of new energy investments by oil & gas companies. Since the start of 2016, 148 deals have been made in alternative energy and Carbon Capture, Utilization, and Storage (CCUS), and US$22 billion invested in alternative energies since 2010.
Other highlights from the report include:
Companies are pivoting towards less polluting gas and reducing exposure to oil sands. Across the 24 companies the share of production from gas has increased at an average rate of 1.4% p.a. since 2002. Five companies have also recently divested from oil sands assets.
New analysis shows 15 of 24 oil & gas companies have now set climate targets with Repsol, Shell and Total the most ambitious.
Ten companies are involved in CCUS projects and collectively account for 68% of current global capacity. Expertise in this technology may form part of the oil & gas industry's social license to operate in coming years.
Given 90% of the industry's carbon footprint is from the end user (Scope 3) managing these emissions is key for the sector's ability to be more sustainable. 18 companies disclosed Scope 3 emissions.
Efficiency remains an issue in the industry and needs to be addressed. On average companies are losing 3.3% of their natural gas production through flaring, venting and methane leakages – worth almost US$5bn at the current gas price.
Luke Fletcher, Senior Analyst, CDP commented, "Low-carbon technologies and regulatory change is disrupting the established order of the energy industry. The shift to a low-carbon economy presents the question of what role oil & gas companies will play in this transition, and what their strategic options are in the more immediate and longer term. Equinor's recent rebrand to a broad energy company, expecting to invest 15-20% of CAPEX in new energy solutions by 2030, is symbolic of this shift.
"With improved efficiency, lower costs and higher prices, free cash flow for the sector is at its highest level since the first quarter of 2012. However, companies are now facing increasing scrutiny from investors to look beyond the current cycle and deliver value in the long-term. As well as diversifying into clean energy assets, oil & gas companies are shifting focus to multi-staged developments and shorter-cycle opportunities to improve their capital flexibility and resilience for the changes ahead."
Apache, BP, Chevron, CNOOC, ExxonMobil and Marathon Oil did not respond to CDP's 2018 climate change questionnaire. We encourage investors to raise this lack of transparency in discussions with company management.
CDP's League Table of leaders and laggards in the oil and gas sector: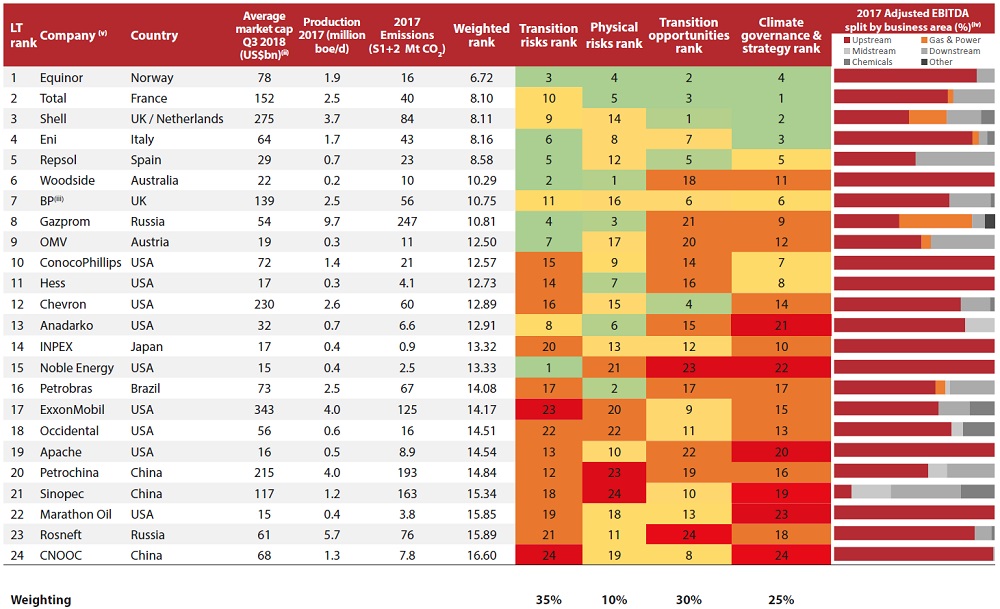 The CDP report assesses companies across four key areas aligned with the recommendations from Mark Carney's Task Force on Climate-related Financial Disclosures (TCFD). As the TCFD recommendations become mainstream, investors will increasingly expect oil & gas companies to disclose how they are adjusting their business models to manage transition risks, while taking advantage of the opportunity to generate revenue from the global transition to a low carbon economy.
You can view the executive summary of the report here.
- ENDS -
Notes to editor
For more information or for exclusive interviews with the CDP team, please contact:
Scope and methodology: Full details of the scope of the report and methodology used are included in the full version of the report. For the full report please contact [email protected]
About CDP and this report
About CDP
CDP is an international non-profit that drives companies and governments to reduce their greenhouse gas emissions, safeguard water resources and protect forests. Voted number one climate research provider by investors and working with institutional investors with assets of US$87 trillion, we leverage investor and buyer power to motivate companies to disclose and manage their environmental impacts. Over 6,300 companies with some 55% of global market capitalization disclosed environmental data through CDP in 2017. This is in addition to the over 500 cities and 100 states and regions who disclosed, making CDP's platform one of the richest sources of information globally on how companies and governments are driving environmental change. CDP, formerly Carbon Disclosure Project, is a founding member of the We Mean Business Coalition. Please visit www.cdp.net or follow us @CDP to find out more.
The report
This research is part of a series of award winning in-depth sector analysis by CDP to provide investors with the most comprehensive environmental data analysis. It aims to identify the most material metrics for each specific sector and how they link to financial performance. Our methodology is unique as the weighting assigned to each metric is transparent and can be applied individually according to investor preferences. These rankings are not intended to identify definitive winners and losers for investment purposes, but rather to indicate strategic advantage in an industry where there is a significant regulatory impact on all major markets.
Reports on the oil & gas, steel, cement, automotive, electric utilities, chemicals, mining and capital goods industries were released in 2015, 2016, 2017 and 2018.
1 Calculated using IEA and EDGAR carbon and emissions data.