The world's two leading economies, China and the US, have announced today that their governments will put the Paris Agreement into national law. Their ratification will put significant wind in the sails of the global climate deal, and brings us tantalizingly closer to the treaty becoming international law by the close of 2016.
Here are the four key points that explain why today's news is so significant:
1. They are acting together
It is hard to overstate just how far the two nations have come on climate diplomacy in the space of a few years. If you had told experts after the infamous Copenhagen climate talks that the US and China would be working hand in hand, as partners, to orchestrate their ratification of the world's first ever global climate change agreement, many would have laughed at the idea.
Today's ratification by the world's two largest emitters and economies not only sends a powerful signal of intent, it shows they are serious about implementing their Nationally Determined Contribution (NDC):
-China pledged a peak in emissions by 2030 – the first time China has pledged to do so – and to increase the non-fossil fuel share of its energy mix to around 20% by the same year.
-The US plans to reduce emissions by up to 28% from 2005 levels by 2025, which will keep it on track for more than 80% reduction by 2050.
2. They know that leaders walk the talk
Even well before ratification, both governments have readily shown their willingness to walk the talk.

The US for example has been applying a sustainability lens to its US$400 billion a year federal supply chain, with a new rule to drive better climate disclosure that builds on the success of CDP's supply chain program. And the Clean Power Plan, which has strong business and investor backing, is a key tenet of the US climate commitment.
Under China's 13th Five Year Plan, which guides the industrial powerhouse's economic and social development through to 2020, environmental stewardship plays its biggest role yet.
From tackling air pollution to water quality and quantity – as highlighted in our latest China water report – the plan locks in place the idea of a more sustainability model of growth.
3. Their domestic actions can send ripple effects globally
When you are the biggest player on the field, what you do really can dictate how the game is played. We will see just how true this is when China introduces its national carbon market early next year. CDP's special adviser Paula DiPerna explains why in her article for Foreign Affairs:
"The Chinese carbon market will soon dwarf all the others, and it is likely to set the de facto benchmark price, which all other markets, traders, emitting companies, and financial institutions will have to consider. In turn, China's carbon market could change the foreign policy landscape; establishing a viable global trading system for greenhouse gas emissions will require significant international cooperation, capacity building, transparency, and inter-governmental trust."
The country commitments under the Paris Agreement are a mixed bag of pledges and targets (which will have to be ratcheted up every five years). Pricing carbon emissions as a means of reducing emissions could be a great equalizer, creating a truly "international language", as Paula notes in her article, for tackling climate change. China's experiment in launching the world's largest carbon market could therefore set the course for global climate action in the coming years.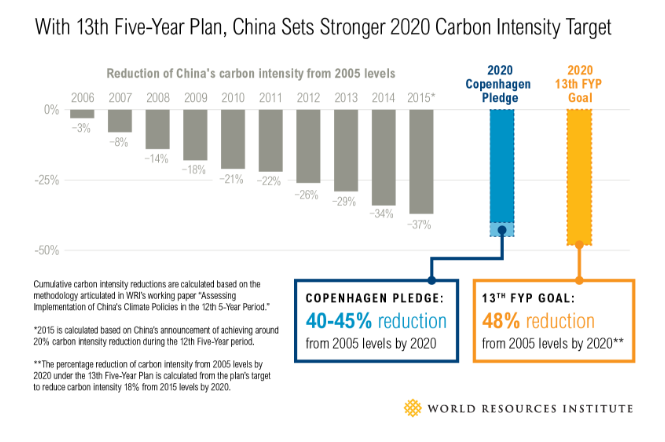 4. Their leadership is no longer exceptional
Today's news attests to the fact that the US and China are demonstrating remarkable leadership on tackling climate change. But they are by no means the only ones.
In the past business has been reticent to lead on tackling climate change, preferring instead to take their cue from governments. That dynamic is shifting. The risks from failing to act on climate change in time are too great for business. Just as importantly, the business opportunities from tackling climate change are too big to miss out on.
That is why in the run up to COP21 and since, companies and investors have made over 1,000 pledges to deliver climate action – including 177 companies who intend to set a long-term emission reduction target in line with science. If these goals are achieved, they could help governments realize their commitments under the Paris deal.
And even before it has entered into effect, investors have latched on to the Paris Agreement as confirmation that the low-carbon transition is underway. That is also why last week investors controlling over US$13 trillion in funds urged all countries, and in particular the G20, to ensure that the Paris deal is signed, sealed and delivered:

"Countries that join/ratify the Paris Agreement early will benefit from increased policy certainty, will be better able to attract investment in low- and zero-carbon solutions, and will accelerate the implementation of this economically and socially critical agreement."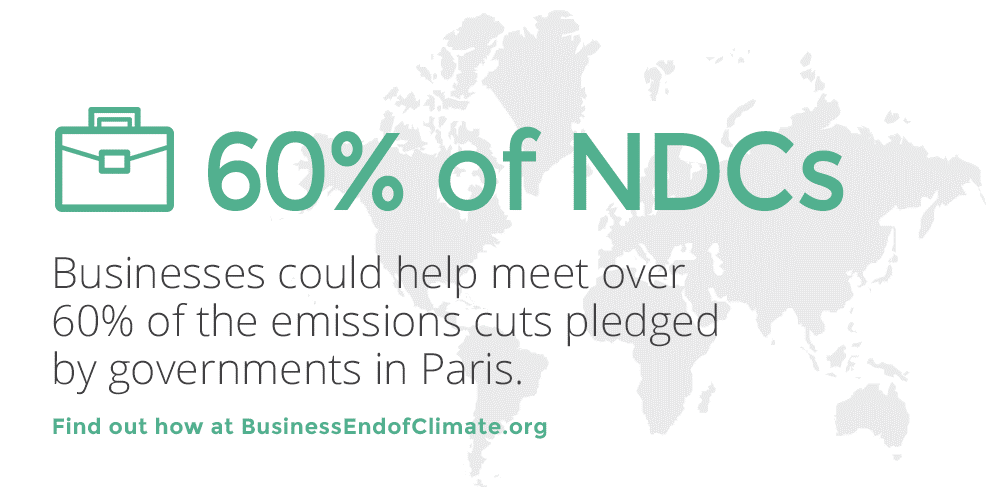 While momentum behind the deal has been building at astonishing speed, we need to anchor that in the context of the speed at which we are changing our climate and environment. The stage is now set for the UN Secretary General Ban Ki-Moon's entry into force summit on September 21 in New York. There should be no more lingering doubts for the governments of the world – the transition to a low-carbon economy is inevitable. We call on all nations to seize this opportunity and ratify Paris now.