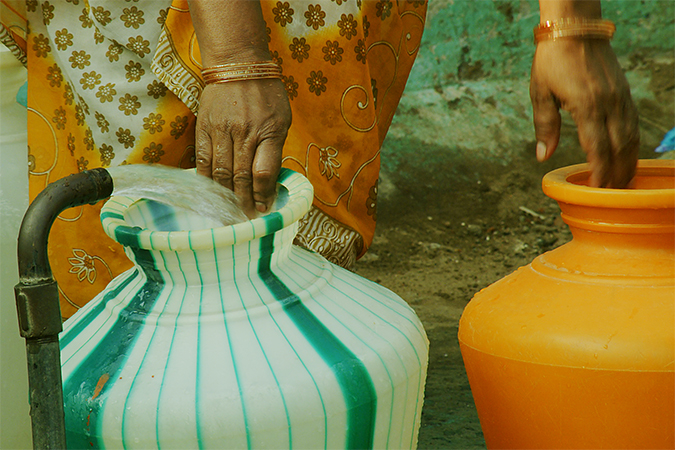 Update: Since originally posting this article, city of Chennai has reached a crisis point after its four main water reservoirs ran completely dry.
Some 18% of the world's population resides in India and they survive on just 4% of the world's freshwater. Rapid population growth and urbanization, a growing agricultural and industrial sector, as well as climate impacts - mainly drought and flooding - are putting these limited resources under increasing strain.
In fact, India's over-exploitation of groundwater is leading to "the worst water crisis in its history" warns the Government's own think tank NITI Aayog.
Groundwater is at the heart of this crisis. In a recent assessment from the Central Ground Water Board in India found that of the 447 billion cubic metres of groundwater which is replenished each year, some 228 billion cubic metres of this is used for agricultural irrigation.
Just 25 billion cubic metres is used for domestic, drinking and industrial use.
The problem is hitting both rural and urban areas alike. Some experts note that over 80% of the rural and urban domestic water supplies comes from this rapidly depleting source.
According to the government's report, some 21 cities, including Delhi, Bangalore, Hyderabad and Chennai, could all run out of groundwater as early as 2020.
Although 80% of the country's states have water conservation legislation, poor data management, a lack of water pricing, wasteful irrigation techniques and a lack of adequate sewage treatment are all hindering India's ability to sustainably manage water.
The government warned that by 2030, 40% of Indians will be without access to fresh drinking water.
A threat to companies
India's water crisis is impacting its ability to generate power, grow crops and is hindering companies' ability to operate in the country. With sustainable solutions lacking, many companies are resorting to their own ways of tackling water management.
For example, in its 2018 CDP disclosure, biopharmaceuticals company Pfizer Inc reported that "a lack of infrastructure and government policies and poor management has resulted in a reduced supply of water from local municipal water systems.
"This has resulted in the need to augment site water supplies by brining in water by truck."
While such measures are helping companies in the short-term, sustainable longer-term solutions will be needed to effectively tackle the growing problem and ensure that companies are not only building their own resilience but contributing to water security for all.
Disclosure: the first step to addressing corporate water insecurity
The first step for companies is to understand the water risks that are impacting their business. In a world that is experiencing greater water insecurity, an understanding of the pressure points will be vital for companies to ensure their long-term survival.
Yet, despite this clear government warning on the looming water crisis, just nine of the 37 Indian companies asked to disclose to CDP did so last year.
And two thirds of those that did said that access to adequate amounts of good quality freshwater was important to their business.
Increased risks must lead to increased action
But, in an increasingly globalized world, where companies have operations spanning borders, it is not only Indian companies that are being impacted.
In 2018, 64 global companies reported 84 water related risks in India, including increased water stress, increased water scarcity, drought and declining water quality. Companies reporting these risks include major brands like Inditex, L'Oréal and Colgate Palmolive.
Global companies operating in the country also reported some 182 facilities at risk.
And while many companies are working to limit this risk, water withdrawals still increased at almost a third of these facilities in 2018, in comparison to the previous year.
A global problem, a global solution
This finding mirrors CDP's global analysis from 2018; which showed a similarly worrying trend.
Despite a growing awareness of water risk, and an increasing number of companies setting target to reduce withdrawals, between 2015 and 2018, there was a 50% rise in the number of companies reporting higher water withdrawals.
Most of these companies were operating in Asia and Latin America, as well as in the Food, Beverage and Agriculture, Manufacturing and Mineral Extraction sectors.
And while India is hitting the headlines this time, we have seen similar water crises hit countries, states and cities across the globe, from Brazil to Cape Town to California.
A call for corporate action
For too long, we have been undervaluing our water supplies. But given the scale of the climate crisis, the historic trend of overusing and polluting our vital freshwater sources becomes an even riskier game.
Globally, three out of every four jobs depend on stable water supplies – in other words building a water secure future is essential for our economy and society.
And with industry accounting for some 19% of global water withdrawals and 70% more coming from agricultural supply chains, companies have a massive role to play in protecting our vital water supplies for current and future generations.
The first step for companies is to monitor and manage their water supplies and undertake a comprehensive risk assessment.
However, delivering real change means not only better water management but better business management. Companies must step up and embed a strategic response to water risks within their business models.
With India another timely reminder of just what is at stake – there is no time to lose.