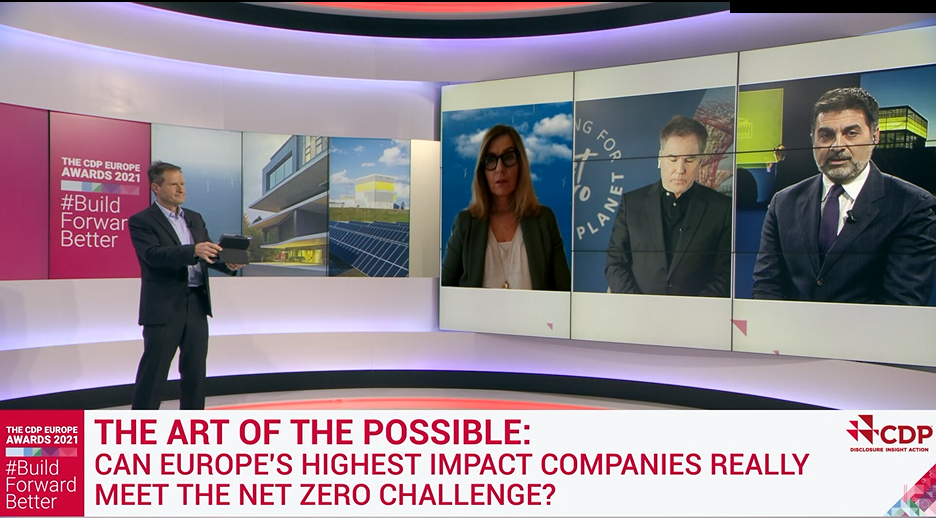 The route out of our environmental crisis is at a critical juncture. Last year, we witnessed an historic 8% drop in global emissions - caused by the COVID-19 lockdowns. The pandemic raised a key question for 2021 and beyond: can we reboot economic activity while maintaining this emissions trajectory?
Signs show we are already off track. A UN-backed analysis of 50 leading economies found only about 18% of the rescue spending so far can be regarded as green. As we must reduce emissions by nearly 50% over the next decade to limiting warming to 1.5°C, we will lock in catastrophic environmental impacts unless we have a genuinely green recovery.
CDP data tells a stark story. European corporates are on track for a 2.7°C rise in global warming. Though banks representing 95% of lending to Europe's businesses now want to align with the Paris agreement, only 1 in 10 companies have Paris-aligned targets.
How can we ensure Europe's financial system and real economy get on track with the European Green Deal, the EU's climate neutrality law, and genuinely build forward better? At the CDP Europe Awards 2021, we brought Europe's leading CEO's, mayors, policymakers, and investors together to discuss.
Unique for this year, the event was online, hosted by the European Investment Bank, and was produced and broadcast by our partner Euronews.
Here are five lessons we learnt at the event:
1. Ambitious decarbonization is possible
Mayor Minna Arve of the City of Turku, on CDP's Cities A List, shared that her city has cut emissions 50% since the 1990s. Anne Hidalgo, Paris's mayor, said the city has reduced its emissions by a third within fifteen years. Marianne Wiinholt, CFO of Ørsted, shared that the companies' emissions have reduced by 45%. That ambition tunes with our Running Hot report, which found the top-performing quarter of companies have reduced their emissions by 15%.
One main way this is being achieved is the switch to renewable energy – with over 290 companies signed up to the RE100 initiative. However, we heard other examples from LafargeHolcim, which uses recycled demolition waste to produce lower-carbon cement and Eni, which is utilizing alternative biofuels. In cities, the transport, housing, and energy sectors are transforming. In Paris, there are now 1000km of cycle paths.
We also heard about the challenges. Developing the right technologies for decarbonization and getting the right regulation – particularly in the high emitting sectors - is an ongoing task.
The mission is big, but we are moving in the right direction. Decarbonization and targeting net zero in the heaviest of industries is possible.
2. Building forward better requires the most ambitious targets
When asked how Ørsted made the rapid transition from producing oil and gas to the world's leading company in offshore wind, all within 15 years, Marianne Wiinholt said: 'setting extremely challenging targets for ourselves'.
CDP A List companies and cities are leading the way. Paris aims for carbon neutrality by 2050, with renewable energy making up 100% of its energy mix. LafargeHolcim and Ørsted both have science-based targets (SBTs) and have committed to Business Ambition for 1.5°C. CDP Europe's report shows that over 50% of European companies by market value have now joined the Science Based Targets initiative (SBTi) and 56% say they have developed a transition plan. Ambitious target-setting works: the SBTi's recent progress report revealed that companies with targets outperformed the 1.5°C trajectory, decarbonizing at a rate of 6.4% a year.
When asked about their involvement in the development of a methodology for oil and gas companies to set SBTs, Eni's CFO, Francesco Gattei, reiterated the central role of science-based targets can play in supporting this sector to transition – a roadmap for reduce their footprint at the pace required.
However, our report shows there is a way to go. Using CDP temperature ratings, our report calculated that the ambition of European companies is collectively on a 2.7 °C path.
3. Technology and innovation will be significant in transition to the low-carbon economy
All speakers agreed: technology and innovation will be fundamental for the transition to a net-zero, resource secure economy. In some sectors we are already there. As Marianne Wiinholt said: "We already have the solutions for green energy, and we can build green energy cheaper than we can build fossil fuels."
Bloomberg journalist Akshat Rathi highlighted the automobile sector as acting fast under pressure, though emphasizing we need innovation at a similar level across all sectors. Just last year, three large car companies announced their plans to have an 100% electric fleet by 2030. Cities are acting too. Mayor Hidalgo noted Paris's complete ban on diesel cars by 2024.
But for some of the high-emitting sectors, technology is still behind. EU Commissioner Mairead McGuinness argued much more Research & Development is needed to innovate and power the green recovery.
4. The circular economy is an integral part of the agenda
Discussions also focused on the need to protect natural capital and champion interrelated environmental action to achieve the European Green Deal. To do this, we must embrace a better 'circular mindset'. Stefan Dobockzy, CEO of Austrian fibers company Lenzing, made the point that: "45% of the carbon reduction we need to accomplish can be made by going circular."
Lenzing is putting this into practice by creating biodegradable and compostable products, showing that a high-polluting industry, such as the textile industry, can address water depletion and pollution. CEO Stefan Dobockzy said they are greening the value chain through "innovation, good track and trace, sound policies and making it in the centre of the strategy."
Magdalena Wahlqvist Alveskog, CEO of Handselbanken Fonder similarly touched on the value of nature and how to ensure externalities are better priced to avoid exploitation. She said while this is quite new in the investment industry, much can be learned from how carbon is being managed. For companies, having the right internal policies will support companies prepare for the sustainable transition.
EU policy is also catching up. Last year, the European Parliament have proposed a new law to halt deforestation in the EU, which would ensure all products on the market are deforestation-free.
5. Financial institutions need to drive the transition
The thread that links targets and technology together is finance. How will the European Green Deal be funded? As our report shows, huge lending shifts and investment flows are needed, and financial institutions can drive the transition to a low-carbon, resource-secure economy by investing in companies that are acting on climate change.
EFAMA and NBIM agree - momentum has moved. NBIM's Carine Smith Ihenacho said the organization will continue to step up its divestment for poorly performing companies on key ESG issues. The recent creation of the Net Zero Asset Managers Initiative, which Handelsbanken Fonder and 10 EFAMA members are part of, shows clear signs of a changing tide. Companies are also seeing this – as Eni, Orsted and LafargeHolcim outlined in their panel: "today you cannot go to an investor meeting without a sustainability analysis behind you."
In a clear sign of this shift; Magdalena Wahlqvist Alveskog highlighted that most of Handelsbanken's inflows last year went into one sustainable energy fund - one of the twenty funds recognized in the annual Climetrics Fund Awards during the event.
For Ambroise Fayolle, Vice-President of the European Investment Bank (EIB), key milestones in the Climate Bank Roadmap include the phasing out support to projects reliant on unabated fossil fuels and dedicating at least 50% of EIB financing to climate action and environmental sustainability by 2025.
We are at the beginning of the journey
Is the world waking up to the climate crisis?
It appears so. But without a 'fundamental rethink' in the way we do things, we risk falling seriously short of the goals. The first step to all of this – disclosure. In a special video address at the event, German Chancellor Angela Merkel recognized the success of companies that are already leading the way and said that CDP's environmental data 'fosters this competition to find the best ideas and put them into practice.'
The main lesson we learnt from the CDP Europe Awards 2021: commitment, ambition, and investment among Europe's leading companies, cities, policymakers and investors to reach the Paris Agreement and deliver on the European Green Deal is there. But we need to move much faster, and bring everyone along.
The green recovery is already potentially off track. COVID-19 has given us the opportunity to truly transform. Now governments, companies, cities, and financial institutions must work together to ramp up action to have a real chance to build forward better.
Written by: Maxfield Weiss, Executive Director, Mirjam Wolfrum, Director Policy Engagement and Laurent Babikian, Director Capital Markets.
The CDP Europe Awards 2021: #BuildForwardBetter was supported by Ipsen, Lenzing, L'Oreal, PostItaliane and Symrise. Thanks for your support.