Companies and cities around the world are increasingly committed to tackling climate change. Recent analysis by CDP found that 89% of responding companies have set emissions reductions targets, while over 100 cities now get at least 70% of their electricity from renewable sources.
But while greenhouse gas emissions justifiably receive much of the attention, other pieces of the climate puzzle – namely stopping deforestation and improving water security– are just as vital for companies and cities to secure a thriving and sustainable economy that works for people, the planet and the bottom line.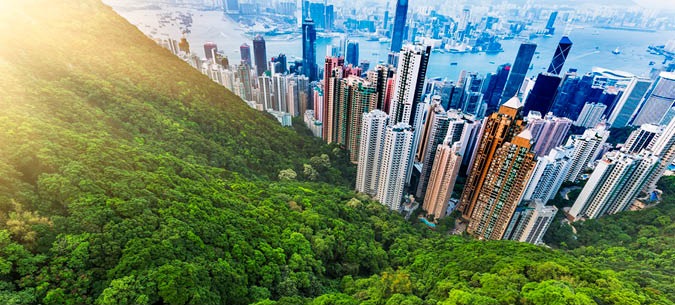 Why is action on water and forests vital?
Deforestation is responsible for some 15% of global carbon dioxide emissions annually. Keep forests intact however, and they have an even greater role to play as a natural carbon sink. Up to one third of the annual carbon mitigation needed to keep temperature rises in check could be achieved by addressing deforestation and forest degradation. Meanwhile, around 24% of corporate emissions reduction activities depend on a stable supply of good quality water.
These two vital resources are closely interlinked.
As a nature-based solution, forests play an important role in regulating the global water system. For example, forests absorb rain, which helps to refill underground aquifers while cooling and cleansing the water. 75% of the freshwater that we rely on is dependent on forests.
This week, World Water Day focuses on the vital role of nature-based solutions to securing a safe water supply, while International Day of Forests looks at the role of forests in sustainable cities.
The forests, water and cities connection
When we add cities into the picture, this dependency becomes even more apparent.
The health, wealth and livability of our cities - home to more than half the world's population – depends on both clean, safe water and, in many regions, on thriving forests.
Over a third of the world's cities rely on protected forest areas for their water supply. Disrupt these ecosystems and the resulting changes can be devastating.
In Jakarta, deforestation of upstream watersheds has exacerbated flooding, which resulted in the loss of 40 lives and cost US$2.4 billion in 2013.
Meanwhile in 2014 and 2015 São Paulo was pushed to the brink when prolonged drought – exacerbated by the disruption of the city's rainfall cycle from deforestation in the Amazon – brought the city's main reservoir system down to just 5% of capacity.
A threat to business stability
For companies operating in these cities, environmental impacts pose a real threat to business stability. In 2015, the economic cost of drought in California was US$2.7 billion, with agricultural businesses taking the bulk of the hit with US$1.84 billion in lost revenues.
There is a strong business case for protecting and enhancing water security and forests around the world and by doing so, building greater resilience to the growing effects of climate change.
Failure to take our water supplies and forests into account is leading to unsustainable business practices and a variety of reputational, regulatory and operational risks. Danone reported losing €740,000 in spoiled products when polluted river water contaminated facilities in Brazil.
Both companies, and the financial institutions that back them, are increasingly aware of the issues. Over 650 investors, with US$87 trillion in assets, work with CDP to ask companies how they are managing deforestation risk and water security. Norway's sovereign wealth fund – the world's biggest at US$1 trillion – recently stated that it wants the 9,100 companies it invests in to disclose environmental data to CDP.
Our data shows that some leading companies reporting to CDP are making progress.
Three-quarters (73%) of companies responding to the 2017 forests program reported a commitment to reduce or remove deforestation from their supply chains, while over 60% of publicly-listed companies reporting to the water security program factored the status of ecosystems and habitats into their water risk assessments, up from less than half in 2015.
The number of companies setting goals around watershed remediation, habitat restoration, or ecosystem preservation also steadily increased year on year.
Take, for example, Vina Concha y Toro. The company has committed to the conservation of 100% of its 3,200 hectares of native forest in Chile. And in Japan, Suntory Beverage & Food has set a target to expand the area of its Natural Water Sanctuaries to 12,000 hectares by 2020.
But much more needs to be done.
Picking up the pace of environmental action
4,600+ companies were asked to report to CDP on their water activities in 2017, with only a 46% response rate. Disclosure on deforestation is even further behind; just 23% of the 800+ companies asked to report on their actions to curb deforestation in 2017 responded to CDP.
Compare this to the over 6,000 companies which reported on their action on greenhouse gas emissions last year, and the 570+ cities and 100+ states and regions which reported on their environmental progress.
To build a truly sustainable economy that works for both people and planet, we need this level of information across all areas, and much faster and stronger action to address the risks.
Both cities and corporates are vital to our global efforts to protect our forests, achieve water security, and meet the goals of the Paris Agreement to limit global temperature rise well below 2 degrees Celsius.
This week, let us celebrate the leaders in this sustainable transition, and call on the companies and cities around the world that are not yet disclosing their impacts and actions – particularly around forests and water security – to join them.