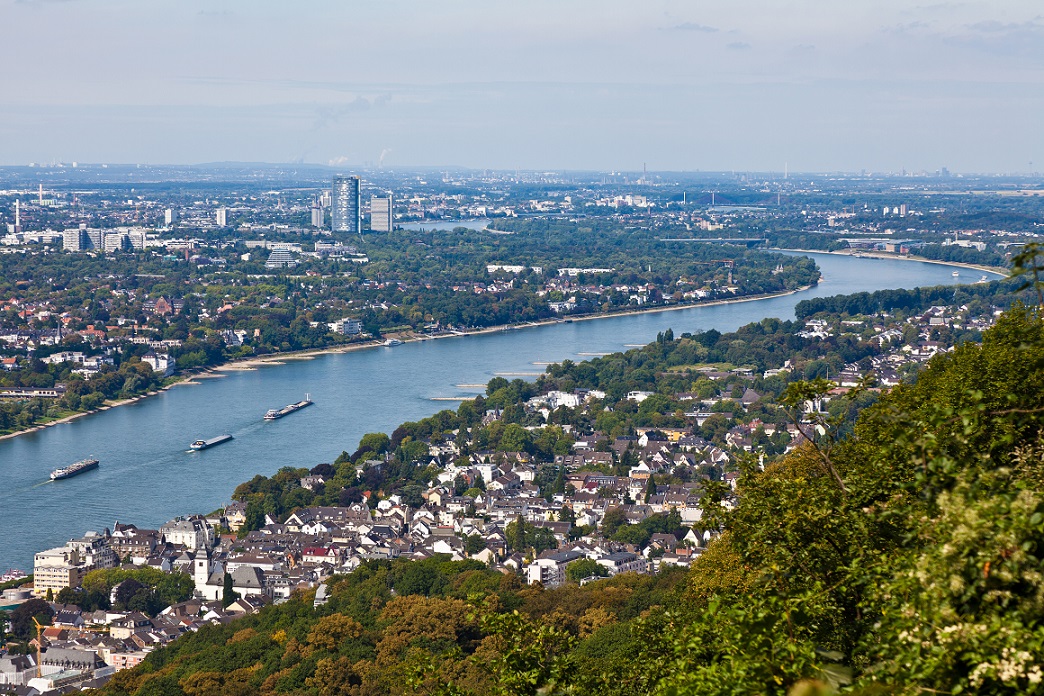 Over the next two weeks in Bonn, national governments will meet to agree the next steps following the landmark Paris Agreement, which set out the ambition of keeping global temperature rise well below two degrees. Companies, investors, cities, states and regions together with NGOs will help governments to create the Paris 'Rulebook', and CDP will play its part by continuing to provide the tools for companies and policymakers to accelerate action.

In October, we learnt that atmospheric carbon dioxide levels hit a record high of 403.3 parts per million in 2016. But since the Paris Agreement, we have also seen an unprecedented level of commitment – from companies, countries, states and regions – to accelerate environmental action and build a thriving economy that works for people and planet.
This vision is within reach. We are getting ever closer to a tipping point that will mainstream environmental action throughout the economy. This year's meeting in Bonn is a pivotal moment as the world transitions to a sustainable future. Companies, investors and cities are raising the bar, but now governments need to show how they will increase the ambition of their own commitments and achieve what was agreed in Paris.
What progress has been made since Paris?
The Paris Agreement and the Sustainable Development Goals marked the start of a new, sustainable strategy for the world. They provide a clear signal that business as usual is over.
Our latest analysis of corporate climate data gives reasons to be optimistic. Almost 90% of our sample of the world's highest-emitting companies are now planning for a low-carbon future. 14% have committed to science-based targets – emissions reduction targets in line with the aims of the Paris Agreement – while a further 317 companies are planning to introduce these targets within the next two years.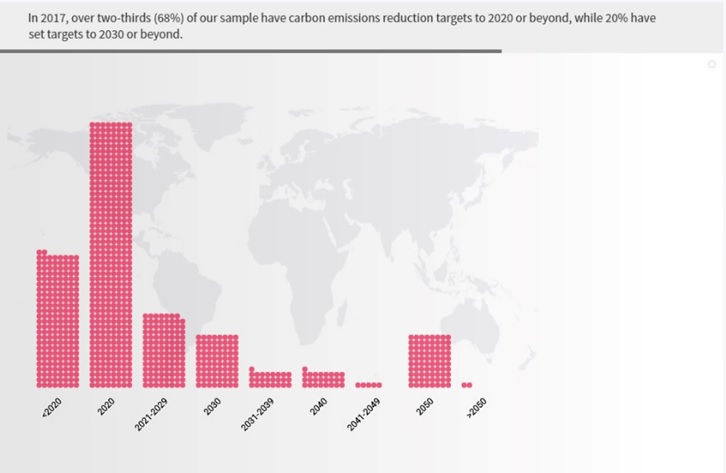 CDP data also indicates companies are starting to consider water security and deforestation in their business strategies. More companies than ever before are acting on water security – a trend our water report for 2017 will explore in more detail when it is published next week.
In total, over 800 investors with assets of over US$100 trillion are addressing their exposure to climate, water and forest-related risks by requesting companies disclose this information through CDP.
Meanwhile, over 570 cities, and 100 states and regions, are at work building a sustainable economy, seeking private sector investment for more than 1,000 projects worth US$52 billion in 2017.
What will CDP be doing at COP?
CDP is calling on governments to make two clear signals to business, investors and subnational governments.
First, governments should commit to requiring private sector disclosure on environmental risks and opportunities so that this becomes the global norm. Access to reliable data will be key to tracking how the world is progressing on its climate commitments.
Second, they should indicate that markets can expect economy-wide carbon prices, rising in line with science. A price on carbon will provide companies and investors with the certainty they need to draw up ambitious emissions reduction strategies, and create a compelling business case for climate action.
CDP provides the tools that governments and non-state actors need to step up their environmental actions. Our disclosure platform tracks the progress of the global economy towards the emissions reduction goal set out in the Paris Agreement and informs smart policy decisions on climate, water security and deforestation.
The choice facing companies, investors, cities and governments has never been clearer. The transition to a sustainable economy is underway and a tipping point is within reach. There's only one direction of travel – and that's forward.
CDP will be active at COP23. We will be hosting a side event exploring how non-state actors are implementing the Paris Agreement on 14 November, while other CDP side events will take place in the UK, French and EU Pavilions. CDP speakers will participate in Forests Day, Water Day and Human Settlements Day, as well as the World Climate Summit and the Sustainable Innovation Forum. If you are attending the COP, we would be delighted to see you at our events.
Deforestation roundtable: How can the public and private sectors work together to accelerate efforts to reduce commodity-driven deforestation?
Friday, November 10, 2017 - 08:00 – 09:30

This invitation-only event will be hosted by CDP with the support of NORAD, and will be the first in a series of annual events designed to convene a dialogue between the private and public sector to seek solutions for ending the deforestation impact of international commodity trade flows. Contact [email protected] for more information.
Multi-level governance: An opportunity for effective climate change adaptation
Saturday, November 11, 2017 - 11:30 – 13:00

Official global climate action event during "Human Settlements Day", hosted by CDP and nrg4sd, Bonn Zone.
The event will discuss the role of multi-level governance in driving climate adaptation and how climate data is vital to achieve effective adaptation. It will illustrate solutions and challenges to climate change adaptation in regions and cities and present successful efforts in multi-level governance. With panellists
Maintaining U.S. Engagement in International Climate Finance
Saturday, November 11, 2017 - 12:00 – 13:30

CDP and MRCTI event at US Pavilion.
This event will bring together U.S. climate leaders to discuss the state of U.S. climate finance for countries that need assistance, including nonfederal efforts. They will also discuss forthcoming initiatives and opportunities for the United States to remain engaged in international climate finance.
ACT on Climate: How can Europe increase its contribution to the global climate action agenda?
Saturday, November 11, 2017 - 14:00 – 17:30

Hosted by CDP and ADEME in the EU Pavilion, Bonn Zone
Building on the momentum of climate reporting in Europe, this event will consider the role Europe should play in developing company GHG reporting and climate leadership.
Official COP23 side event: Unstoppable and irreversible: innovation, non-state actors and the Paris Agreement
Tuesday, November 14, 2017 - 15:00 – 16:30.

Official COP23 side event in the Bonn Zone, hosted by CDP, Climate-KIC, BSR
Innovation and leadership by non-state actors is critical for accelerating the pace and scale of the transition to a low carbon and resilient economy. This event will bring together leading companies, investors and subnational governments to demonstrate to policy-makers that implementation of the Paris Agreement is already underway.
Strengthening, monitoring and verifying companies' climate commitments on the pathway to 2 degrees: Phase two of Assessing the low-Carbon Transition (ACT):
Tuesday, November 14, 2017 - 15:00 – 16:30.

Hosted by CDP and ADEME in the French Pavilion, Bonn Zone
Sector based assessments and ongoing accountability are vital to shining a light on which companies are ready for the low carbon transition. This event will discuss how best to track and monitor company climate actions, and will explore the ACT initiative as a method to do so. Supported by the French government, the pilot phase of this initiative demonstrated that this could be a powerful and innovative tool to evaluate and align company strategies against decarbonisation scenarios, and this event will discuss the next steps to disseminate this tool.
Breaking down the barriers to green finance: why increased transparency and enhanced risk management are vital to the low-carbon transition. Wednesday, November 15, 2017 - 10:00 – 11:00

Hosted by CDP in the UK Pavilion, Bonn Zone.
Shifting capital to enable the transition to a well-below 2-degree world will require not only national roadmaps and climate investment plans, but also an adjustment to rules and expectations within the international financial system including an expectation of standardised corporate climate disclosure which results in consistent, investment-grade information. This event will explore what next steps are needed to achieve uptake of corporate climate reporting at scale.
Investor and company actions on disclosure of climate risks and opportunities
Wednesday, November 15, 2017 - 11:30 – 13:00

Hosted by AIGCC, CDP, Ceres, IIGCC, Investor Group on Climate Change, PRI, UNEP FI in meeting room 10 in the Bonn Zone.
Showcasing how investors, the finance sector and companies are working with each other and governments to ensure greater disclosure of climate-related financial information.