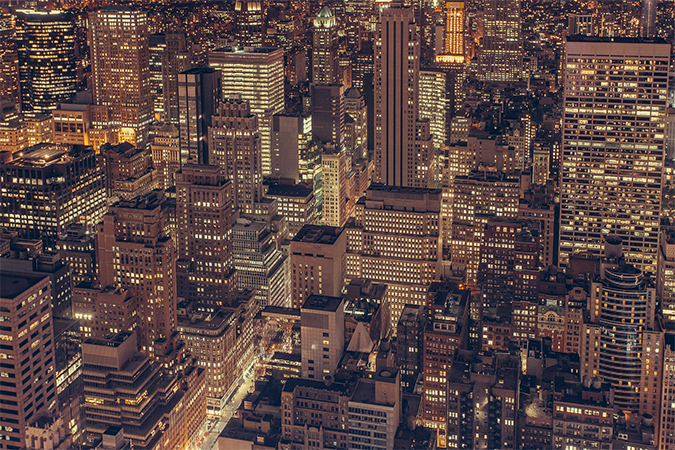 Cities are home to 4.2 billion people – 55% of the world's population.

They are also responsible for over 70% of the world's energy-related carbon emissions. But while they are a massive driver of climate change, cities are also hubs of sustainable innovation and climate action.
As such, the fight against climate change will be won or lost in our cities.
The 620 cities we work with understand that by measuring and disclosing their environmental data each year they can manage emissions, build resilience, protect themselves from climate impacts and create better places for people to live and work.
But a city's direct emissions and resource use is only part of the picture.
Just as large corporations have complex supply chains that reach across the globe, so do our urban areas.
In fact, purchased goods and services – the supply chains of the important agencies who provide the vital services on behalf of the city – can account for one-third of total public spending, or around 5-8% of GDP in most OECD countries.
By strategically leveraging this purchasing power, public institutions have the potential to positively impact the sustainability of many of their suppliers and safeguard their own climate resiliency.
Los Angeles Department of Water and Power (LADWP)
One public body which is aiming to harness this power is the Los Angeles Department of Water and Power (LADWP).
The largest municipal utility in the United States, the LADWP has US$5 billion dollars in annual operating revenues and US$2 billion in annual spend for goods and services. To put this into perspective, in just one month (May 2018) they awarded 216 new contracts worth $62.7m to 134 suppliers.
The LADWP has been reporting its emissions to customers (which include the US General Services Administration) through CDP for the last three years, but with ambitious goals to further reduce its environmental footprint and contribution to climate change, it has chosen to take the next step.
This year, the organization is working with CDP to ask its suppliers for information on their environmental impacts.
Nancy Sutley, Chief Sustainability Officer at LADWP and former Chairperson of the White House Council on Environmental Quality, explains: "Working with CDP affirms our commitment to sustainability. LADWP is on track to be coal-free by 2025 and is now investigating the feasibility of 100% renewable energy by 2045. Our decision to engage with CDP helps to further increase our understanding of our supply chain impacts as an organization."
By leveraging CDP's disclosure framework and its emphasis on best practice in corporate climate management, LADWP can ensure it is harnessing business innovation without overburdening suppliers with a government-specific questionnaire. This helps to drive action quickly. As Sutley adds: "CDP provides a sounds forum for public-private partnership toward carbon mitigation."
The LADWP will receive their first round of supplier data later this year, with Sutley noting that she sees "possible early adopter advantages" for those companies that are engaged from the start.
Supply chain leaders
While LADWP is the first municipal utility to work with CDP to engage with its suppliers, it's not the first public sector body; the California Department of General Services and the US General Services Administration have both also been increasing supply chain transparency by gathering supplier data.
However, compared to the many companies that are working towards more sustainable supply chains with CDP – including Barclays, NRG Energy, Lego, L'Oreal and Microsoft – public sector organizations are few and far between.
By gathering vital data from suppliers, public agencies can mitigate risks and identify opportunities that could boost their reputations and increase their long-term stability.
They could also uncover opportunities to improve efficiency, enhance collaborations, and reduce costs. For example, last year suppliers disclosing to CDP reported a collective saving of US$14 billion from emissions reduction activities, with the benefits of this cost saving likely spreading up the supply chain.
The big picture
With trillions of dollars going into public procurement worldwide, organizations can use their buying power as a powerful lever to drive change down the supply chain.
And with the extreme weather conditions that have recently impacted populations – from temperatures of more than 50 degrees Celsius recorded in Pakistan, India and the Middle East to drought in Australia, forest fires in California, Greece and Sweden, and storms like Hurricane Florence lashing the US – there is an urgent need to use this power now.
Ensuring supply chain transparency and mitigating risks will be crucial for cities, and the public bodies that service them, to build long-term stability of the resources they rely on in the face of a changing climate and to tackle further climate change.
It all starts by engaging with suppliers and asking them to share their data.