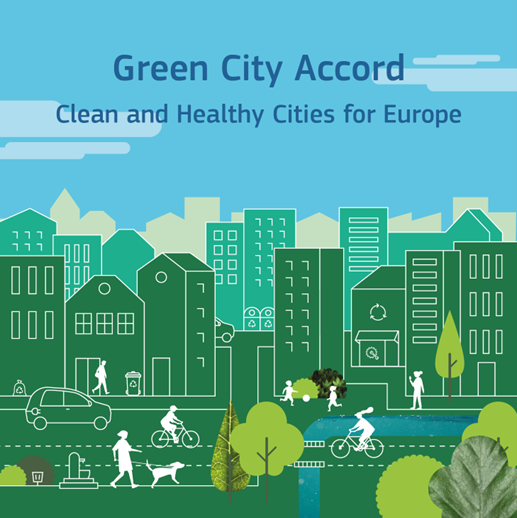 Since last year, CDP has supported the EU Green City Accord, a movement of European mayors committed to making their cities greener, cleaner and healthier by improving air, water, waste, noise pollution, urban nature and biodiversity. To date, 89 EU cities are signatories, including six capitals.
The accord is an important initiative focusing mayors on the most urgent environmental challenges facing their cities beyond reducing CO2 emissions. The aim is to improve the health of the urban environment for citizens in line with the European Green Deal.
Municipal action on nature is essential. The extreme environmental conditions seen in cities across Europe this summer have underlined the importance of having green space, water, and clean air. CDP data shows that 56% of European cities face risks to their public health systems from climate impacts*.
But awareness and action by most cities on these challenges is still alarmingly low. For example, just 18% of European cities disclosing to CDP collect air quality data*. Only 1 in 5 cites monitor biodiversity*. 1 in 4 vulnerability assessments leave out threats related to biodiversity, and forestry*.
Without awareness it is hard to act. Few cities (15%) – including Copenhagen, Paris, Venice and Rome - disclose mitigation actions (cutting emissions) based on adding green space and/or improving nature*. And just 14% of reported adaptation measures are nature-based, such as tree planting, water infrastructure and green roofs*.
Of all climate projects seeking financing declared to CDP in 2021, only 7% relate to Green City Accord areas like air, water and nature*.
The five priority areas in the Green City Accord are meeting air quality guidelines, improving the quality of urban water, improving green areas and ecosystems, advancing the circular economy, and making cities quieter are the five priority areas for action.
Cities must monitor and report their progress in these areas to meet their commitment. This includes an initial report two years after joining the accord, including baselines and targets, and thereafter every three years against 17 mandatory indicators.
CDP's disclosure system for cities (CDP-ICLEI Track) already allows cities to report against 10 out of 15 of the indicators. And we are working towards a potential full alignment by 2024.
43 of the 89 (45%) Green City Accord cities have disclosed to CDP so far– they are well-prepared for reporting their green city progress.
Our newly streamlined questionnaire covers key areas of action on urban environments, such as cities' percentage of green space (Question 0.1), their biodiversity loss (1.2) and plans for restoration (7.2), air pollution (3.10), adaptation actions to improve water quality (8.1, 9.1), waste management (7.4), nature-based solutions and collaboration with partners on nature (0.5).
A full overview of how the Green City Accord indicators are disclosed against in CDP's 2022 questionnaire is available below.
Action by European cities to create healthier, cleaner, and greener urban spaces is essential. This is both for delivering reductions in emissions in line with the EU Climate Law, and for adapting to a rapidly changing climate and addressing their urban vulnerabilities.
Green City Accord cities are committing to creating healthy and thriving cities for their citizens – the key step is to ensure this progress is monitored and delivered.
Cities not yet disclosing through CDP can register now for next year.
*Source: data reported to CDP in 2021 by 131 European cities, available on the Open Data Portal.