Delivering climate action that works for all
In 2019, the eThekwini Metropolitan Municipality (City of Durban), cemented its position among the world's climate leaders by joining the CDP Cities A list for the first time.
EThekwini is the first African city to complete a Paris-aligned Climate Action Plan (CAP) in collaboration with C40 Leadership Group. In their plan, the City sets out ambitious emissions reduction targets of 40% by 2030 and 80% by 2050. In addition, it details actions to improve the city's resilience and to support vulnerable populations in the transition to a low carbon economy.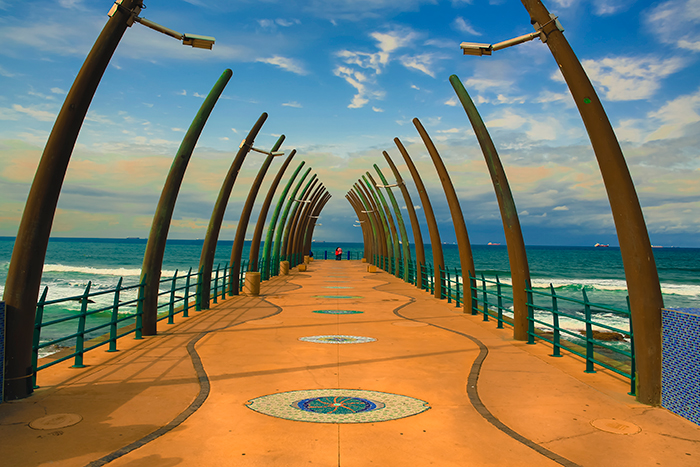 The CAP addresses nine key areas from energy (electricity, buildings, transport, solid waste and air pollution to adaptation (water, health, biodiversity, food and sea level rise) and cross-cutting (vulnerable communities). It details 33 actions and 149 sub-actions across vital services and infrastructure, working to embed resilience into the very foundations of the city. eThekwini's reduction targets pave a decline in emissions per person from 5.95 (tonnes of carbon dioxide equivalent) tCO2e in 2015 to 0.8 tCO2e in 2050 (the equivalent of a reduction from 2536 to 341 litres of gasoline consumed per person) and the highest emitting sectors (electricity and transport) would be prioritized.
In eThekwini, electricity consumption is the primary source of GHG emissions. Wanting to cut emissions, the city is focusing on decarbonizing its grid and pushing for renewable energy use. This is a practical application of the Durban Climate Change Strategy (DCCS), which aims for 40% of electricity consumption to be met by renewables by 2030. To deliver, the city will implement a smart electricity grid that enables bidirectional power flow and includes large scale renewables from national and locally produced Small Scale Embedded Generation (SSEG) systems like rooftop solar panels. It will also ensure that 70% of private electricity demand is supplied by self-generated renewable energy by 2050. To accelerate the achievement of their target, and make this technology accessible, the city has launched a number of solar energy and energy efficiency programs, such as a GIS-based solar map and framework which will enable users to plan rooftop installations. The city is also poised to enact a By-Law requiring buildings to be retrofitted with energy efficient technologies by 2030, and all new buildings to be net zero carbon by 2030.
Accounting for 30% of the city's 20.8 million tonnes of annual emissions, eThekwini's transport systems are in line to be transformed, with a goal that 50% of citizens will use public transport by 2030. Forging ahead, the city is expanding its network of electric buses and aims to reduce private car trips by 50% by 2050.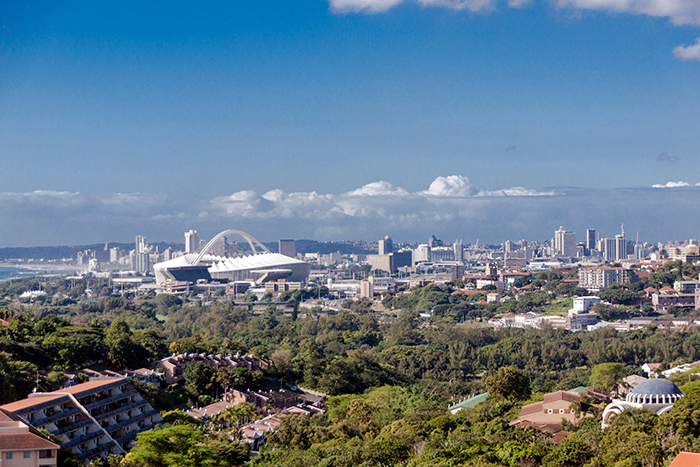 EThekwini has long held that community must be at the heart of climate action, which is why the city is working to ensure food security and access by setting up its Agro-Ecology Unit to provide support to small-scale and community farmers. Climate change is projected to affect access to food and exacerbate food insecurity in the city, particularly for the 20% of households living on or below the poverty line. To tackle this, by 2030, eThekwini plans to achieve a 50% increase in locally produced food and reduce the volume of good quality leftover food waste by 80%. It is also collaborating with citizens living in at-risk areas to expand its community based initiatives; supporting communities to develop storm water management systems, early warning systems; and facilitating the development of mitigation and adaptation solutions such as passive cooling, rainwater harvesting and solar energy to improve well-being.
Itumeleng Masenya, eThekwini municipality Climate Change Mitigation Manager, said: "Climate change is already impacting cities and citizens in Africa and across the world, so it's crucial that we act urgently. In developing our Climate Action Plan, we are demonstrating our commitment to contribute to the need to cut emissions to curb future warming, ensuring our city and people are safe and secure, and vital infrastructure are climate-proof."
EThekwini's climate action plan is a bold commitment to addressing the drivers and effects of climate change, and demonstrates the crucial role that cities can play in stepping up to the challenge of implementing the Paris Agreement.
See eThekwini's full disclosure response (PDF) to learn more about their climate action.
Register now and view more responses for cities, states and regions through our responses search tool.