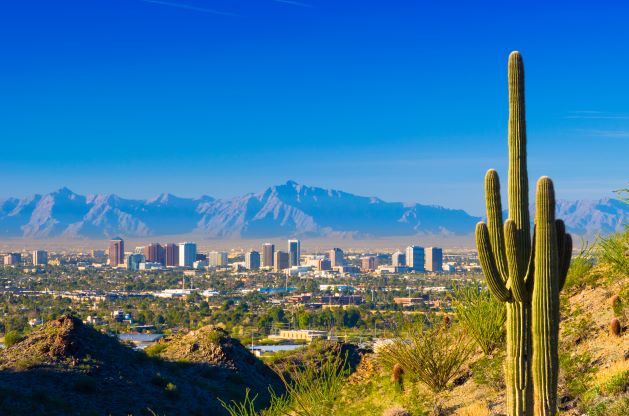 "Low taxes, sunshine and golf." For years, this was the popular mantra that many believed explained why businesses were drawn to Arizona – so much so that it became a refrain for the region's economic development.
But with more extreme weather events affecting the country and the COVID-19 pandemic changing how millions of people work and live, how are businesses in Arizona mitigating risks and seizing the opportunities from climate action?
Phoenix, Arizona is the fastest-growing metropolitan area in the U.S. It is also the fastest warming. Climate change is impacting the desert Southwest particularly hard, causing severe drought and exacerbating an already deadly urban heat island effect. By mid–century, Phoenix is expected to experience extreme summer heat events six times more frequently. A Tier 1 water shortage was declared in 2021 – a significant risk that companies and cities in the state have identified through CDP disclosure for years.
How will the state balance its booming population growth with dangerous climate change impacts? On the frontlines of this balancing act is Arizona Public Service (APS), the capital utility in Arizona – a CDP A List company that has emerged as a power player in the Arizona sustainability scene. We spoke to APS to hear more about their unique sustainability journey and how it is driving economic development and innovation across the state. We also spoke with Phoenix Mayor Kate Gallego and the Greater Phoenix Economic Council (GPEC) about how their organizations are intertwined in this journey of climate transparency and action.

From left: Jeffrey Guldner, CEO of Pinnacle West Capital and its primary subsidiary, Arizona Public Service (APS); Mayor Kate Gallego of Phoenix; Chris Camacho, CEO of the Greater Phoenix Economic Council (GPEC)

"Low taxes, sunshine and golf will only get us so far."
The mantra "low taxes, sunshine and golf" was always an oversimplification. Many factors drew businesses to Arizona over the years – particularly local economic development officials' focus on improving business conditions and developing new infrastructure.
But when Phoenix's population skyrocketed at the turn of the 21st century, increased demand for natural resources sparked concern that the state's power and water supplies would become strained. At the same time, the populations of other nearby metropolitan areas grew as well, fueling a competition with Colorado, New Mexico, Texas and Utah as businesses chose to open locations in these other spacious, low-tax Southwest states.
These losses did not go unnoticed. Arizona, like all states, depends on business development in the region to fund schools and pay for roads. Local Mayors and GPEC, alongside APS, began to pay closer attention to the critical drivers for economic attraction and growth: sustainability and transparency. As some began to say in Arizona sustainability circles: "Low taxes, sunshine and golf will only get us so far."
The clear business case for sustainability
Arizona had to ramp up its sustainability profile in order to stay competitive. It is now a precondition of out-of-market site selection (along with in-market retention) that regions, cities and their supporting companies – especially utilities like APS – be able to deliver what the growing and established companies want. Any new business in the region demands renewable energy.
"Businesses are now directly asking our economic development professionals about the sustainability of the state and region – availability of water and renewable electricity, air quality and transportation," said Chris Camacho, president & CEO of the Greater Phoenix Economic Council (a representative body of 22 member cities and towns, Maricopa County and more than 180 private investors, focused on attracting and growing companies and advocating for the competitiveness of Greater Phoenix)."They want to know how all of this will not only help their enterprise, but how the Phoenix region will allow their employees to live the sustainability values that the company opines."
APS, the largest electric utility in the state, responded to this growing demand for sustainable solutions. For over 135 years, APS focused on providing power reliably, affordably and safely to citizens and businesses in the state. Up until 2005, APS' carbon free portfolio was only 25% of its total generation. While reliability, affordability and safety remain foundational, the utility has increasingly embraced the strategic opportunity of a low-carbon future, most recently announcing that 65% of its energy will come from clean, carbon-free generation by 2030 with a goal to be 100% clean by 2050.
Arizona economic development organizations realized that investing in sustainability is a competitive issue as businesses in the region began to significantly awaken to the risks associated with natural resource scarcity. And they needed the increased certainty and awareness that CDP disclosure provides.
Arizona takes action
The region is making up for lost time and doing so with vigor. Beginning in 2010, the City of Phoenix and Greater Phoenix area received top-down signals from leaders like Mayor Greg Stanton (now Congressperson representing Arizona's 9th District), who ran on a platform of sustainability a decade ago and appointed the first-ever sustainability policy leader in the City. Mayor Stanton also launched a community-driven solar rooftop program. Current Phoenix Mayor Kate Gallego is co-chair of Climate Mayors and is still carrying this work forward.
Now three cities in the state (Phoenix, Tempe and Flagstaff) disclose through CDP. Phoenix has set a goal to become carbon-neutral by 2060, and is finding innovative solutions to its water crisis such as implementing nature-based solutions and issuing bonds for municipal water infrastructure. Flagstaff is a leading city (earning an A for its 2020 CDP disclosure) and recognizes that its four-season economy is deeply tied to forest health and is at risk due to climate change.
There has been some progress at the state level as well. Late in 2020, Arizona approved a plan requiring regulated utilities in the state to move to 100% renewable energy by 2050. And the state has pivoted from simply showcasing large tracks of open land and tax breaks to firms interested in relocating there, to positioning itself as a leading provider of renewable energy, freshwater science, automated vehicles, innovation and entrepreneurialism. It seeks to become a renewable energy hub, as well as a center for automated and electric vehicles like Nikola Motors. The state is also home to several major EV startup companies, which have been driven by APS's ability to help provide their future energy needs.
These regional moves toward climate resilience are contributing to Arizona's booming economic growth: in May 2021, the Arizona Office of Economic Opportunity declared that Arizona would add nearly 550,000 jobs by 2029. This forecast came on the heels of historic investments from Taiwan Semiconductor Manufacturing Company and Intel. And according to GPEC, sustainability-inclined firms looking at relocating or expanding to the region represent a potential 20,850 jobs and nearly US$30 billion in capital investment.
CDP disclosure drives environmental action
During this time, APS set forth on a pathway to exit coal and embrace clean energy and development. Between 2016 and 2018, APS began making steady progress in its ESG ratings, ultimately receiving A scores for their CDP Climate Change and Water Security disclosures in 2019 and 2020. In January 2020, APS announced its goal to deliver 100% clean, carbon-free electricity to customers by 2050. APS also made a commitment to end all coal-fired generation by 2031, seven years sooner than previously projected.
For APS, CDP disclosure has provided a mechanism to future-proof their sustainability journey. The company has indicated that CDP has helped it to achieve its goals. The thorough questionnaires provide investors and others with transparency around water and climate goals and strategies, clearly demonstrating what APS is doing to address potential physical and transitional risks.
APS says that disclosure through CDP allows it to share these achievements with current and prospective Arizona businesses, driving state-wide economic development. "CDP provides us with a standardized way of communicating our sustainability story," said Jeffrey Guldner, CEO of Pinnacle West Capital.
Collaboration is key
APS's efforts have had a ripple effect on the region, and businesses are increasingly looking to open operations in Arizona. "Our commitment to clean energy specifically, and our sustainability efforts in general, have been points of consideration for a lot of recent development," Guldner said. "For example, Microsoft is looking for ways to achieve 100% clean energy for their data centers and our ability to help provide that to them in an affordable and reliable manner is among the reasons that Arizona was chosen for their expansions."
APS's thrust of transparency has not only allowed their work to accelerate but has also helped relationships with their investors. "The standardization allows for efficient and effective benchmarking to peers, supporting our vision with quantitative data year over year," Guldner said. "We have used our CDP score in recent Annual Letters, Proxy statements and messaging to our investors as a measurable proof point of our very real water and climate efforts."
The wider economic development community in Arizona benefits enormously from APS's CDP disclosure. "When APS makes bold commitments and then shares their ESG information in a standardized, comparable, and uniform manner to hold themselves accountable, it allows us to drive innovation and growth for the Phoenix region – and potentially across the state," said Camacho of GPEC. "Transparency and action by APS form an integral piece of our growth strategies for the entire region."
These collaborative efforts toward economic growth and sustainability have garnered positive endorsements from municipal government leaders – even the Mayor. "Transparency and sustainability are key to driving business development in our city and ensuring Phoenix remains a great place to live and work," said Phoenix Mayor Kate Gallego. "Increasingly, companies looking to relocate here have goals in place around renewable energy, water, waste and other issues. Acting on these issues is crucial for building resilience against climate change and maintaining our city and region's competitive edge. CDP provides a standard for environmental disclosure through which Phoenix can demonstrate our progress toward our climate targets in a credible and comparable manner."
These organizations recognize that a transparent and actionable approach to climate change creates a future pathway to ensure the long-term prosperity of Arizona.
"The competitiveness and economic resilience of the nation's fastest growing region is directly tied to our ability to understand our shared risks and capitalize upon our shared opportunities," said Camacho. "When we establish clear and collaborative goals, municipalities and businesses further adopt transparency about environmental objectives and everybody works together to advance our sustainability position."
Camacho says this approach broadens general awareness, creates meaningful dialogue and empowers GPEC to accomplish two key objectives: 1) develop and cultivate in-market entrepreneurial growth and expand existing firms, and 2) engage the biggest and most significant global companies in relocating or expanding to Greater Phoenix. "Many companies are seeking to do business in places that are committed to stated sustainability goals and take action to create meaningful progress.
"We've been working with APS to enhance our sustainability partnerships and leverage each other's expertise and momentum," said Camacho. "When companies and businesses disclose through CDP, it facilitates constructive and actionable conversations and programming that address opportunities and challenges. We need to understand each other's goals and progress towards those goals so that we can help each other, our region and our future."
Ultimately, environmentally-positive collaboration comes full circle to bring benefit back to the companies taking action. "We cannot achieve our clean energy goal alone." Guldner said of APS. "It will require a combination of the right technologies, collaborative partnerships and a supportive policy environment that understands flexibility is critical to balance the building of clean generation, while maintaining affordability and reliability for our customers."
Toward a thriving, resilient Arizona economy
For cities and states across the nation, now more than ever, economic development and good governance must go hand-in-hand with sustainability.
The future of Arizona will be shaped by businesses and governments that embrace climate change and sustainability as an opportunity for innovation, growth and prosperity for all people. By looking deeply into actions, strategies and future planning, the region and its businesses are on their way to ensuring that Arizona will not just survive but thrive.
"We must shape a forward-thinking, healthy, and prosperous Arizona," said Mayor Gallego. "Investing in sustainability will encourage economic development in clean and innovative industries, create thousands of jobs, and support a healthy environment. Carrying out this vision will require collaboration across sectors, and I am excited to work with others dedicated to securing a bright future for the communities we serve."
APS and GPEC believe that when the principals in governments and businesses in a state think deeply and act transparently, they set themselves up for greater economic vibrancy and resiliency for all.
The first pivotal step is disclosure. All governments and leading businesses in the state should be transparent about their climate actions and strategies. This is the path forward for any state or region looking to stay competitive in a warming world.
"The state and the businesses located within the state (particularly APS and our other utility providers) have a mutual interest in promoting economic development and vitality predicated on sustainability in Arizona." said Camacho. "Businesses considering a move to Arizona need transparency to understand the unique opportunities and challenges of doing business in our state. When all parties — not just businesses, but also government — disclose through CDP, the full story is available and better decisions can be made."