Carbon pricing reveals the hidden cost of greenhouse gas pollution. CDP's work in this area is key to the private and public sector incorporating the cost of carbon emissions into business strategy and policy.
Climate change presents both risks and opportunities for business. In the private sector, many companies are committing to take action to stay ahead of the material risks of climate change and take advantage of emerging low-carbon opportunities. The number of companies disclosing to CDP that they embed an internal carbon price into their business strategies has grown from 150 global companies in 2014 to over 850 companies in 2020.
Carbon pricing has emerged as a key policy mechanism to curb and mitigate the dangerous impacts of greenhouse gas pollution and drive investments towards cleaner, more efficient alternatives.
The number of jurisdictions with carbon pricing policies is rising every year, with over 60 carbon pricing initiatives in place or scheduled by governments and regulators in 2021.
There is growing consensus that carbon pricing is a very flexible and cost-effective approach to mitigating the impacts of climate change. Momentum is expected to continue as the international community acts to implement the Paris Agreement.
In response to shifting regulatory and market dynamics, internal carbon pricing has emerged as a tool that supports companies in assessing climate-related risks and opportunities.
In 2020, more than 2,000 companies – including nearly half of the world's biggest companies by market cap – disclosed that they are currently using or planning to implement an internal carbon price within two years.
By attributing a monetary value to climate risks, and translating them into a uniform metric, financial decision-makers within a company are able to make the low-carbon transition an integral part of their business strategy.
Carbon pricing is moving up the agenda for investors as a material risk that companies must consider in their decision-making. This is mandated by the Financial Stability Board's Task Force on Climate-Related Financial Disclosures (TCFD).
A model developed by Schroders in 2017 estimates that "almost half of listed global companies would face a rise or fall of more than 20% in earnings if carbon prices rose to $100 a tonne."
Investors are demanding more transparency around a company's internal carbon pricing response and turn to CDP for this data. Some have even started testing the use of this tool on their own portfolios to assess the potential carbon value at risk.
CDP's unique data on internal carbon pricing offers insights that can inform policies to integrate the economic cost of carbon emissions into long-term planning, policy development, and infrastructure investment at the national and subnational levels.
By facilitating dialogue between companies, investors, and policymakers, CDP aims to accelerate the uptake of effective carbon pricing policies that catalyze low-carbon investment and spur innovation.
Under the auspices of the Carbon Pricing Leadership Coalition, we work with a global network of partners to support the explicit inclusion of carbon pricing in the next global agreement on climate change, thereby accelerating greenhouse gas emission reductions.
CDP has developed guidance and other resources to support companies in introducing an internal carbon price that materially impacts business operations and investment decisions.
Our unique data, research, and collaborative initiatives provide a benchmark for best practice and sector trends. This helps companies take full advantage of opportunities from the low-carbon transition.
Our Carbon Pricing Corridors Initiative provides a vital benchmark for companies conducting scenario analysis for TCFD-compliant disclosures, as well as those that have committed to comply with the Paris Agreement by setting science-based emissions reduction targets.
CDP started collecting data on the corporate use of internal carbon pricing in 2014. In 2018, we enhanced our climate questionnaire to better enable investors to track and analyze corporate exposure to carbon pricing regulations and risk management strategies.
Through the Carbon Pricing Corridors Initiative, CDP is working with leaders from the business and investment communities to translate the uncertainty of future carbon prices into scenarios of risk, thereby facilitating the integration of carbon pricing into investment analysis.
CDP has also provided guidance for the finance sector on how internal carbon pricing can be used to manage a broader set of regulatory, market, technological and reputational risks in financed emissions.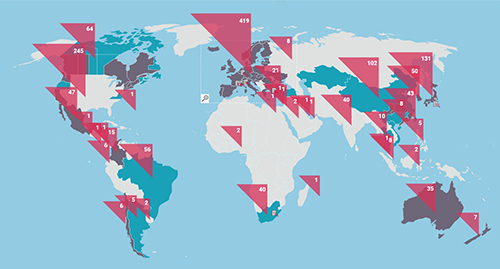 Carbon Pricing Connect
Carbon Pricing Connect is a data visualization tool featuring CDP's extensive data on internal carbon pricing with respect to global regulatory policy.
The TCFD recommends that companies acknowledge the reality of transition risk by running scenario analyses of potential future climate outcomes (including a 2°C scenario). In my view, central to any such scenario analysis should be gauging the impact of carbon pricing on company business models—over time capital will be re-allocated in accordance with carbon-pricing signals.

Mark Lewis, Managing Director, European Utilities Equity Research, Barclay Capital; Member of the TCFD