Higher Ambition, Higher Expectations
European companies are leading the corporate response to climate change, water security and deforestation. Our 2018 Europe Report is yet more evidence of the environmental action being driven in the real economy. With these signs of leadership, the onus is now on policymakers to up their ambition and embolden faster action and give companies and investors the clear signals they need to continue to drive the transformation.
Greater transparency is the starting point for ambitious action – and Europe is leading the way
Half of CDP's 2018 A List is based in Europe, while some 45% of companies with approved science-based emission reduction targets also sit on the continent.
These companies are showing a strong commitment to disclosure and action and are managing environmental issues at the top of their organizations. 95% of responding firms have board-level governance of climate change, 90% on water security and 88% on forests.
47% of the companies have a monetary incentive for the C-suite, CEO and board members for managing climate issues, with one in four tying incentives to targets.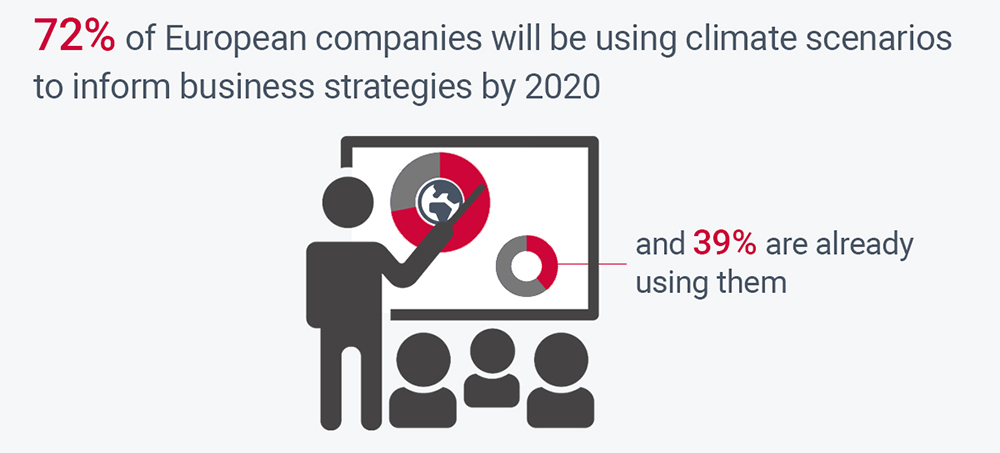 More action is needed to shield companies from real and urgent environmental threats
There is still more to be done. 80% of European companies see business risks from climate change, yet over half of these companies have no emissions reduction target in place. Among those that do, less than a third are looking long-term past 2025.
It is not only climate change where companies are identifying risks. Some 80% see risks relating to deforestation and forest-risk commodities, and 62% see water security risks.
But one thing is clear, the costs of inaction are higher than those of action. On water security, for example, companies report the value at risk from inaction at $16.4 billion – nearly three times the $5 billion needed address the challenge.

The solutions are there and the opportunities abundant
Companies have the tools they need to transition, and the leaders are using them. In 2018, some 39% of companies reported adopting climate-related scenario planning, 25% had adopted a price on carbon, almost 1 in 5 have committed to or set science-based targets, and 7% are aiming for 100% renewable electricity.
92% of companies now have water targets and 80% forest related targets.
With 86% of companies seeing opportunities from climate action – including increased demand for low-carbon products and services (60%) – and 80% identifying forest-related opportunities, it is little surprise that pioneers are already focusing on the solutions.