Transparency to Transformation: A Chain Reaction
Global Supply Chain Report 2020
Companies are facing up to US$120 billion in costs from environmental risks in their supply chains within the next 5 years. As the world works towards a green recovery from COVID-19, supply chain engagement is crucial for companies to bounce back – competitive and resilient – in a rapidly changing market.
Businesses must collaborate with supply chains and build back better from COVID-19 – otherwise they will be left behind

Buyers face substantial costs due to environmental risks in supply chains, which are expected to increase as the planet, society and economy changes.
Suppliers reported financial impacts of US$1.26 trillion from environmental risks in the next 5 years. Many environmental risks highlighted by suppliers will result in cost increases – if passed on, corporate buyers could face a cost hike of US$120 billion.
Business as usual means laggard companies will become less competitive and less resilient – suppliers must be engaged on environmental action to face lower costs, better reputations and, ultimately, secure their survival.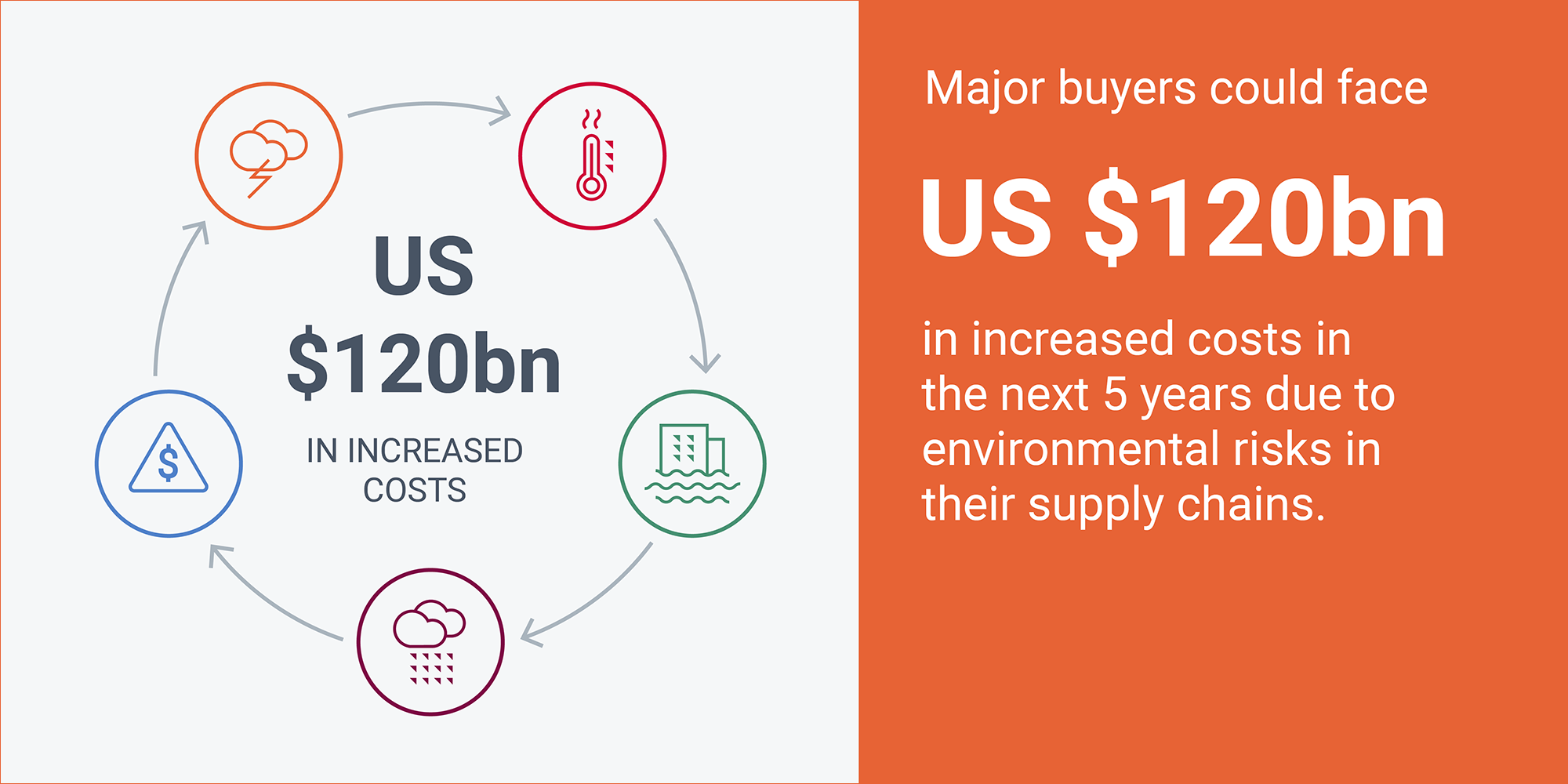 The scale of impact in the supply chain is increasingly being recognized by suppliers
Supply chain emissions are on average 11.4 times higher than operational emissions, more than double previous estimates, due to suppliers improving their emissions accounting.
Setting targets to reduce emissions throughout the value chain (Scope 3) is becoming a new business norm. This is only achievable with strong supply chain engagement.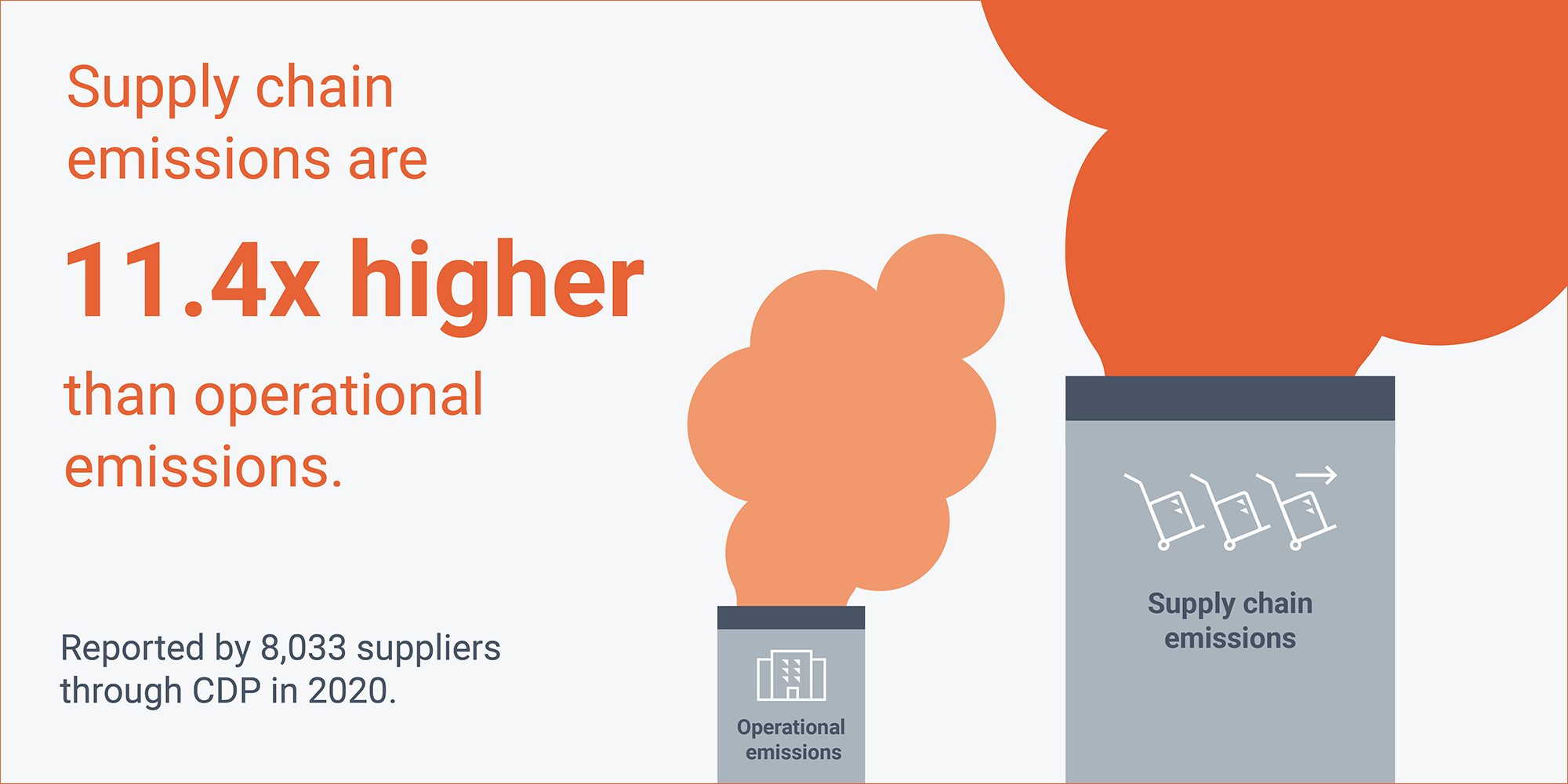 With CDP, we can measure and influence how our suppliers integrate climate change into their operations. In 2020, 96% of our surveyed suppliers reported their carbon footprint, and 75% shared their targets to reduce it. This visibility allows us to better select, support, and partner with our suppliers on their climate-related targets.

Ruth Porat, Chief Financial Officer, Alphabet
Buyers are driving transparency and suppliers are responding with higher levels of disclosure
Despite the major challenges of COVID-19, more buyers are demanding disclosure and more suppliers than ever are responding. Across climate, forests and water, over 8,000 suppliers disclosed in 2020, compared to nearly 7,000 in 2019.
This trend is likely to continue. Moving forward, suppliers should prepare for more businesses engaging them on environmental disclosure and action - and begin to pinpoint and address the risks in their own value chains.
We want to do the right thing for the world around us and in 2020 we became the first Australian company to join the CDP Supply Chain program, which helped us deliver resources to our suppliers as they disclosed environmental impacts. We use this information to better understand emissions coming from our suppliers' products and services and it helps us develop ambitious environmental strategies together.

Alexandru Butiri, Chief Procurement Officer, Telstra Corporation Ltd
Transparency and environmental action is rising – but progress is uneven and is not being cascaded through the supply chain
Encouragingly, suppliers are taking action to cut emissions and costs. In 2020, those reporting through CDP reported emissions reductions of 619 million metric tons, saving US$33.7 billion in the process.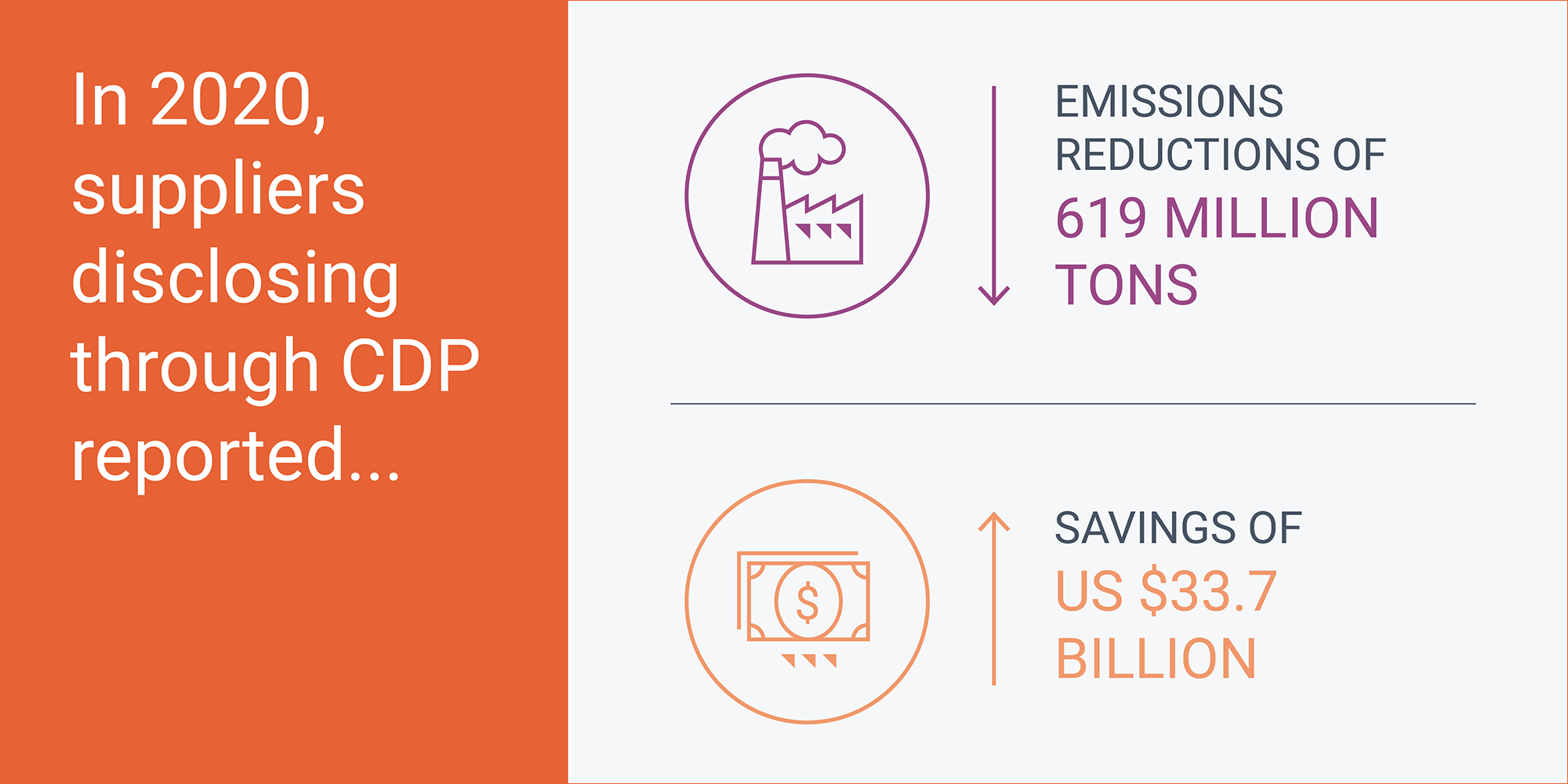 However, suppliers are still not cascading action down the supply chain. Only 37% of suppliers are engaging their own suppliers to reduce emissions.
Moreover, while deforestation and water security risks are being taken more seriously, this is not yet translating into action and cascading down the supply chain.
More buyers need to encourage good leadership practices among their suppliers, with suppliers in turn engaging with their own value chains.
A cascade of supply chain action is the key to building a resilient, thriving economy.
As we progress towards zero deforestation, it is important for us to engage in initiatives to increase transparency of forestry risks. Sharing experiences and data with our suppliers through the CDP Supply Chain program is a unique opportunity for successfully transforming the agricultural commodities supply chain.

Ghislaine Auméras Broch – Head of Sustainability, Stéarinerie Dubois
Supplier Engagement Rating Leaderboard
CDP's annual Supplier Engagement Rating (SER) evaluates corporate supply chain engagement on climate issues.
The highest-rated companies are celebrated in the Supplier Engagement Rating Leaderboard below. By engaging their suppliers on climate change they are playing a crucial role in the transition towards the net-zero sustainable economy– for more information, see the SER introduction.
Search by company name, keyword or click on a column to sort