What if climate action can tackle social inequalities too? In the wake of recent protests against racism globally, now more than ever, citizens' concern for social and climate justice is burgeoning. Knowing this, and that both challenges cannot be tackled in isolation, two cities paving the way are Bristol, UK, and Indianapolis, USA.
Bristol - Climate action must work for every citizen
Bristol is one the UK's largest cities and has a population of nearly 500,000 within a city region of 1.2m. The port city has welcomed citizens from around the world for many years and has a diverse population, with 16% of its residents from Black, Asian and Minority Ethnic communities. Bristol's residents also have a wide range of socio-economic circumstances, for example almost 11%, or over 20,000 of all households in Bristol live in fuel poverty. The city council and partners are developing a range of projects to increase the inclusion and diversity of communities involved in climate change work. One example of this is the Black and Green Ambassadors. This 3-year project will recruit, mentor and support Ambassadors – emerging leaders with environmental and social justice ambitions – to work between Bristol's diverse communities, businesses, organizations and individuals on issues of environmental sustainability, equality, diversity and inclusion.
Bristol is an established climate leader. In 2004 it became the first UK city to develop a climate strategy, in 2015 it was crowned European Green Capital. Three years later, in 2018 it became the first UK city to declare a climate emergency, setting an ambitious goal to become carbon neutral by 2030.
Understanding that the climate emergency and social inequality cannot be tackled in isolation, Bristol launched its One City plan in 2019 with the aim of addressing challenges in an integrated and decentralized way. Meeting its climate change goals by 2030 will require concerted effort and action from all city stakeholders. To enable this level of engagement and change, the city's Environmental Sustainability Board commissioned Bristol's One City Climate Strategy in 2020, an integral part of its "One City Plan", developed to make Bristol a "fair, healthy and sustainable city" by 2050. Board members were selected from a variety of sectors across Bristol's communities. The strategy was developed and continues to be updated in collaboration with multiple local stakeholders.
To ensure it is robust enough to succeed, the development of the strategy is advised and challenged by an independent body of academics and experts called the Bristol Advisory Committee on Climate Change. In developing the strategy, the city also held two large consultation workshops and hosted a 24 Hours of Climate Reality event to gather feedback. These were attended by 300 local companies, community groups and public and third-sector organizations. This is a process that will continue until Bristol's decarbonization deadline of 2030.
The strategy sets out the action required in 10 key areas: transport, buildings, heat decarbonization, electricity, consumption and waste, business and the economy, public services, natural environment, food and infrastructure interdependencies. In each area, the strategy features ambitious objectives on how to phase out the use of fossil fuels and improve the resilience of the city. Furthermore, across the 10 areas there will need to be skills, funding, national action, data, infrastructure and engagement available to enable the city to take action.
Indeed, the city is ambitious, and is making sure that the people living and working within its boundaries are in full support.
Indianapolis – Knowing who's "vulnerable" and giving due protection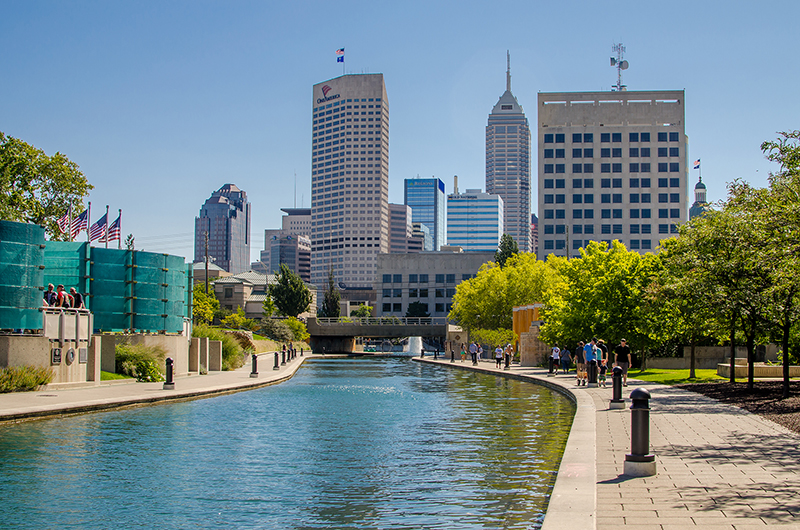 On the other side of the Atlantic, Indianapolis has borne the brunt of several extreme weather events in the past decade, including an ice storm in 2011, a heatwave and drought in 2012, and extremely cold winters, with wind chill temperatures as low as –30 to –40 °C in 2014 and 2018. By 2050, Indianapolis is expected to be warmer and to experience more days of intense rainfall. Climate change will present challenges for infrastructure and an ageing housing stock, leaving low-income households and people living in substandard housing particularly vulnerable. For instance, severe flooding in 2016 left 15,000 households without power.
Indianapolis also faces serious air quality, poverty and social vulnerability challenges, with 9% of Indianapolis' population on low incomes and living in so-called "food deserts", more than one mile from the nearest supermarket. On top of this 20% of children in the city are experiencing food insecurity.
Not only does Indianapolis need to take urgent climate action, it needs to address social inequality impacting its citizens. This is how it will ensure it is a safe and secure place to live and work, now and as we see the reality of climate change unfold.
In its 'Thrive Indianapolis' plan, the inaugural sustainability plan published in 2019, the city aims to reduce emissions to net zero by 2050 whilst also increasing community resilience and reducing social inequalities. To do this, they use a co-benefits approach which treats reduction in greenhouse gas emissions as just one of many beneficial outcomes of the actions they are implementing to achieve their overall goal to build a thriving, sustainable and resilient city.
For each of the actions in their plan, Indianapolis assesses whether the action would reduce inequality, improve public health, create jobs, reduce GHG emissions and increase the resilience of populations living on low incomes or vulnerable to food insecurity. For example, one of the mitigation actions that the city is implementing aims to help communities overcome barriers to installing solar energy through education and support. This action is designed to reduce emissions, create jobs, reduce social inequality and increase resilience in socially vulnerable populations in the city all at the same time. These kinds of initiatives are critical as cities are tasked with building back better post-Covid-19. A green recovery driven by green job creation is essential to tackle the ever-present challenge of climate change.
Indianapolis is already making progress. Between 2010 and 2016, the city reduced its greenhouse gas emissions from 16.4 million metric tons of CO2 equivalent (MtCO2e) to 14.6 MtCO2e, the equivalent of the annual energy use of 1,892,453 households, putting the city 11% of the way towards becoming carbon neutral. Impressive progress especially given the city's population grew by 4% over the same period.
In 2020, Indianapolis launched a commission to advise the City-County Council on how to deliver environmental action that embraces environmental justice principles, acknowledging that negative environmental impacts tend to affect low-income communities and communities of color the most. Designing actions that deliver multiple climate and non-climate co-benefits simultaneously means that Indianapolis can work towards achieving all of its goals.
Tasked with social and climate challenges, delivering climate action that works for citizens is essential. A clear understanding of the co-benefits of their climate action is pushing the cities of Bristol and Indianapolis further towards this goal, protecting citizens now and in the future too.