Closing the Gap
Scaling up sustainable supply chain practices
The number of companies forging ahead with an industry-leading approach to tackling emissions in the supply chain has doubled in a year, according to CDP's Global Supply Chain Report 2018. But despite a high awareness of climate-related risks, this leadership is not yet spurring widescale action down the supply chain, leading to missed opportunities for cutting emissions and costs.
A growing number of global companies are leading the way on cutting emissions in the supply chain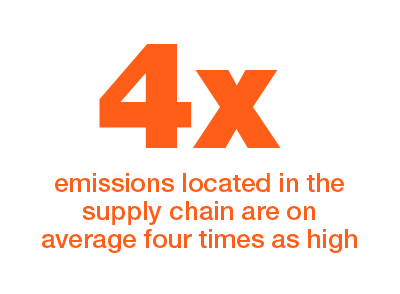 Emissions located in the supply chain are around four times as high as those from direct operations. To meet the goals of the Paris Agreement, we need action at every level of the supply chain.
A growing group of companies are leading the way. This year, CDP's Supplier Engagement leader board recognizes 59 organizations for their work to reduce emissions and lower environmental risks in their supply chain, double the 29 in 2017. The leaders include Ajinomoto, Bank of America, Kellogg Company, Nestlé, Panasonic, Rolls Royce, Sky, Tokyo Gas Co. and Unilever.
Innovative solutions to address climate change are available right now; I am pleased to see that an ever-increasing number of companies reporting to CDP are integrating sustainability-thinking into their business models.

Patricia Espinosa, Executive Secretary, United Nations Framework Convention on Climate Change, who has written the foreword in the report.
Leadership is paying dividends, as awareness of climate change-related risks and opportunities is building down the supply chain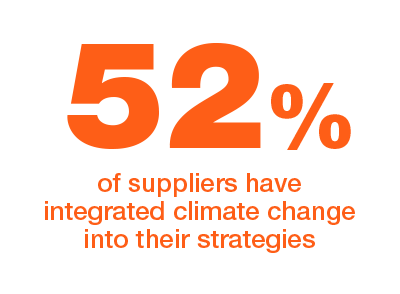 Over three quarters (76%) of suppliers responding to CDP identified some inherent climate change risks and just over half (52%) report that they have integrated climate change into their business strategy.
There is huge potential for this growth in awareness to lead to cost savings from reductions in carbon emissions.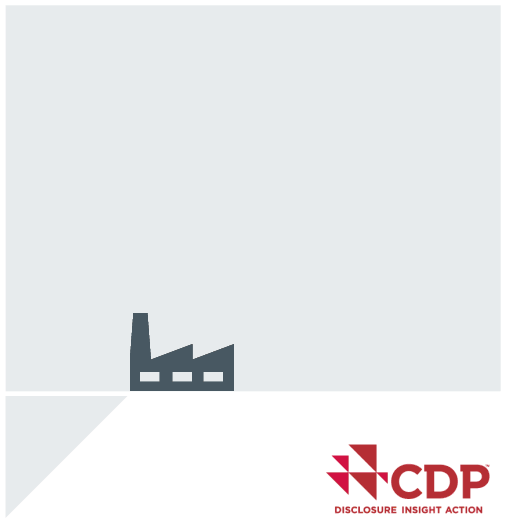 The reductions to date are only a fraction of what could be achieved.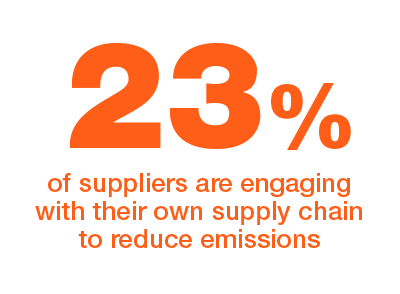 Large portions of the global supply chain network remain untapped, with less than a quarter (23%) of CDP's supplier respondents engaging with their own suppliers to reduce emissions, and even less engaging on water security and deforestation..
While some markets, such as France and Japan forge ahead, others are still lagging, missing out on the business opportunities, financial savings and environmental progress.
Supplier Engagement leader board
Accenture
ACCIONA S.A.
Adobe Systems, Inc.
Advanced Micro Devices, Inc
Ajinomoto Co. Inc.
Apple Inc.
Atos SE
Bank of America
BNY Mellon
Bridgestone Corporation
BT Group
Coca-Cola HBC AG
Companhia de Concessões Rodoviárias - CCR
Cisco Systems, Inc.
Daikin Industries, Ltd.
Fujitsu Ltd.
Hankook Tire Co Ltd
Hewlett Packard Enterprise Company
Honda Motor Company
HP Inc
Husqvarna AB
Imperial Brands
ING Group
Intel Corporation
Interserve Plc
ISG plc
Johnson & Johnson
Juniper Networks, Inc.
KAO Corporation
Kellogg Company
Konica Minolta, Inc.
Koninklijke Philips NV
MetLife, Inc.
Metso
Microsoft Corporation
Nestlé
NRG Energy Inc
Owens Corning
Pacific Market International
Panasonic Corporation
PG&E Corporation
Philip Morris International
Philips Lighting
PricewaterhouseCoopers LLP
Red Eléctrica S.A.U.
Reynders Label Printing
Rolls-Royce
Sky plc
Société Générale
Sodexo
Taiwan Semiconductor Manufacturing
TD Bank Group
Tech Mahindra
Tereos
TETRA PAK
Tokyo Gas Co., Ltd.
Unilever plc
United Microelectronics
Yokohama Rubber Company, Limited
CDP's Supplier Engagement leader board recognizes these organizations for their work to reduce emissions and lower environmental risks in their supply chain.
Find out how you can engage your suppliers on climate change, deforestation and water security through CDP supply chain membership.
Precisa de ajuda?