Resilient infrastructure to tackle extreme flooding
Yokohama is Japan's second largest city and one of the largest international ports with a population of 3.7 million. Demonstrating and developing a thorough awareness of the future that climate change will bring , Yokohama has secured a spot on this year's A List for its transparency as well as its climate action. Lying on the south eastern coast of Japan's main island, Honshu, and on the banks of the volatile Tsurumi River, this bustling commercial hub is tackling one challenge in particular.
Yokohama has seen unprecedented flooding since 1958's Typhoon Ida, affecting more than 20,000 households. The foundations of the city have been built around this reality, influencing the landscape in which its citizens, businesses and government operate. Climate change is compounding this issue, causing more frequent and extreme weather events and exacerbating flooding in the city.
The most recent reminder of the toll climate change is taking on the city came in October 2019 when Japan hosted the Rugby World Cup, attracting more than a million visitors. Images of the city lashed by torrential rain painted a picture of what climate change means for Yokohama and its people. Hit by Typhoon Hagibis, 110,000 rescue workers were deployed to salvage survivors from the wreckage.
Preparing for and protecting citizens from this growing climate risk has long since been the driving force behind the development of the city. As a result, Yokohama's infrastructure must provide the combined purpose of day-to-day services and protection to citizens. This includes the International Stadium Yokohama. Built on stilts, the stadium's foundations allow flood water to flow beneath, safeguarding the 70,000 people it can house, despite the storm raging outside. Its gates open to the rest of the Tsurumi River Multipurpose Retarding Basin. Developed as part of the overall flood control measures, the basin stores storm water to keep citizens and infrastructure beyond its walls safe, and goes further – with an athletic field and green space, the basin is for people's recreation too.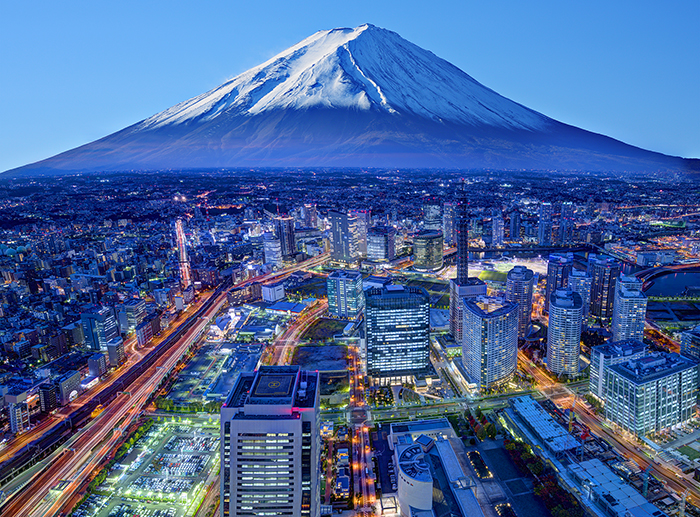 A representative from Keihin River Office, Ministry of Land, Infrastructure, Transport and Tourism said "The Tsurumi River Multipurpose Retarding Basin was constructed as a facility which stores flood water for a while in order to reduce damage caused by floods. The retarding basin, and other infrastructure has been engineered to withstand current and predicted rainfall, a hard example of adapting to the new normal climate change presents." The Tsurumi River Retarding Basin, and the infrastructure within it, paint just a fraction of the picture. The city's main roads arebuilt either on top of embankments or at elevation, providing further adaptation to storm water flooding and ensuring citizens can still live and work undisrupted, safeguarded by vital service providers even in the event of increasingly frequent floods.
The city's climate action plan requires citizens to have a stake and active role in building resilience against the new normal that climate change presents; citizens are expected to take measures to protect their own life and property as well as to help each other through building local connections. Yokohama is enabling its population to do this through a suite of training and resources.
The city has also developed a flood hazard map for each of its 18 wards, which provide updates on incoming rainfall and extreme weather alerts. In addition, the city has listed all extreme weather and earthquake evacuation shelters on its website as well as in a pocket guide for residents, workers and visitors unable to return home in the event of extreme flooding.
The Retarding Basin Operation Centre which Keihin River Office manages, holds events to raise public awareness on how to respond to this extreme weather. To date, around 420,000 people have visited the centre. Local communities are also visited by a disaster preparedness caravan, offering education on flood risk in their area.
Yokohama has been adapting to and mitigating against the impact of urbanization and climate change on the Tsurumi River for over half a century - an endeavor that has ramped up as the country and global community seek to answer questions on how to create the climate-safe future we need. For Yokohama City, investing in infrastructure that defends the city and its community, and empowering citizens with the knowledge they need to adapt to the impacts of global warming are fundamental steps towards creating a city that can keep flourishing in the face of climate change.
See Yokohama's full disclosure response (PDF) to learn more about their climate action.
Register now and view more responses for cities, states and regions through our responses search tool.