Safeguarding precious water reserves to sustain predicted development
One of 44 countries across the globe that consumes between 40-80% of its available water supply in a year, Mexico is one of a growing list at risk of hitting "day zero", the point at which they no longer have enough water to meet citizen's demands. The pressure of fast depleting water resource is even more pressing in northern regions. Sonora State is hit particularly hard, consuming more than 80% of its available supply.
Hermosillo, the State Capital of Sonora is desert-arid, with an average annual rainfall of 328 mm and average temperatures of 34C. In such conditions, the city and its citizens are dependent on groundwater reserves, which account for 75% of its total supply. The knock-on effect of this on the mounting threat of drought, however, is one the city is aware of, and working to address – an endeavor that is pivotal to the city's continued and sustainable growth.
The city's future growth is set to be towering - The Economist's Intelligence Unit (2018) foresees that by 2030 Hermosillo will become the city with the second greatest amount of economic development in Latin America. Benefiting from an increase of 133% in GDP per capita, around 66.6% of its population are expected to earn over $15 thousand USD per annum.
To sustain this growth, building resilience against climate change is key, and Hermosillo is doing this at speed and scale. A combination of grey and green infrastructure that is engineered to efficiently manage rain and groundwater and harness urban green space to sequester carbon have put safeguarding vital water resource at the heart of city planning.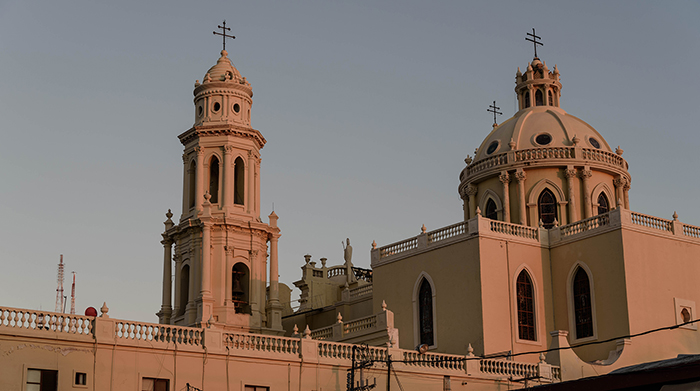 To make such a combination "best practice", it must be accessible and achievable. With this in mind, the city has produced a range of workshops and technical and design guidelines to ensure sustainable thinking is applied from the very start of a project, rather than simply enforcing regulations that demand new developments meet resource efficiency standards. In 2016 Hermosillo embarked on a partnership with BECC and NAD BANK to implement green infrastructure in the city, the result of which was the "Manual de Lineamientos de Diseno de Infraestructura Verde" or "Green Infrastructure Design Guidelines"; and in 2018, the city launched its "Norma Técnica de Infraestructura Verde" or "Technical Standard for Green Infrastructure", the first mandatory standard of its kind in Mexico.
Ensuring the city's water reserves are safe for public consumption is vital too, which is why Hermosillo recently embarked on a new wastewater treatment plant, designed to treat 100% of wastewater produced by the population. For a growing city that is already at the brink of day zero, safeguarding water reserves wherever they are is key to Hermosillo's climate resilience.
Célida López Cárdenas, Mayor of the city said: "Hermosillo is transforming into a hub of innovation and change, committed to deliver a safe and sustainable environment for its inhabitants. We work to expand and adapt our urban planning strategy, taking into account the partnerships and results that can be generated both locally and internationally. In so doing, Hermosillo is demonstrating that cities can and should adapt to climate change to prosper. All of this is enabling us to build a sustainable city that works for its people now, and in the future. In this respect, CDP is an important tool which allows the us to report our climate action, assess and share our efforts with the international community as well as learn with other cities around the world."
Trees are well known to safeguard water reserves, and Hermosillo is making strides in growing its urban green space. The city's " Transforma un Bulevar " program has seen 122 companies sponsor tree planting in addition to cleaning along 24 kilometers of the city. Speaking on the initiative and the level of engagement the city has growing within its boundaries, Mayor of Hermosillo, Célida López Cárdenas said:
"In this administration we are willing to continue working for the cleaning, recycling and beautification of the city and what motivates us is that every day we meet people who want the same and are interested in green culture."

Hermosillo's desert-arid landscape is nothing new. Its precious and ever dwindling water supply, however, is a very real impact of climate change this burgeoning economic hub must fast address in order to live out this estimated growth; to safeguard this vital resource, advancements in green infrastructure have been vital to the city's adaptation and resilience planning in the face of the climate crisis.
See Hermosillo's full disclosure response (PDF) to learn more about their climate action.
Register now and view more responses for cities, states and regions through our responses search tool