Interim Development Director – Job Share
Are you an ambitious leader and fundraiser who has a passion for the environment and sustainability and want to have a transformative impact on the way the world does business in the future? CDP's Global Development Team is ambitious, pro-active team and at the heart of everything CDP does. As Interim Director of Development, you will lead CDP's strategy to enhance our philanthropic and government relationships, and contribute to the overall organisational leadership. This position is part of the Senior Management Team and has strong support from the Chief Executive and Executive Chair.
Critical to your success in this role will be your proven track record of leading a high performing development team and your demonstrable ability to deliver significant income against ambitious targets across philanthropic, government and statutory income streams. You will have proven experience of high value relationship development, and be an excellent communicator with the diplomatic skills to work with a wide variety of internal and external stakeholders.
Half of CDP's income comes from grants and the recent upswell in attention on climate change and environmental issues means there is significant potential for growth. This role is an exciting opportunity for a forward thinking, energetic fundraising leader who is focused on results.
About CDP
CDP is an international non-profit that drives companies and governments to reduce their greenhouse gas emissions, safeguard water resources and protect forests. Working with 650 institutional investors with assets of US$87 trillion, we leverage investor and buyer power to motivate companies to disclose and manage their environmental impacts. More than 7,000 companies representing 50% of global market capitalization disclosed environmental data through CDP in 2018. This is in addition to the over 750 cities, states and regions who disclosed, making CDP's platform one of the richest sources of information globally on how companies and governments are driving environmental change. Whilst your friends may not have heard of us, CDP's brand is globally recognised in board rooms of the world's most influential financial institutions. Please visit www.cdp.net or follow us @CDP to find out more.
Global Development Team structure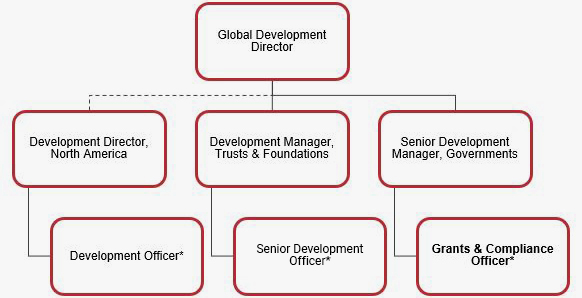 Main duties and responsibilities
Lead the implementation of CDP's global development strategy to increase income from philanthropic foundations and governments/statutory bodies in support of CDP's strategic goals.
Contribute to organisational strategy development through participation in the Thematic Boards for climate change, water security and forest and Stakeholder Boards.
Provide regular reports to executive leadership team and the Board of Trustees on development team strategy and opportunities to secure multi-million dollar funding.
Work in close collaboration with the executive leadership team, thematic and stakeholder leads to deliver high value funder relationships.
Work in close collaboration with the Chief Strategy Officer to build a culture of impact measurement and reporting for a philanthropic and government audience.
Raise the profile of CDP within funder networks and with key partner organizations
Manage the Global Development Team, including:

managing Development department staff (including matrix management of those based outside London)
convening and chairing global Development department meetings
building CDP's funding pipeline
developing strategies for winning new funders
building effective processes for developing grant applications, compliance and reporting.
Person specification
Extensive management experience including leading a development team.
Proven ability to secure six and seven figure grants, and to build and manage philanthropic and government donor income streams, maximising the value of existing and prospective supporters.
Excellent face-to-face, interpersonal, negotiating and persuasive skills.
Confidence in working with senior stakeholders internally and externally, using tact and diplomacy.
Organised and methodical approach to plan and deliver against a varied workload, managing competing priorities under your own initiative and to strict deadlines.
Conditions
This is a job share working 3 day per week on a fixed contract for 12 months, based at CDP's Central London office reporting to CDP's Chief Partnerships Officer & General Counsel. Flexible working will be considered.
Salary and benefits: Competitive NGO salary, annual discretionary bonus, 30 days' holiday, generous non-contributory pension provision, life assurance, training and development opportunities, cycle to work scheme and other benefits.
Interested applicants must be eligible to work legally in the UK.
We'll only use the information you provide to process your application. For more details on how we use your information, see our applicants privacy notice. By emailing us your CV and covering letter, you are permitting CDP to use the information you have provided for recruitment purposes.
To apply please email your CV and a covering letter setting out how you meet the required skills and experience or key responsibilities, which should be no more than two pages, to [email protected] with 'Interim Development Director' in the subject. The deadline for applications is 5pm on 7 August 2019.