Driving sustainable finance in Europe and beyond

The Sustainable Finance Action Plan is a roadmap introduced by the EU to implement strategies that redirect capital flows in Europe to more sustainable economic activities and contribute towards the goals of the Paris Agreement.
Under the EU-funded FinACTION project, CDP drives market uptake of sustainable finance frameworks and scales EU ambition through our disclosure system, while engaging companies to disclose in line with these regulatory requirements and a science-based transition to a net-zero and nature-positive economy. The work ranges from measuring pressure points on climate and nature (adverse impacts) to integration of sustainable taxonomies into the CDP questionnaire.
CDP has always been supportive of the development of impactful and high-quality disclosure standards and frameworks to provide clarity, increase compliance and support companies in their reporting needs, in line with our mission to drive transparency and action to tackle the environmental crisis.
As the only global environmental disclosure system, with nearly 20,000 entities disclosing their climate and nature impacts in 2022 (including 70% of European companies by market value), CDP plays a crucial role in accelerating the implementation of standards and taxonomies at scale.


In addition to capacity building companies, CDP engages other stakeholders that have a role to play in realizing the potential of the EU sustainability disclosure regime to drive a more sustainable financial system.
Resources for companies

We support companies with increased knowledge of the EU sustainability disclosure regime and how and why to use CDP's system to support their mandatory sustainability disclosure obligations.


Resources for investors

We help investors get the Taxonomy and SFDR data they need to comply with their own mandatory reporting requirements and make sustainable investment decisions.
Green Finance Accelerator
The CDP Green Finance Accelerator supports investors with the implementation of EU sustainable finance disclosure regulations through data and engagement, while also preparing companies for their own disclosure requirements. We focus our guidance on specific SFDR data points that overlap with the ESRS (adverse impacts and EU Taxonomy).
Benefits of the Green Finance Accelerator
Resources for policymakers

We engage in relevant policy fora and working groups to share evidence and contribute to impact assessment for future improvement of the EU sustainability disclosure regime.
FinACTION's impact
Through the FinACTION project, CDP is working through a variety of channels to impact the real economy.
Evidence and technical outputs
As part of the FinACTION project, CDP has published reviews of companies' compliance with the Non-Financial Reporting Directive (NFRD) 2020, 2021, together with country-specific briefings and thematic research to provide evidence to support the development of guidance and training to drive high quality uptake of non-financial reporting requirements.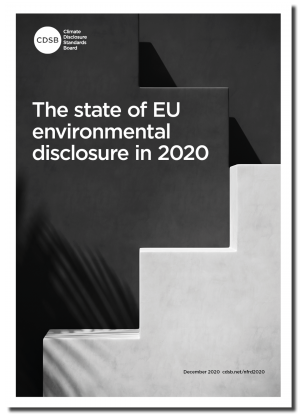 The state of EU environmental disclosure in 2020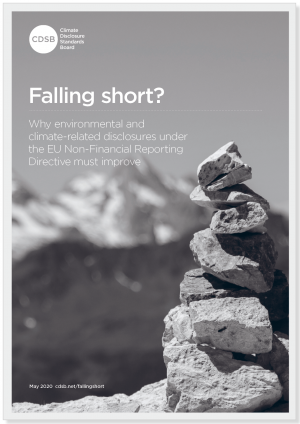 Falling short? Why environmental and climate-related disclosures under the EU Non-Financial Reporting Directive must improve