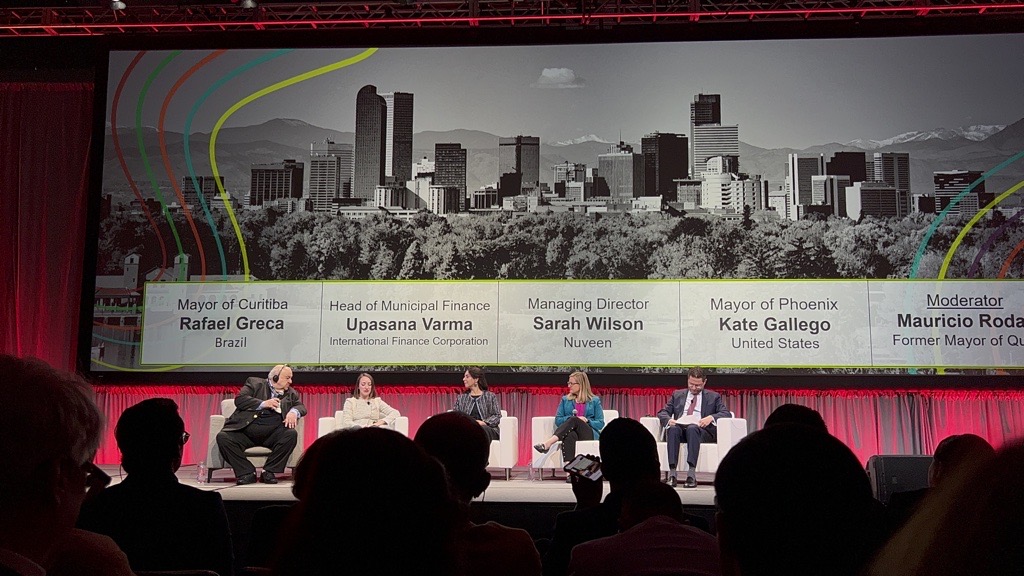 The inaugural Cities Summit of the Americas, hosted by the United States Department of State, gathered elected representatives, city and civil society leaders and representatives from the corporate and financial sectors to address pressing issues facing cities across the Americas.
CDP ran the opening session plenary with partners C40 Cities and the Global Covenant of Mayors for Climate and Energy, featuring financiers and mayors from Latin America and North America. We sat down with two of the speakers from that session, Sarah Wilson, Managing Director and Head of ESG Integration at Nuveen, and Upasana Varma, Head of Municipal Finance at the International Finance Corporation, to discuss their work with cities that seek access to capital for much-needed infrastructure and development work.
How do your organizations support cities in accessing finance?
Sarah: Nuveen is the asset manager for TIAA – we are a large financial services provider and a leading municipal bond investor. Our parent company TIAA, which is also our largest client, serves over five million participants in the United States. I lead our ESG integration in the responsible investing (RI) team, which is focused on helping our investment teams to consider financially material environmental, social and governance factors in their decisions.
Sarah Wilson, Managing Director and Head of ESG Integration at Nuveen

Upasana: The International Finance Corporation (IFC) is the private sector arm of the World Bank. Our mandate is to invest in profitable projects, but also ones that have positive climate, environment and social impacts– this could include infrastructure projects like roads and ones dealing with water, waste and energy efficiency. We are interested in supporting projects with climate mitigation as well as climate adaptation elements. The World Bank Group has committed to having 35% of our investments be climate-focused and 50% will be climate adaptation-focused. By mid-2025 we want everything that we do to be aligned with the Paris Agreement. My specific remit is in transitioning creditworthy municipalities and subnational governments to commercial financing and helping them come up with bankable projects and supporting them with investments.
Upasana Varma, Head of Municipal Finance at the International Finance Corporation
What are the barriers to cities accessing finance and what is your organization doing to overcome them?
Upasana: Mobilization is a core part of what the IFC does. Generally speaking, in IFC's private sector debt investments, IFC supports 25-35% of project cost and mobilizes the balance debt. It is tougher to mobilize commercial lenders for subnational finance. The lack of an institutional framework supporting subnational financing, governance and financial management are barriers to cities accessing commercial financing. In emerging markets, we work directly with subnationals to catalyze commercial finance towards public goods. We work with other development oriented financial institutions like EBRD and our WBG organization MIGA to get other lenders involved and mobilize capital in the urban space.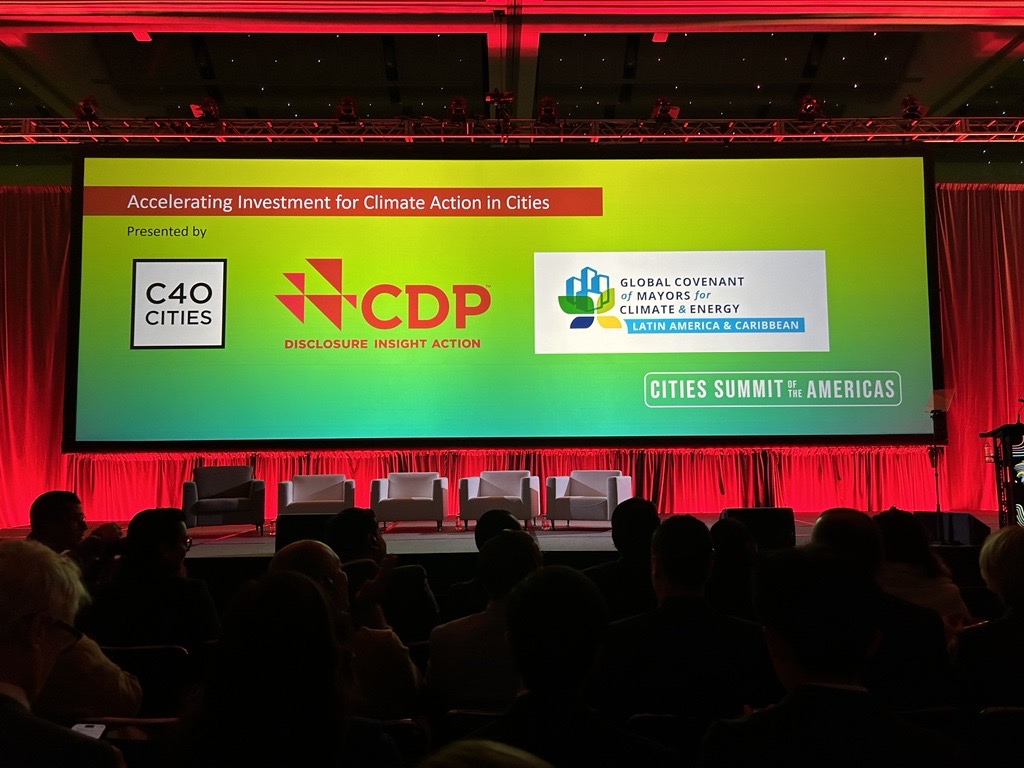 What can other institutions do to unlock financing for cities?
Sarah: Since the Cities Summit was not just a US-focused gathering, one thing that has hit home for me is that some of the tools that US cities have at their disposal are not as readily available for other cities across the Americas. Not every city has the ability to issue tax-exempt municipal bonds, but I think there would be benefits in expanding tools like this. And for that to happen there needs to be cooperation from national governments. Additionally, in terms of catalyzing action on the ground for projects to spur decarbonization on a local level, there is still some lack of awareness around investor appetite. That was one of my goals in coming here – to share that we really do have an appetite to invest in these types of projects. On my panel, I mentioned that there is around US$2.7 trillion sitting in ESG funds, and that money only gets there if we have enough information from issuers to understand their ESG characteristics.
Upasana: In the Latin America region the regulatory barriers are a lot lower than in some other parts of the world, but there are things that could be improved. Mexico is a very large market and so is Brazil, but they are cautious of their subnational governments borrowing from foreign investors – and they do have reasons, as past municipal defaults can complicate things. I would encourage cities to engage with IFC as well as partners and organizations like CDP and project preparation facilities to think about how to put together bankable projects. National governments also need to consider how regulations are impacting cities' ability to access financing. There are so many partners in this and everyone has to play their role for it to work.
How is CDP disclosure from cities, states and public authorities important to your work?
Sarah: Munis are so diverse, and there generally aren't regulatory requirements for them to disclose their carbon impact. CDP is doing great work in gathering information we need on a voluntary basis, but much more of the market needs to disclose. We also rely on third-party data providers estimating carbon footprint from the outside in, but they are not able to account for all the great decarbonization projects that cities are undertaking. The incentive for cities to disclose is that they can put forward their own narrative and take credit for the work that they have done. We use that information to evaluate the profile of the issuer to understand how they are mitigating climate risks and undertaking projects that align with the UN Sustainable Development Goals.
Cities across the Americas are already feeling the impacts of climate change on their communities and infrastructure, and the risks it poses to businesses operating in these communities are real. Cities are taking action by disclosing valuable data on climate impacts, risks and opportunities and working with the private sector and financial institutions to plan, develop and fund much-needed sustainable infrastructure projects. There are many parts and partners in this, and the way forward is in engaging the various stakeholders by providing insight, capital, technology and on-the-ground support.