Cutting emissions for citizens and the Paris Agreement
The City of Fayetteville, home to nearly 90,000 people, is on course to be the second largest city in Arkansas; and Northwest Arkansas is one of the fastest growing regions in the country. Fayetteville is taking steps to prepare now for a projected influx of people so it can continue to serve its community in the coming years.
Nestled in the foothills of the Ozarks and interlaced by the seven hills that lie in and around its boundaries, Fayetteville is surrounded by expansive natural assets. A new addition to the CDP Cities A List, Fayetteville is taking ambitious climate action that not only demonstrates how cities can lead the transition to a climate-safe future, but also how they can provide sustainable and low-carbon options to citizens.
The "We Are Still In" Agreement of 2017 saw 125 cities in the United States reaffirm their commitment to the Paris Agreement. Fayetteville Mayor Lioneld Jordan is one of 407 "Climate Mayors" who pledged to "adopt, honor, and uphold the commitments to the goals enshrined in the Paris Agreement." In 2018 the city launched a comprehensive energy action plan, setting out the path for improved provision of renewable energy, and committing to convert all municipal facilities to 100% clean energy by 2030 and reduce community-wide emissions by 40% by 2030 and 80% by 2050.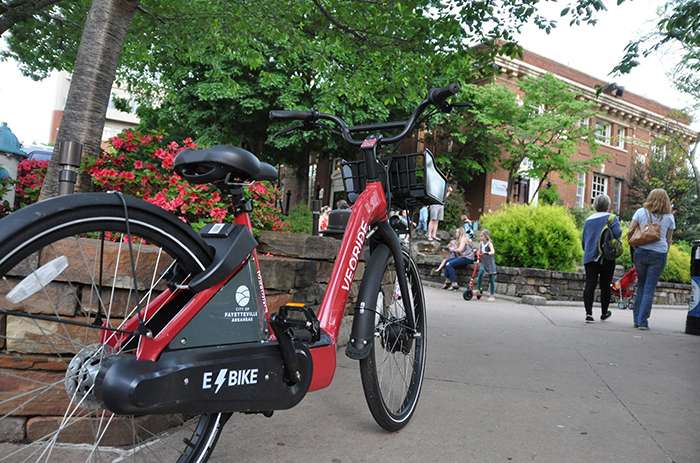 Turning words into action, in 2019 the city completed a Solar Array Project in partnership with Ozarks Electric Cooperative and Today's Power Inc. The project installed two solar arrays on a combined 87 acres to provide renewably-sourced energy to two nearby wastewater plants. The project increased clean energy consumption by city facilities from 16% to 72% and will save the city US$6 million over the next 20 years.
Beyond city operations, carbon reduction targets can be met on the streets. Vehicle emissions represent 30% of community emissions, so Fayetteville committed to building commuter-oriented bike trails to within ½ mile of all residents, with a larger goal to attain 25% multi-modal transportation for residents. Building partnerships is a key to success for the city. Working with the University of Arkansas, VeoRide, and Experience Fayetteville, the city is home to the first stationless bikeshare program in northern Arkansas and is also supporting bus ridership on Ozark Regional Transit by offering free fares for all rides within city limits.
Fayetteville is surrounded by natural streams and takes pride in the local natural beauty. Reducing waste pollution is a high priority for the community. The city operates a curbside recycling program for all single-family homes and recently expanded recycling services to multi-family unit dwellings. Fayetteville launched a commercial composting program in 2019 and offers residential compost drop-off locations. In 2019 the City Council also passed an ordinance banning all to-go Styrofoam containers and is currently exploring implementing a single-use plastic bag fee at large grocery stores.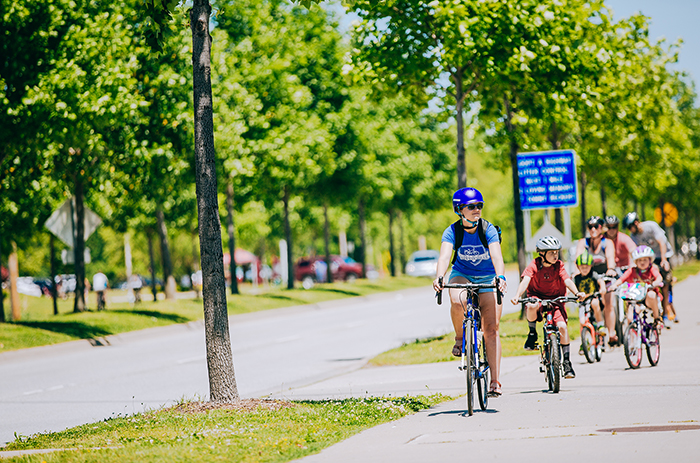 While current programs are an important component of climate action, Fayetteville recognizes long-range planning will be integral to a sustainable future. Through updating zoning and providing guidelines in planning documents, the city is prioritizing in-fill over urban sprawl. Density equals efficiency, so density allows the city to offer services at lower cost and a lower energy burden, while residents also contribute less emissions per capita in denser communities.
"Climate change is affecting cities around the world," said Mayor Lioneld Jordan. "The City of Fayetteville is committed to honoring goals of the Kyoto Protocol and the Paris Climate Agreement, starting right here in our own community. We want to lead by example for our residents, students, businesses and utility partners—showing the nation that supporting low-carbon initiatives not only promotes renewable energy and efficiency—it also creates opportunities for good jobs and investments in the Northwest Arkansas region."
As a smaller city cutting emissions and making low-carbon alternatives accessible and affordable to citizens, Fayetteville demonstrates that urban areas of all shapes and sizes can and are stepping up to the helm and leading the transition to a climate-safe future.
See Fayetteville's full disclosure response (PDF) to learn more about their climate action.
Register now and view more responses for cities, states and regions through our responses search tool.